Week 33. The week saw more terrible weather harming both BBQ and B&Q sales. Featured this week are Christmas 2016 and 2017 alongside shrinkflation, skilled work in Frozen Foods, B&Q garden inspiration and yet more fake news on pricing.
This 'new' blog feature is inspiration for those in the sector. Highlighting Grocery Insight's countless store observations which will shed light on the some store activity (for those who don't have time to visit them) whilst also providing some light entertainment, hopefully…
To the stores!
1. The (re)emergence of electronic labels
I was sadly unable to go on the BBC for my first appearance in some time to discuss electronic labels and the emergence of the trial in Tesco last week (Morrisons have had their trial in for some time). As we know, the price for each label remains at £8 as technological advances (now Kindle e-ink style) mean the prices haven't really come down.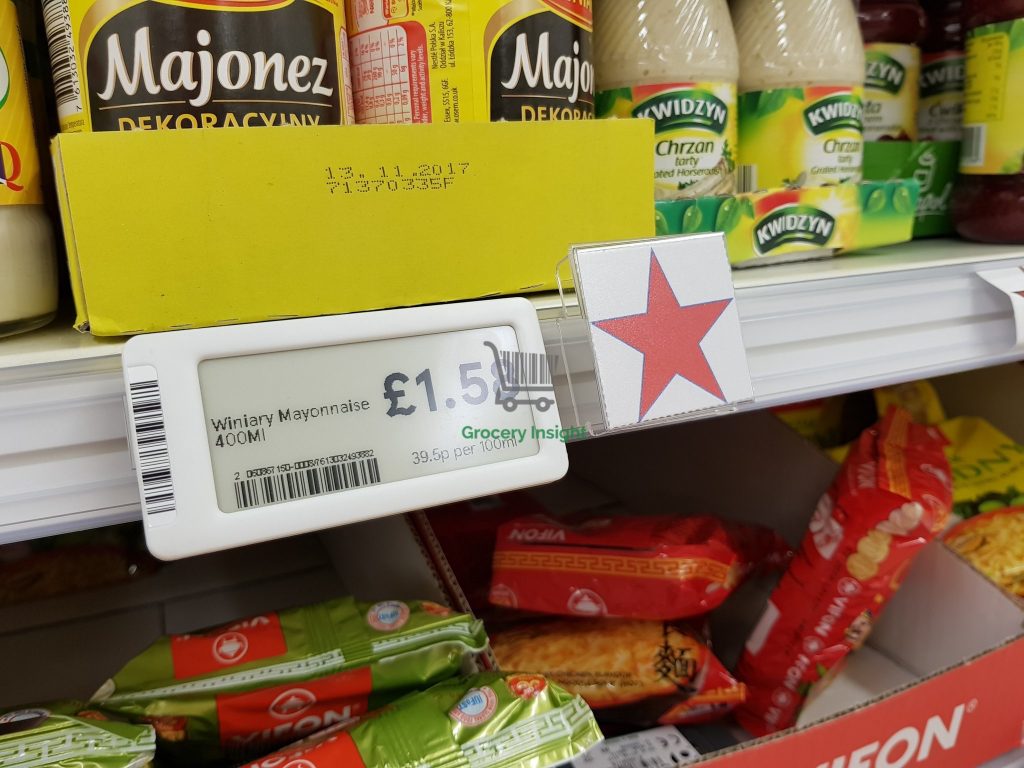 When you multiplay £8 by 20,000 items across a supermarket, you have a significant sum for one store to be re-labelled. That's before the wider estate is considered, the savings are obvious though. No requirement to pay colleagues to change paper labels any more, overcharges and pricing errors are virtually nil which results in customer satisfaction rising.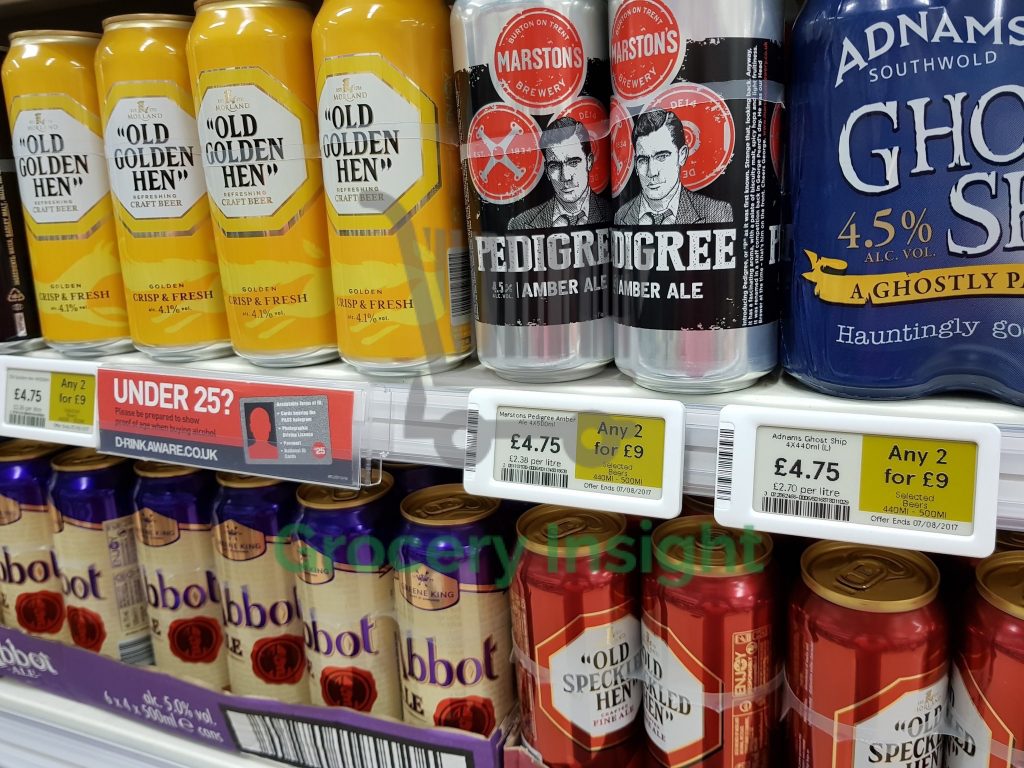 It is therefore the equilibrium point that retailers need to work out; I.E. when will the retailer pass themselves and the labels then start to pay for themselves? In a market with little growth; all capital expenditure is under strict review in 2017 AD (after discount). Electronic labels represent clear, instant cost savings when rolled out – however rolling them out comes at a significant cost….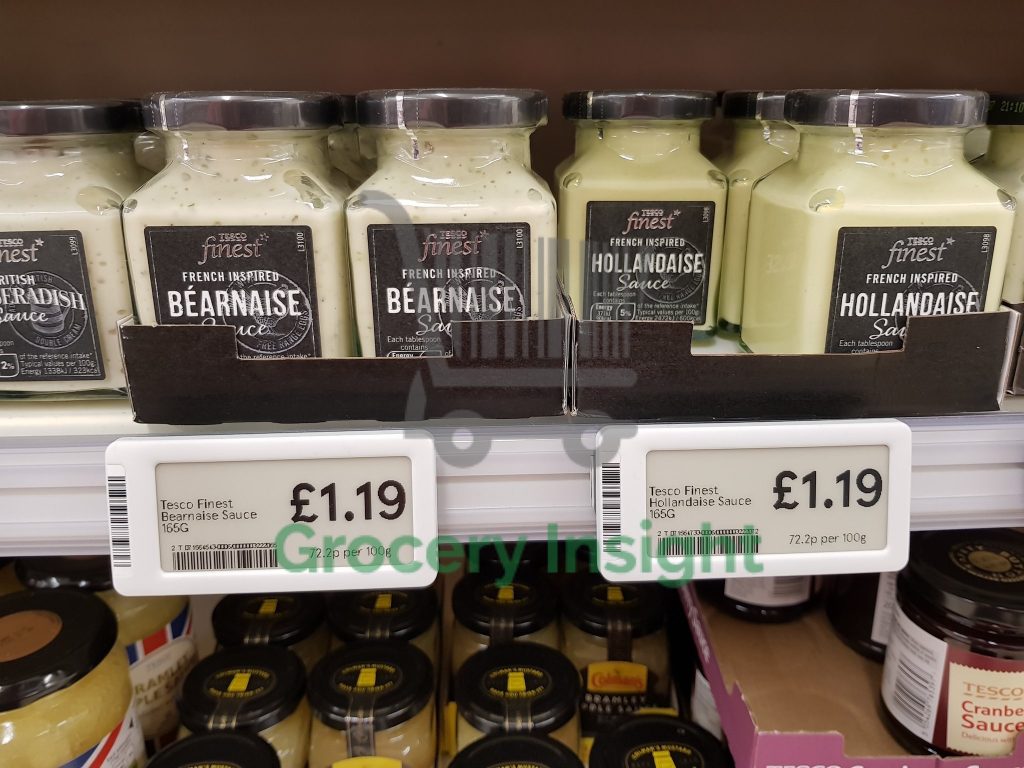 You can perhaps see Tesco Express and/or convenience stores rolling a solution out given their far smaller ranges = less labels. However the number of sites within convenience will drive the overall cost northwards. Discount look a potential opportunity for electronic developments too.
One thing that electronic labels won't lead to is surge pricing. It's frustrating that such an initiative is hijacked by this click bait based fake news epidemic that seems to surround food retail these days. Everything is being dumbed down beyond belief and 'surge pricing' / electronic labels are another example of this.
Petrol stations employ digital pricing but don't yet employ surge pricing based on rival stations running out of fuel. Nor will supermarkets adjust the prices based on demand should they add electronic labels.
The legislation and/or rules around pricing remain when considering discounts and any rises. Let's not forget the negative PR if anyone was ever found to raising prices based on 'demand' alone.
Electronic labels are another example of the industry being dumbed down to the level of click bait……..
2. DIY SRP
Despite 'fake news"; there is a need to simplify the industry for the masses in the media; especially when retail folk speak in exclusive acronyms. DIY is self explanatory and many of the readers here will know that "SRP" is the humble 'shelf ready packaging' initiative.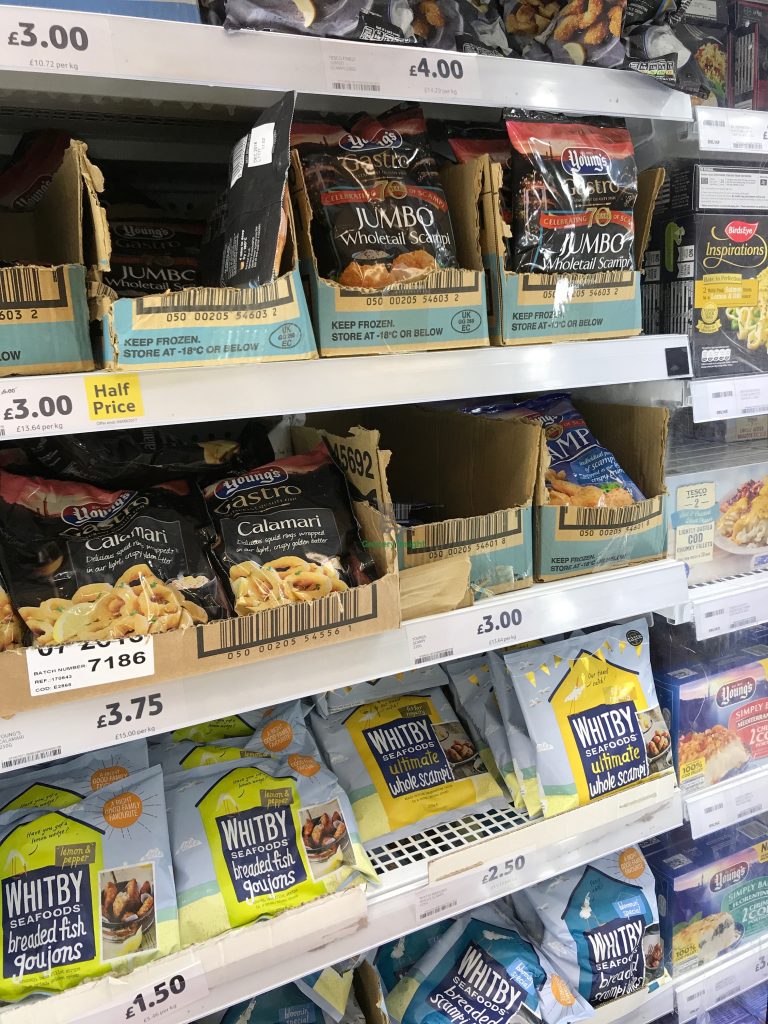 Discounters have made strong, shelf ready boxes achieve near cult status, with ill prepared customers often piling their shopping in to said boxes and running to the car. In the wider market, shelf ready packaging is evident in numerous categories, although it's never quite as impressive as you see in discounters.
There is a significant amount of time, effort, money and consideration that goes in to building up shelf plans, measuring the outer cases and ensuring that the stock is transported effectively to the shelf edge (in most cases!) and that it looks good too.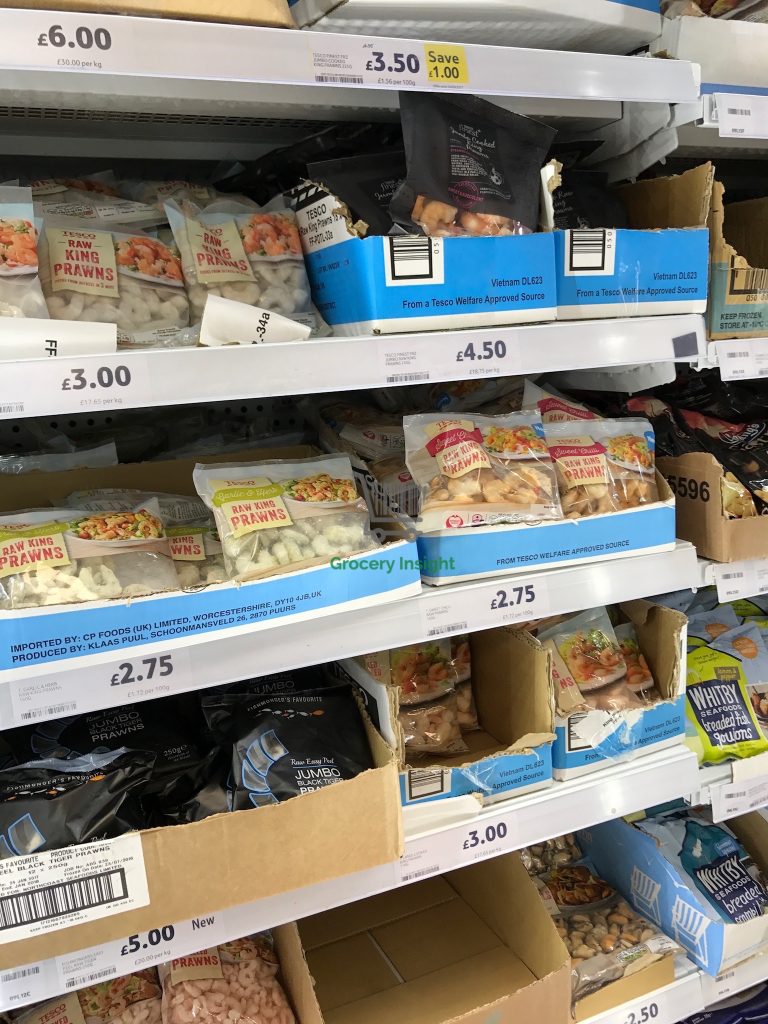 Thus merchandising cases using 'one touch' replenishment and saving a chunk of cash on hours; however not all categories benefit from shelf ready packaging – meaning it can take a fair while longer to fill the shelves.
Not so at this Tesco branch though; the enterprising colleague responsible developed his own shelf ready packaging across Frozen Fish to speed up the task and get things on sale.
Presentation needs work; but a little bit of initiative from the shop floor is never a bad thing.
3. It's beginning to look a lot like…
Christmas tins have started to land in Tesco stores up and down the nation; some of the early arrivals can be put down to Eid which is occurring in September; Tins are always popular with customers who buy them for gifting / sharing.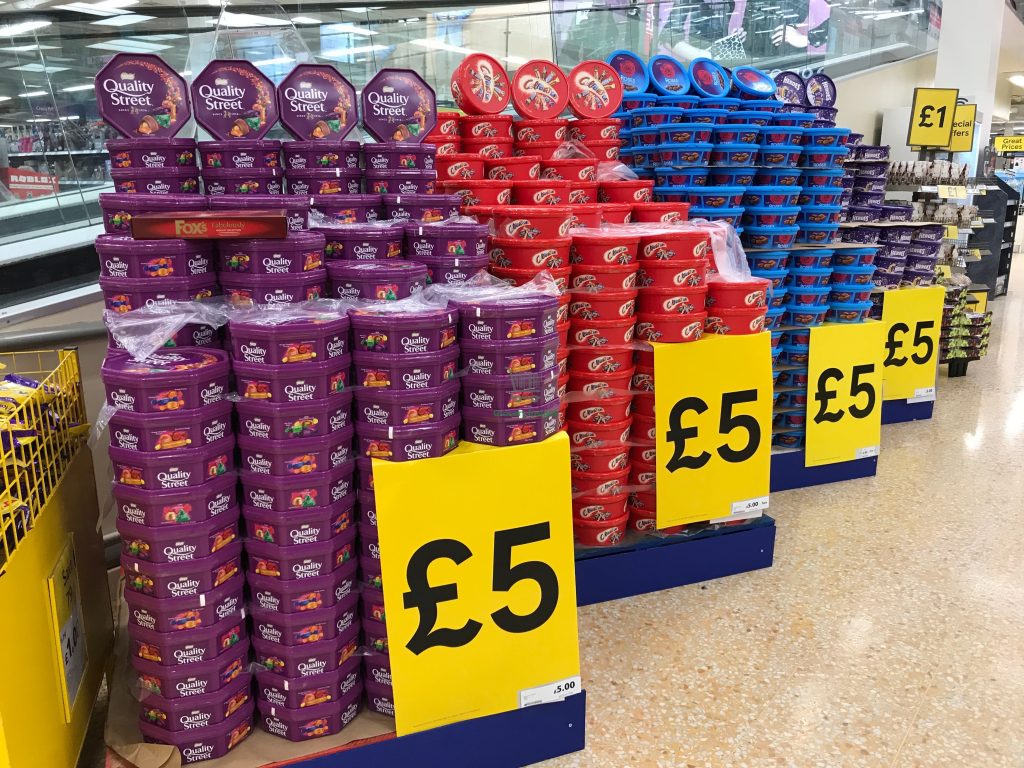 However not every store has a diverse customer base. Therefore the early arrival/sale of Tins is down to Tesco getting ahead with deliveries, early (bonus) sales and some price establishment too.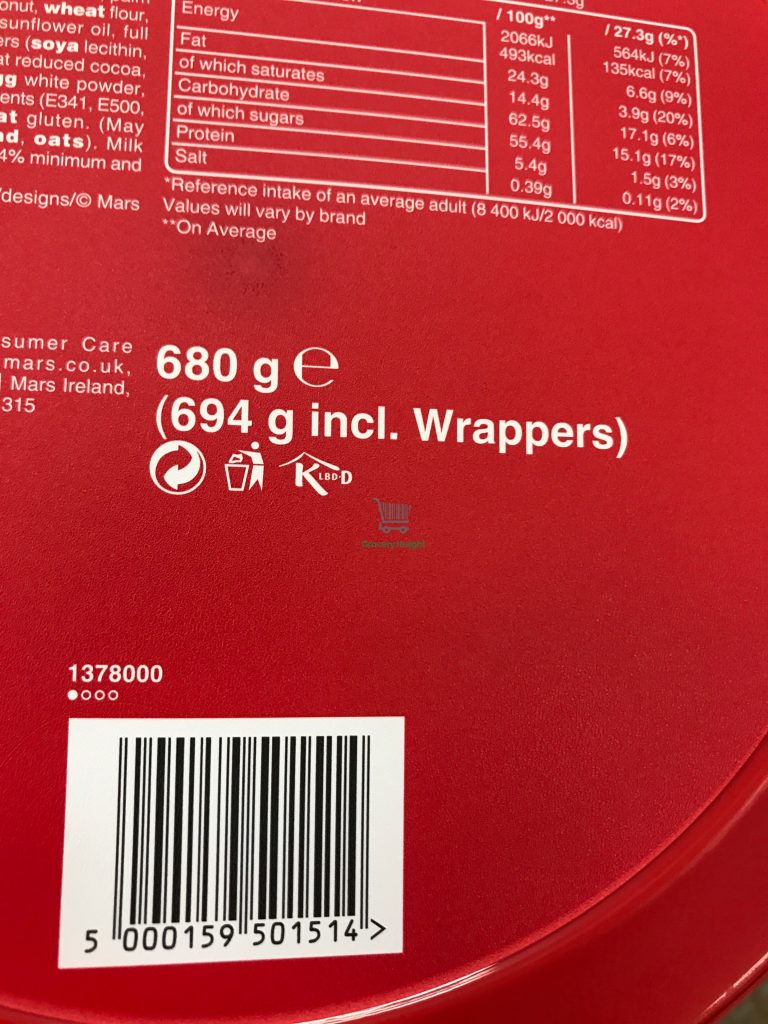 The intriguing element is the weight difference of the tins yet again versus 2016…. Given "shrinkflation" being a common theme under the Brexit banner, the tins are even lighter in 2017.
There will be even fewer Caramel kegs to fight over this Christmas…
4. Keeping Christmas going 
Another Twitter campaign to capture the attention is 'Keeping Christmas Going'; this is tracking those stores who leave signage up and keep Christmas going throughout the year. Products also hilariously pop up too, usually in WH Smith in July. These are tweeted and we all have a laugh…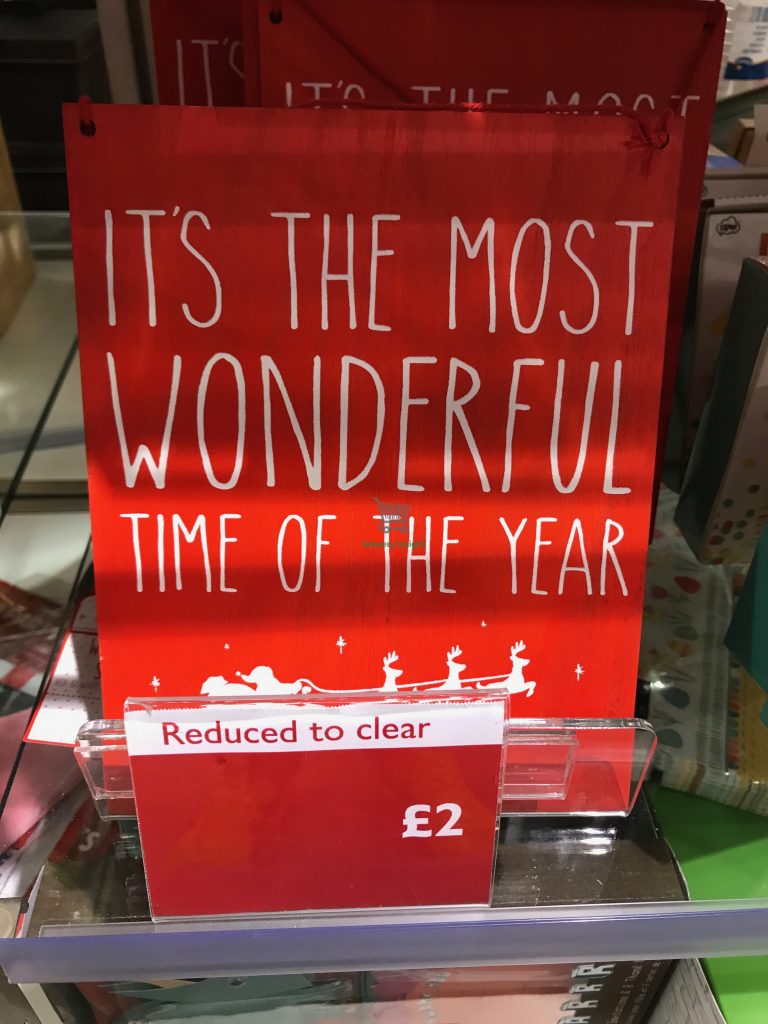 Heading in to mid August, we are seeing Christmas kick off with the Chocolate tubs appearing in Tesco, on the same day, John Lewis were still trading last year's Christmas notebooks albeit at a reduced price.
Surprising to not just see the book on sale but also barely reduced. I would expect a c.10p price to clear through in April… Why not just take them off sale and put them back out in two weeks time at full price?
5. Woes at B&Q
It's fair to say that Veronique Laury has struggled to enchant the City with her wider transformation plans at B&Q. It seems that they will work eventually. Hopefully. Initially there have been issues around stock availability as the internal changes to harmonise range and supply bases (to save money) have directly impacted the customer.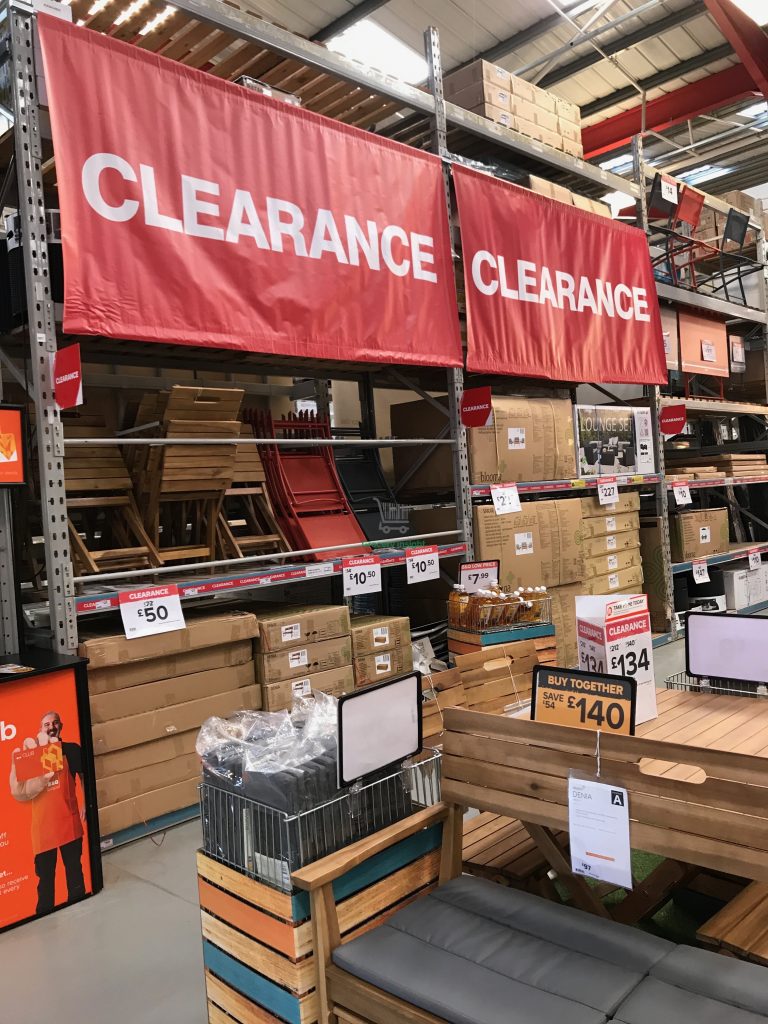 As a retailer; this is the worst possible place to be. Customers really don't care about harmonisation of supply bases or standardising products across the company to improve profit levels. They care about gaps on the shelf and availability issues hitting the products they want to buy.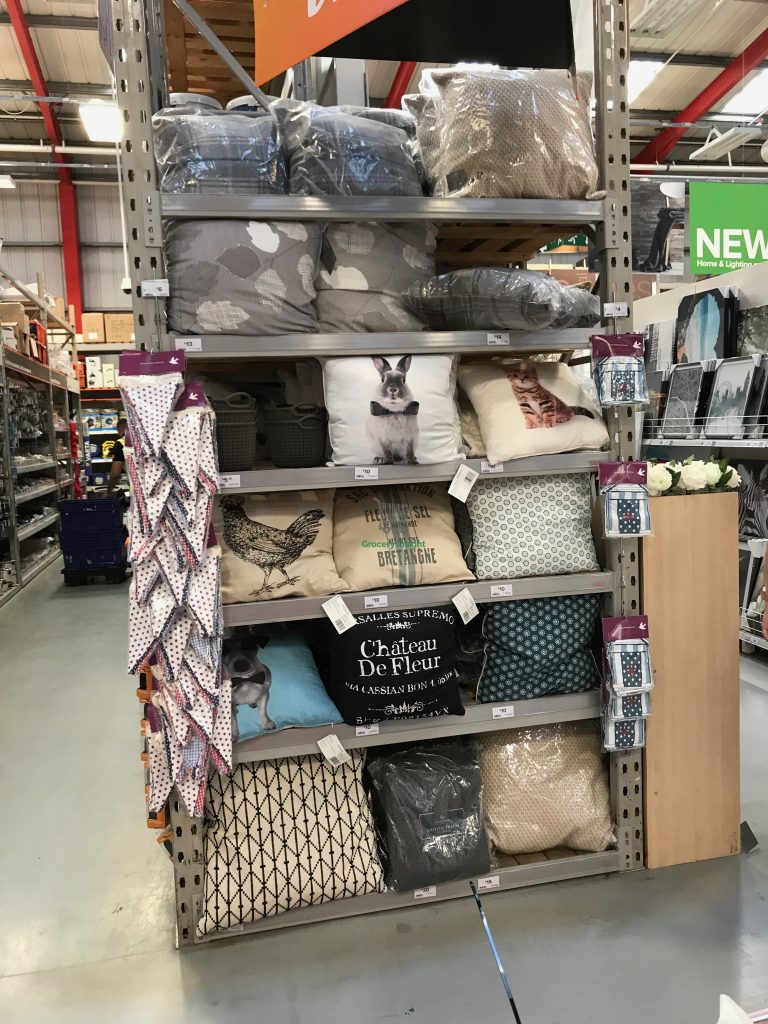 Speaking of range harmonisation. Why are B&Q selling these? A full end on clearance. Crazy ranging.
B&Q isn't as 'soft' as Homebase who have more of a home based (see what I did there?) focus. It's hard to understand a builders merchant style store flogging cushions with Pugs on them.
A contradiction in terms surely? Yes the weather hasn't been great but the sales decline was far worse than expected which calls in to question the wider transformation programme at large. One would expect better figures given the Brexit effect impacting house moves, but consumer confidence is ebbing which means every piece of spending is called in to question.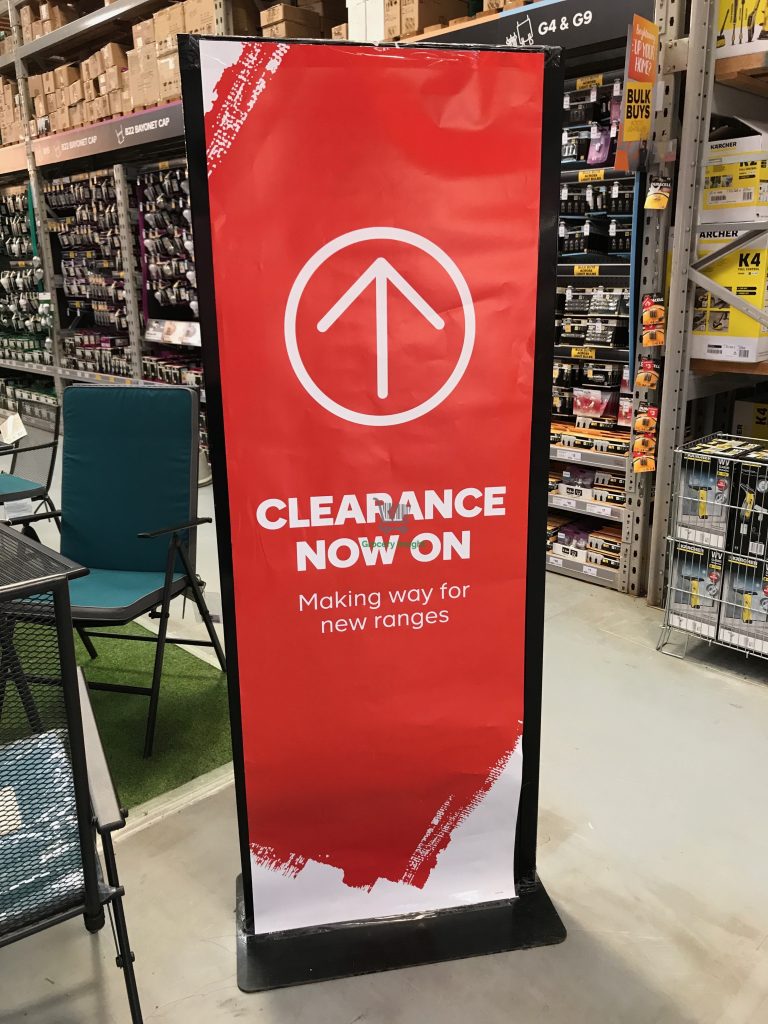 Hopefully the transformation plan will be worth it, however it feels a bit Brexit at the minute in B&Q.
No, not anything smart about France. Rather ploughing on with the plan, entirely unclear whether it will deliver the benefits intended whilst the short term picture is neglected…..
Whilst not strictly B&Q store based, reading the last presentation to the City by Kingfisher to see if there was a mention of a push on cushions featuring animals… Their cover image hardly inspires confidence in a DIY/Garden based retailer.
It doesn't make any sense; a little like B&Q at the minute…..