Week 34. The week is slightly delayed thanks to the bank holiday and this being written on a different continent. Next week – week 35 is a card carrying, United States retail special. Excited? Good! This week we have Tesco doing their bit for the nation's mathematicians, some armageddon in retail (US) discounting in review and a Homebase store in a time warp.
Retailing armageddon.
Were you there? Where were you when you heard Elvis died? Where were you when you heard Bradford City beat champions Chelsea in the FA Cup? etc. Perhaps one day; the question will be 'where were you when Amazon took over Whole Foods?'
Well, Grocery Insight rocked up at Whole Foods, Orlando to take a look at what changed on Monday morning. Surprisingly there was a fair bit of signage around that pointed to lower prices, particularly with the Amazon logo flagged everywhere to show customers where the savings/investment had come from.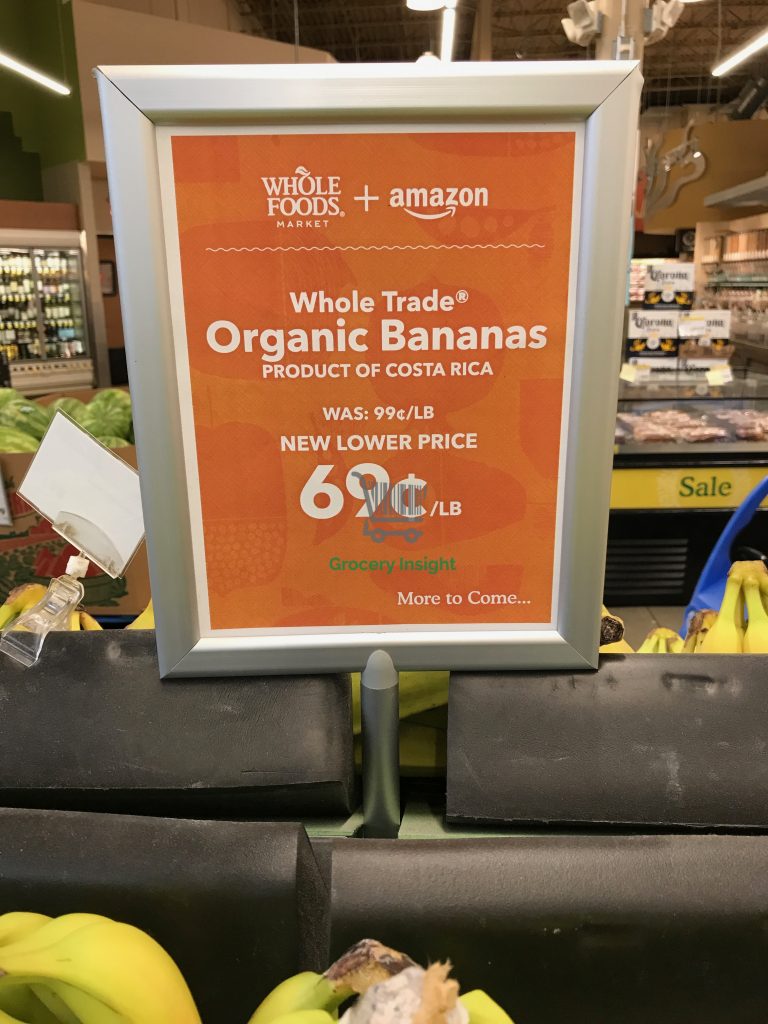 Clearly Whole Foods / Whole Paycheck is too damaged within the whole value credentials piece so Amazon adding their logo a) shows who now owns the chain and b) sends out a stronger message around value.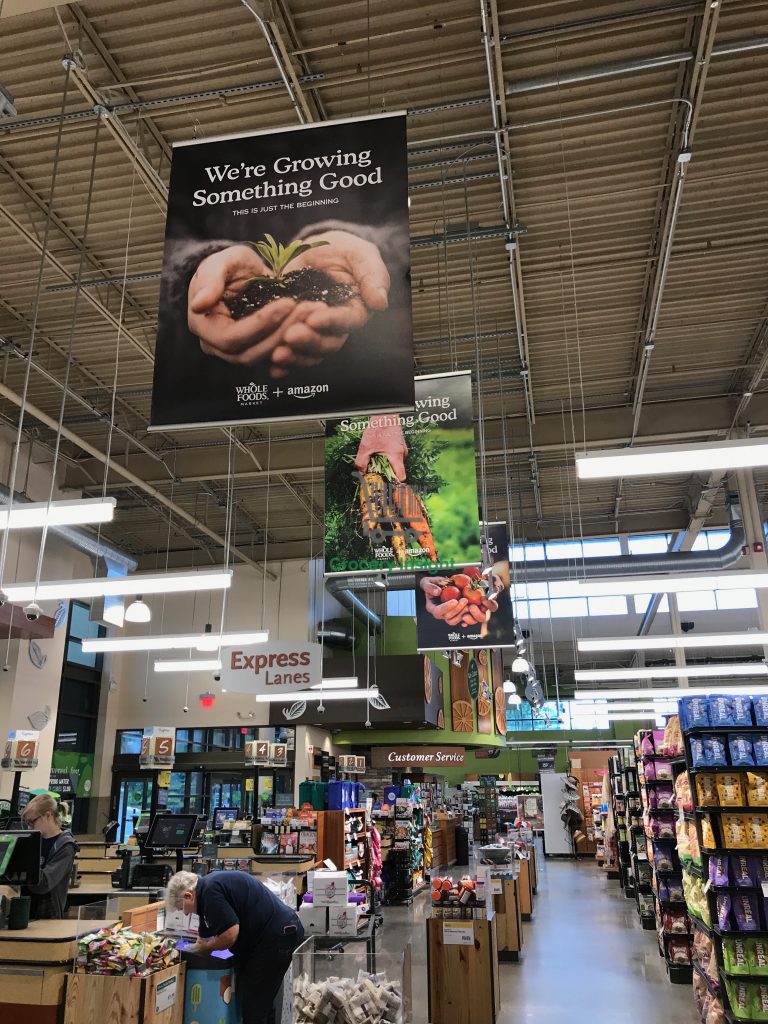 Signage was reasonably impactful, onerous mentions of 'just the beginning' and 'more to come' will frighten any poor performing retailer in the US…. and beyond…
2. Wal-Mart work in Asda
Back in '99, long before my time covering the industry with a ripe blend of humour and insight (over at @dresserman) I was still at school. Wal-Mart buying Asda was a key news story as living near Leeds made the news on Calendar / other local news programmes at the time.
The industry was awash with predictions and teams from Tesco et al were dispatched over to the US to review the Wal-Mart operation, review what they did and what Asda may do with the firepower from Wal-Mart. Did it their worst fears ever happen? Not really.
Even with Tony De Nunzio and co in charge, the Wal-Mart effect never really transferred in to the UK psyche and for that reason, Wal-Mart is still a great place to visit in the States for their huge stores and crazy mix of products.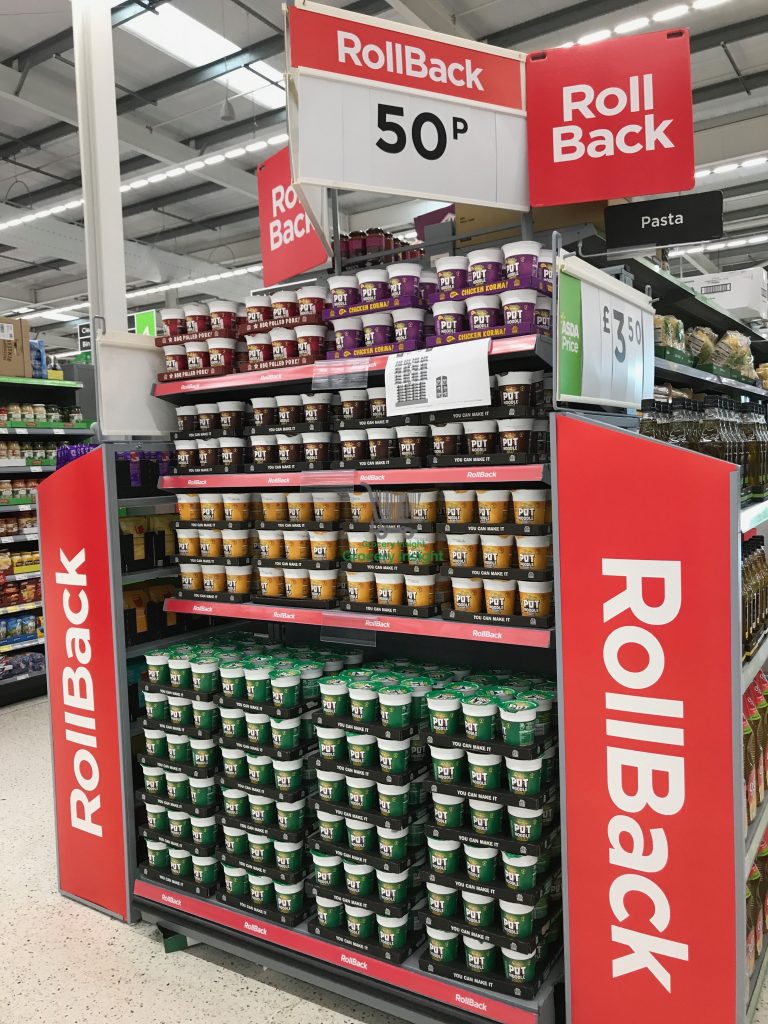 Whereas Asda continues to bump along, no one in the UK expected car tyres, mountain bikes and 4 aisles of craft based lines under one roof… But it's fair to say that Asda have never really become Wal-Mart UK…
A 'roll back' event in store at the minute evokes more than a slight memory of Wal-Mart with the roll back font and message.
More to come here? More of a wider roll back based events in Asda perhaps? Hopefully without the plans affixed to the end itself….
3. Tesco helping the mathematicians of tomorrow.
The leading retailer in the UK have received lots of plaudits for their work on simplifying a business that had not only been run in to the ground, but ended up so confused and full of complexity. The buying teams led by Jason Tarry have done a sterling job in straightening out the commercial side of the operation, tightening ranges and allowing a focus on own label.
Their focus on EDLP has seen Tesco become more of an EDLP retailer than Asda themselves, with sharper gondola ends, price points and a stronger offer all considered, and all credit to them.
I was pleased to see the the confidence so eminent in the buying team that they'd helpfully linked a key promotion on Cereals and linked in with Back to School.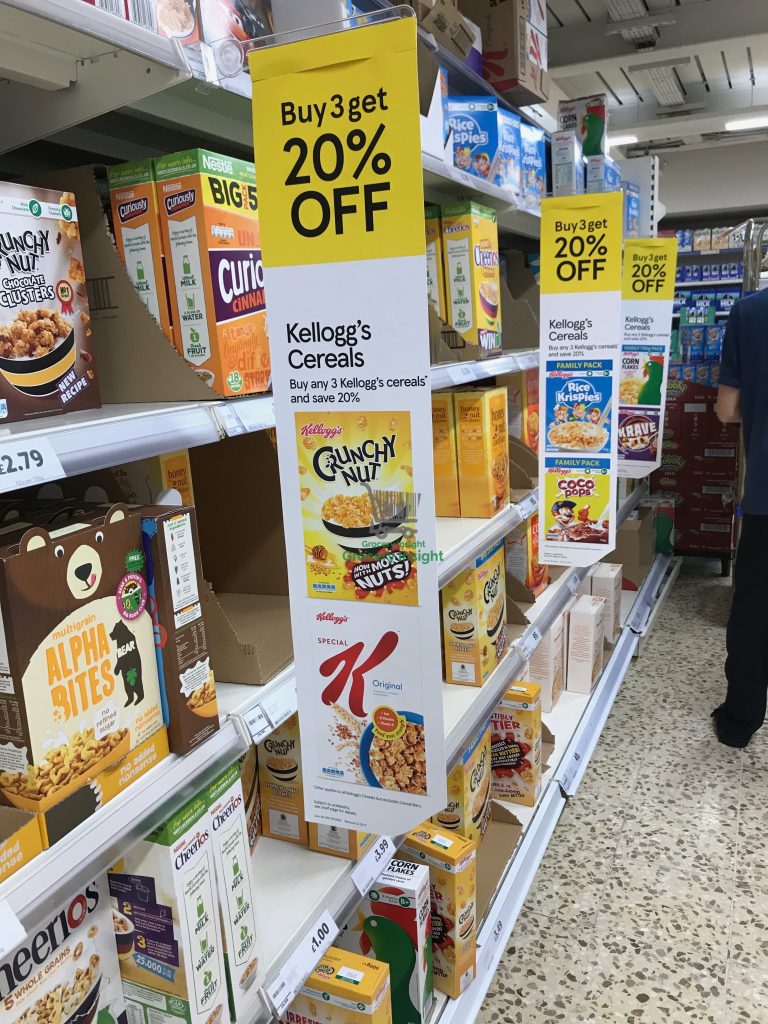 Seasonal events are big business so the links are greatly appreciated to drive sales around the store. The buyer, in setting up this deal ensures that parents and children alike are able to learn mathematics together.
Jesting aside, what is the thinking here? It's a confusing promotion where the value is entirely unclear. 20% saving? I understand the volume driving element of the deal, but what customer will stand and calculate just how much they save?
20% is meaningless; this deal is a good example of one that isn't customer focused at all. Against a backdrop of simplification and low prices in Tesco, it makes even less sense. Consider the Aldi / Lidl success at just being simple – especially in areas like Cereals……
One tweet sent along this week noted another such deal appear on Cider too……. Not good for customers.
4. What is 'licensed?'
One retailer firmly in the 'wouldn't invent if it didn't exist today' are Poundstretcher. They keep working hard and trading despite barely having a customer in the building whenever I visit. But they must appeal to someone…. When you consider Home Bargains, B&M and the single price retailers going to multi price…. Their offer seems more irrelevant than ever.
There are some gems within the store though, often they're very good on branded kids wear but then so are George at Asda… Or Tesco / F&F, and there are infinitely more reasons to visit those retailers versus Poundstretcher.
Brexit wise, sterling weakness impacts everyone importing and Poundstretcher are not immune so there's real currency pressure in the mix….. Every retailer needs to focus on getting customers through the door, external posters are brilliantly used by Lidl and co for example.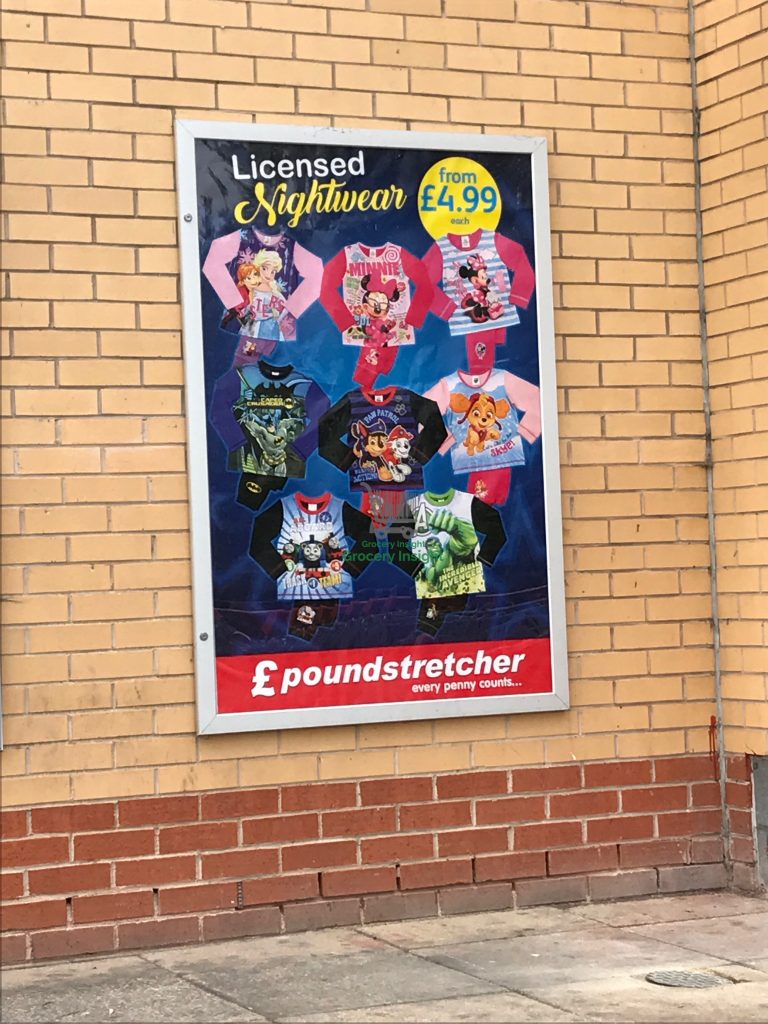 Poundstretcher too, having a go here. However, licensed is a retail term that shouldn't find its way to the mainstream. Customers generally expect nightwear to be genuine in a major store, so licensed shouldn't even enter the terminology….. The font / wording means licensed is the key word on the poster… Bizarre.
Highlight the brands, put less on the poster so it catches the eye are suggestions 1 and 2….. Keep it simple!
5. Multi price world
The single price retailers are long gone in the UK with both Poundland and Poundworld operating a multi price ranges. Both have done it for a while under various 'special buys' via dumpbins and foyer displays anyway. The newer world sees Poundland operating a 'purer' multi price strategy of £2 / £3 lines in their opening run and on ends around the store too.
Poundworld now have a 'Plus' format, it's literally like B&M but with more lines at an opening price point of £1, alongside a huge number of other price points too. All of these are interspersed within the core fixtures which can confuse. Especially for price sensitive customers who are used to being able to 'sleep shop' around the store with everything being at £1.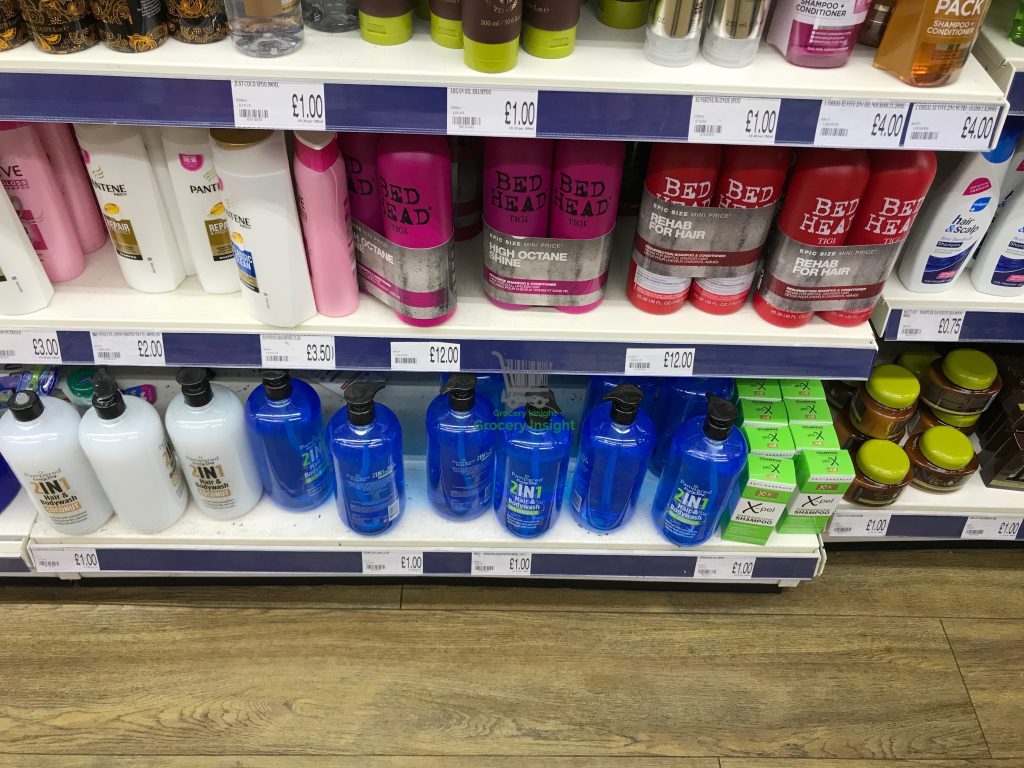 A little disruption is never a bad thing but this feels a bit 'all over'. The Bed Head shampoo at £12 is an example of Poundworld being caught in between two stalls. It's a great price for a leading product, but are customers going to be in Poundworld looking for that brand? Can they stretch spend this much? Or will the customer scanning the fixture end up taking '£12' as the takeaway price?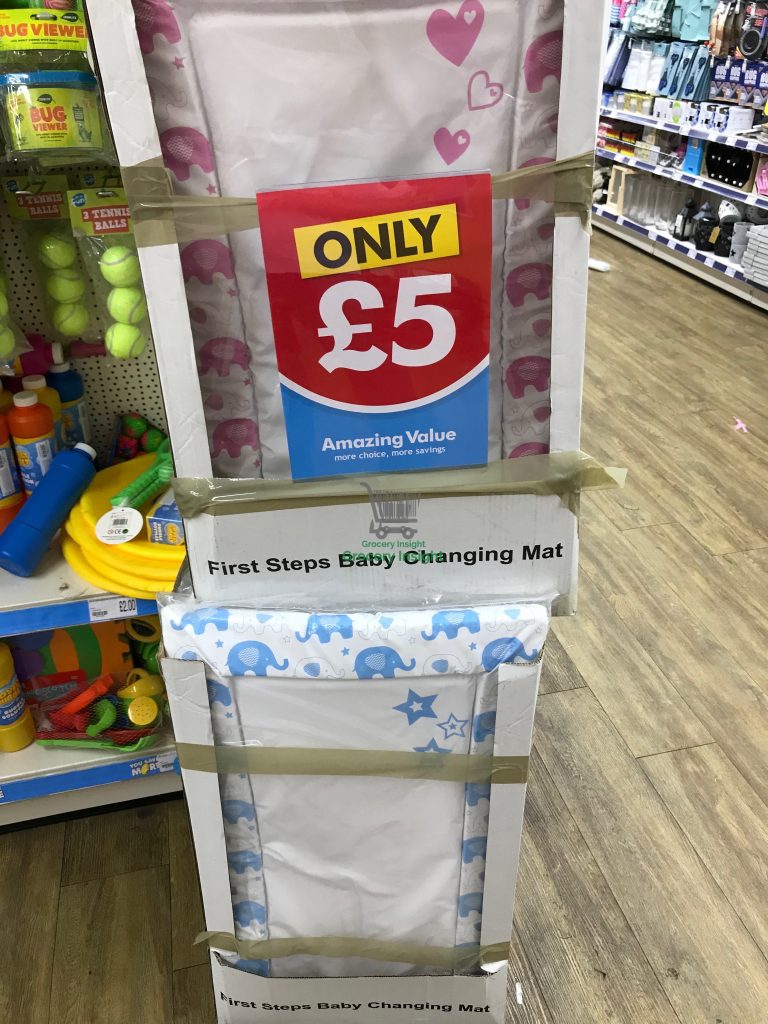 Attracting new customers to the store with these big buys will work, but the price sensitive shoppers should also be considered carefully. Their model has gone from one of simplicity to one where prices are literally all over, buying for single price was a skill as there was careful consideration for so much, does this move 'deskill' the role somewhat?
Their new multi price strategy will look after like for likes initially. But over the longer term it will be interesting to see if the value keeps coming loud and clear for customers.
6. Homebase North division
It was interesting to note that Bunnings are lauding the success of their newly converted stores, but these stores aren't exactly in hard pressed locations… Hemel Hempstead and two stores in St. Albans are hardly Bradford / Hull etc….. Trading every store is a challenge but….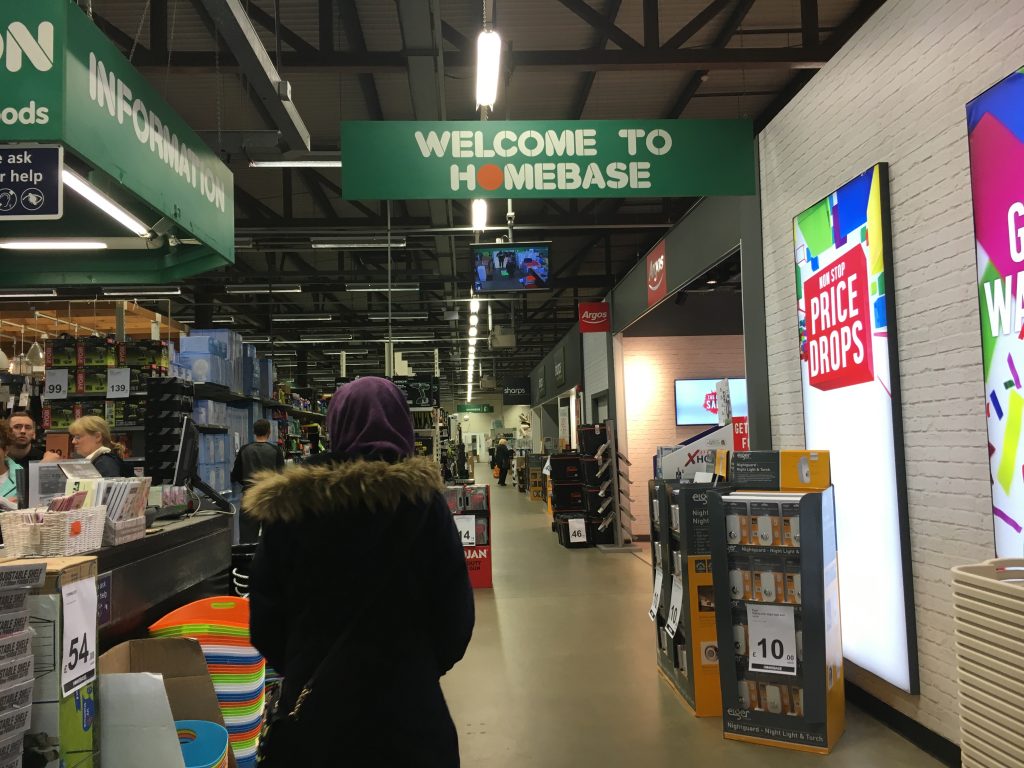 It is understandable that Bunnings are testing their concept in affluent locations to get the numbers moving and for the concept to get a decent audience. However to then put a 2nd store in St Albans seems bizarre. You have to be at your best elsewhere too.
Whilst investing an under performing store can risk impairing the asset further (that is a store, worth less than the 'book' value, suddenly worth even less when the company spends £2m refitting it). But you do have to buy a ticket to win the lottery, one would assume there are no loss makers in the estate given that Bunnings would have closed these when taking over the chain……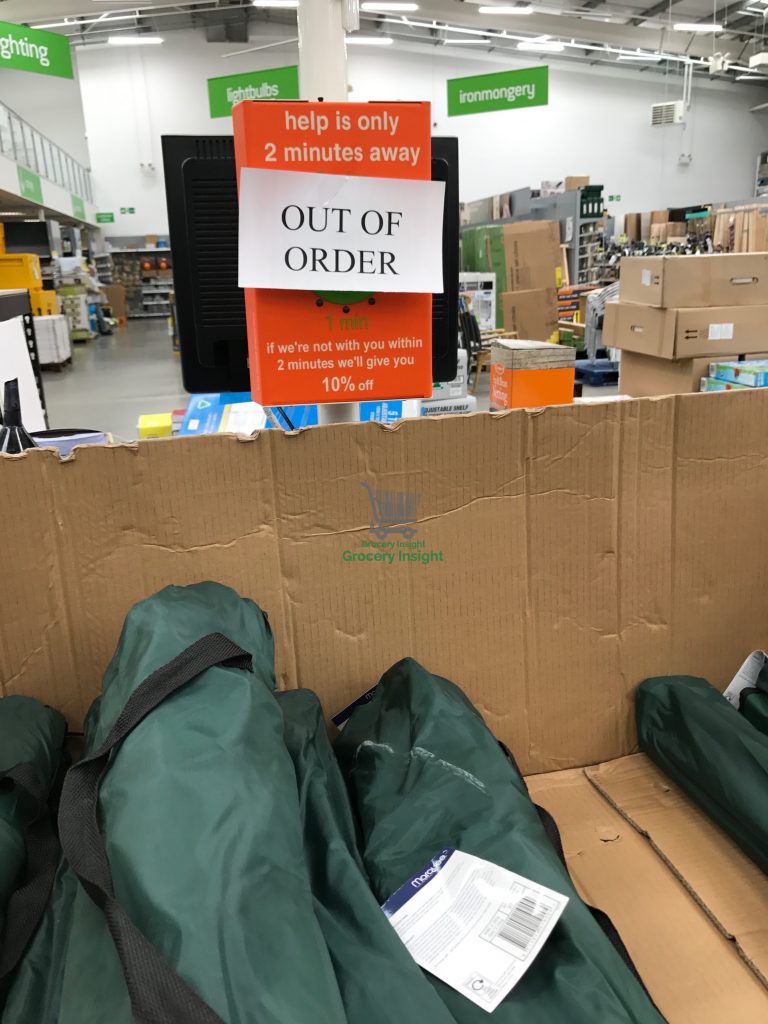 In the impoverished north, Bunnings would go well. Having moved house a year ago and having had a power drill and DIY manual bought for me for Christmas – hints were being dropped that I should do more around the house….
So with my Aldi special buy workwear on – I've ended up visiting both B&Q and Homebase on numerous occasions.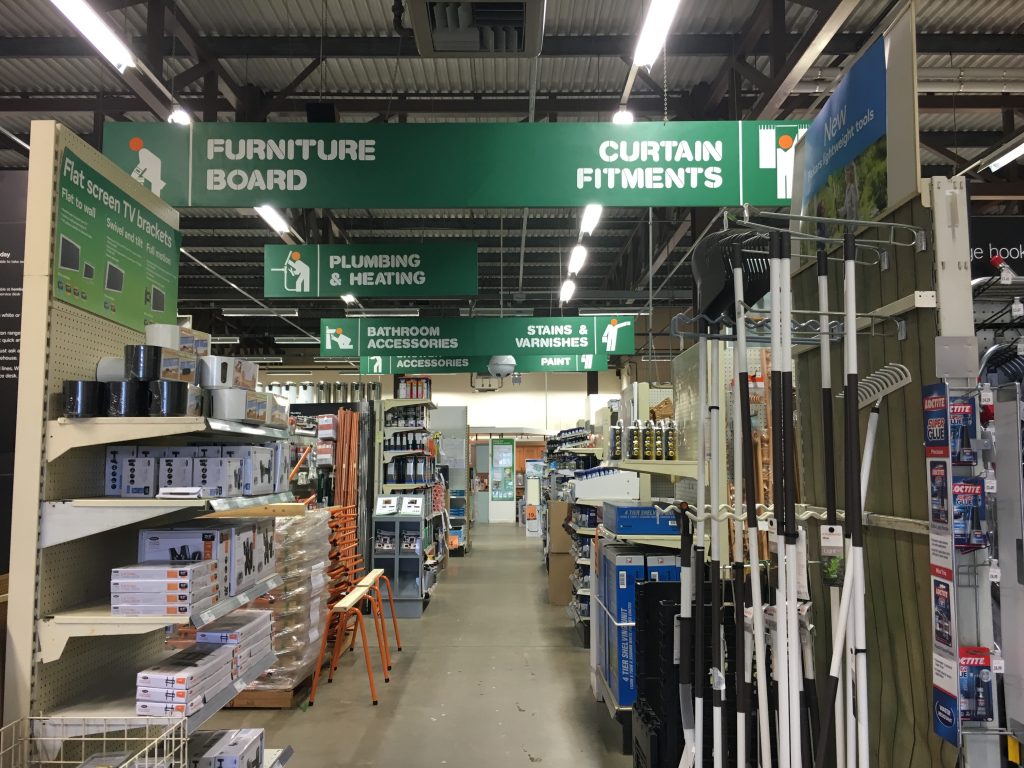 The Homebase folk seem more energised under the Australians, with more of a focus on people actually knowing what they're talking about.
We've received great advice on paint and honourable mentions to one colleague manfully bringing gas bottles for the BBQ back and forth on a warm old day back in June.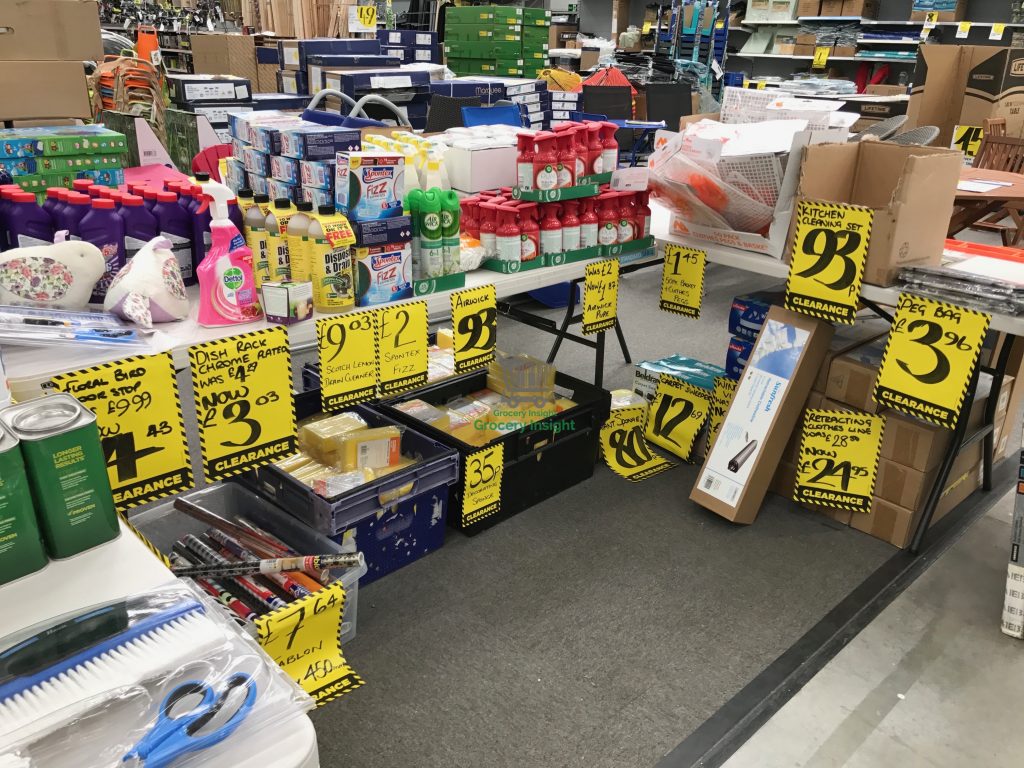 However the store, minus the Argos is somewhat unbalanced now, with large, vacant spaces everywhere, usually filled by stock with handwritten price labels. As above.
I often think (as a novice) that there is so much mileage to be had in demystifying DIY for the beginner, especially when you consider how much effort supermarkets put in to explaining the various fruits and vegetables they sell….. DIY needs to be broken down further.
Even a simple paint job is a daunting prospect, a plethora of paints, primers, colours and brushes face the novice and it quickly turns in to a job resembling quadruple heart bypass surgery. Literally all you need is an opening bay or two in each aisle for the beginner – with images of the lines you need, step by step guides and flow charts so customers can get everything they need.
The experts can just head in to the aisle and find everything they're after equally. If this idea pops up in Homebase or B&Q, I will be claiming all rights(!)
Newer merchandising, adjacencies and de-mystification of the wider DIY projects will be a winner for Bunnings in the UK, just don't forget those northern stores who could benefit from a sprinkling of Aussie miracles too (not the Shampoo I hasten to add)…
[convertkit form=2294317]