I think it's perhaps indicative of the 'who can run the least worst shops' trend that we are seeing in the UK that this news doesn't get as much 'shock' as it would in the past. However it's still a bad news story and one that Tesco will be trying to control in the coming days, leaking ahead of the announcement is not great at all for colleagues, my thoughts are with them and morale will be low in stores today.
That's the sad part, whilst we all chew over the news – the reality is that colleagues would have headed in to work today and had to work on the counter, completing tasks, serving customers and acting as if nothing is wrong. Not an easy thing to do at all.
The wider Tesco challenge remains that discounters are low price, high quality and continue to reset the parameters around these elements versus their larger rivals.
Premium tier products being the latest example of ranges that are lower than their mainstream rivals in price but quality is equivalent or perhaps, better, given the lower price in the first instance.
Tesco have combatted the discounters well in the Dave Lewis reign – they have continually pushed back against discounters with self inflicted deflationary tactics in Produce and Meat initially. Reducing the price of a number of value tier products, introducing more in to the range and bringing them in to play as the "farm" brands, no less.
We have seen further work in this regard over the last year or so, as Tesco started to replace the 'everyday value' tier with a variety of sub brands – TE Stockwell, Creamfields (dairy brand, not music festival) alongside Grower's Harvest. These brands span a number of products (TE Stockwell in Beans, Tea, Lemonade e.g.) so the customers becomes accustomed to the 'brand' around the store.
The net result is this work is deflationary; IE Tesco are making cheaper products more accessible and branding them strongly. Customers will switch in to these products from more expensive mid tier / branded products, which impacts the sales line and profitability.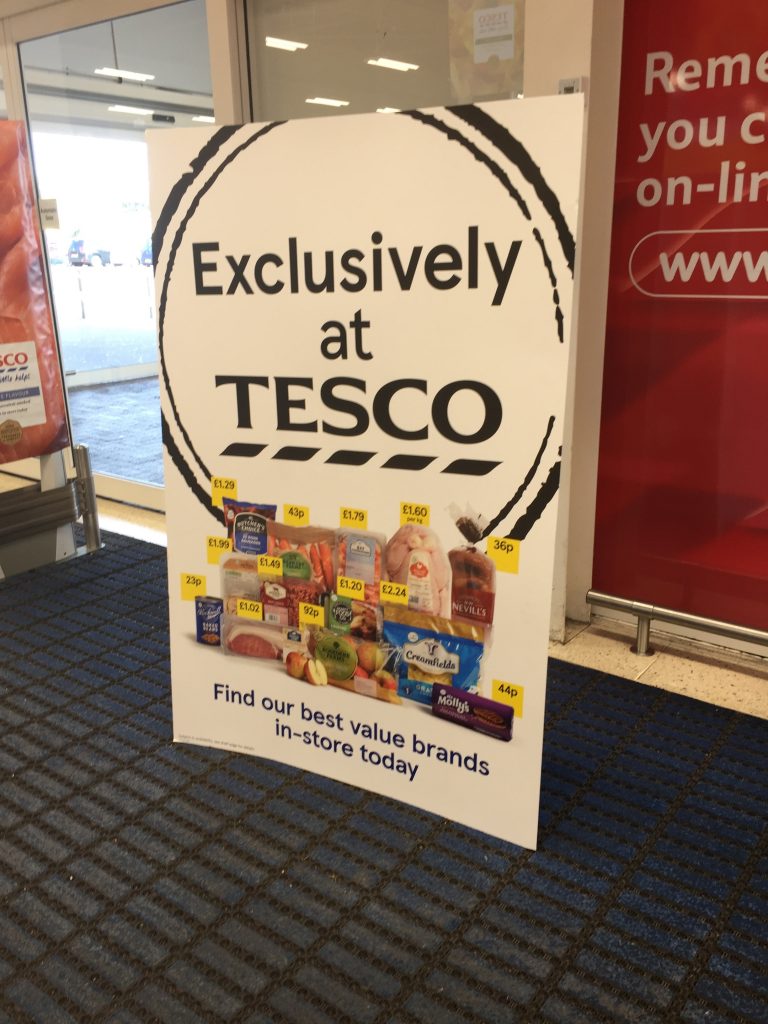 The challenge for Tesco is to grow sales of these value tier products to such a point that orders are increased which brings the overall price for Tesco down. In addition, whilst they hope that existing Tesco customers continue to buy mid tier products, if they do buy in to the value tier, they won't go to Aldi to do a 'secondary' shop, plus they'll perhaps buy premium products in another area of the store to maintain the margins / profitability.
If we take existing customers to one side, the hope for Tesco with this strategy is that customers who did shop with Tesco but moved on will return, or customers will switch in to Tesco to take advantage of these categories where the value tier is especially strong.
Of course – there are a lot of numbers in this mix. A lot of variables and actively deflating yourself means that you are chasing the equilibrium somewhere, "playing to win together". IE one can imagine the Produce / Meat buyers were chuffed that the cheaper, value tier ranges were being expanded, placed prominently on shelf and branded too, they may sell more, but you have to sell 2 value Steaks at £2 just to stand still versus 1 mid tier Steak at £4.
The irony with this strategy is that chasing discounters in Meat, Fish, Cooked Meats etc has led to a strengthening of the value tier / farm brands in terms of price points and range, designed to stop discounters establishing a price gap. However if you make your 'aisle' of product cheaper and certainly equivalent to discounters – then there are fewer reasons to visit the service counters unless you are a real die hard shopper.
Generationally – customers at the younger end of the spectrum are even less likely to visit counters, the age of the smartphone, self service checkouts and actively avoiding contact with a real human being means counters are a challenge for the longer term.
As we see, the challenge with fighting discounters on this front is that you open up in to the world of unexpected consequences, IE action taken in one area can drive behaviour elsewhere that forces an unexpected step change. A good example is the increase in the national minimum wage, designed to reduce the state contribution to workers on low wages via the tax credits system.
This was lauded by campaign groups as a great thing and undoubtedly it is, whether you'd like to see more direct action on public transport / utilities etc is another matter but the net position for colleagues who have seen their base wage rise is likely unchanged, despite their base rate rising in line with legislation.
Unsurprisingly; retailers have not been able to swallow the rise without changes to terms and conditions as the impact is too great to the bottom line. Thus paid breaks have gone from contracts, premium payments for unsociable hours, Sunday and Bank Holiday working have gone and perks such as a free sandwich (Pret) have also disappeared. It has also quickened up the introduction of technology – self service machines at McDonald's for example.
The business case changes overnight when you change the colleague pay rate to increase over the next 3/4 years versus the cost of installing the technology.
In terms of Tesco – the increased wage costs, national insurance contributions, business rates and the like will all contribute to the basic economics of the counter operation making little sense in many stores. If you are taking "x" per week (counter sale are generally stagnant and there are increases but if anything the trend is negative) and costs related to staff rise, you can cut staff – but on a service counter – they need manning so it's not a real option.
Add in the fact that some stores may have had a discounter or two open nearby which almost instantly sees a fair share of (£) and also volume disappear off to the discounters, if this is a smaller store that retains a counter offer for loyal customers then the economics are worsened at a store level. If Tesco can bring some of these customers back to the store from discounters, are they visiting the service counter? It's unlikely. They'll be in to the cheaper cooked meat in the aisle…..
Some counters do work well for Tesco where differentiation is offered – IE Rotisserie services a hot food need, Pizza does a similar job and offers something different. However when the Meat/Deli/Fish counters are competing with cheaper products in the aisle – it's a difficult old task. The Bakeries were mentioned as a model that would move to a frozen, bake off operation – this was attempted with the ill fated Euphorium disaster via bake off bread and quality nose dived.
There are a number of scratch bakeries around Tesco and it seems that these could be safe, it wouldn't make a great deal of sense to adopt a wholesale approach to cut / retain portions of the counters business and it will boil down to local decision making and performance. IE the cold, hard facts of the matter.
You can also in part thank Phil Clarke (back in the news last week post the SFO acquittal of the Tesco three) who oversaw the re-introduction of numerous service counters in an effort to improve the store environment and offer….
There is the school of thought that projects around counter investment, new thinking and redesigns could aid the counter effort for Tesco but in the world of cold, hard economics it's not going to make a difference. If it does it'll be limited and there's no one who would sign off millions of investment for an unclear proposition with no real prospect of success.
The business isn't really in the space in the same way that Morrisons are, or Sainsbury's (to a lesser extent) and it's a disparate offer across the store estate.
The stars are aligning elsewhere for Tesco; Dave has been crystal clear around his targets for margin and has been unceremoniously closing loss making businesses, even where those 'futurist' based analysts are telling us everyone is going e-commerce – Tesco Direct (£40m loss making) and click/collect went last year despite the growing trend for online.
However despite the numbers making sense, experience counts for a lot and discounters vs. core retail has marked differences and customers have a myriad of reasons for shopping where they shop, making decisions and who/where/why they are loyal etc.
As much as anything, the PR / public perception of a firm counts for a lot. Tesco have improved their reputation beyond belief in recent years, however customers don't like stories of people losing their jobs (even if their behaviour of shopping at discounters enables it) and there could be a hit to the chain in that respect. Some customers won't use self scan / scan/go handsets as they link it with checkout operators losing their jobs for example – so it's something that people are aware of.
Tesco don't want to be winning the competition for 'running the least worst shops' as it's a zero sum game. Ultimately someone will go too far and strip too much out of stores, then what? You're still more expensive than Aldi and Lidl but the shop is a giant hangar with nothing different to offer.
Your shops offer no reason to visit other than there's always lots of parking and there's never a queue at the checkout.
It requires little skill to close down or shrink opening hours of a service counter, no trading skill is utilised in doing so. There are no checkpoints; sales still not good? You can close more down, cut a bit more and you can tighten the opening days/hours further.
Ultimately you commit suicide – you strangle your business of oxygen (sales).
A weekly email covering the latest events in the industry; such as Tesco store operations, store visits or new promotional packages are all covered. Please visit our emailed retail insight page for further information.
Grocery Insight provide market insight on the UK sector with a focus on individual retailers such as Tesco. This insight is useful to various stakeholders and due to my store based focus. Insight can be delivered to suppliers to focus on growth opportunities, analysts and investors to assess the business performance and long term outlook and retailers themselves to assess best practice.