Our retail image of the day today features John Lewis and their store in Leeds, indeed, their baby category specifically but it could be any number of images that I took, when visiting yesterday.
A fuller write up will be available for our email subscribers too, featuring more areas of concern than just these.
The store itself is relatively new, sited in Leeds, down towards the bottom end in a development that hasn't really done as well as perhaps anyone had hoped.
Issues with the store?
Well, it's just symptomatic of bad retailing, these guys sell high end, luxury, they sell a dream!
But the store itself is akin to selling out, selling a nightmare and indeed, perhaps indicative of the chain – is as far away from John Lewis and what it's supposed to be like than ever before.
From dirty gift boxes in Candles, to damaged packaging on high end products, from Easter Eggs on clearance to advent calendars, still available, some 6 months on at £10+ = the list is endless.
As for Anyday. Why bother with the rebrand?
Has it solved any problem that John Lewis faced? Not really.
Did it actually have an issue with branding of private label? "House" is strong, Sainsbury's aped it for example with "Home".
If anything, it only serves to highlight the price discrepancy issues that they have and further confuses the tiering and value perception.
Charging £4 for a pack of tea-lights as though they're saving everyone money, when in reality, the same tea-lights are mere £1-£2 or so at Asda, Tesco, Morrisons, or even IKEA.
The myriad of products that Anyday appears on are also inherently confused. Tea-lights and candles are fair, some of their Summer lines, understandable.
But a baby's sleeping bag?
A Cot?
Putting the most precious thing in your world in to something that features the same, new, branding as the £4 tealights is baffling. Especially as it's called 'anyday' meaning – everyday items.
Which a cot isn't. Unless you're a parent or parent to be.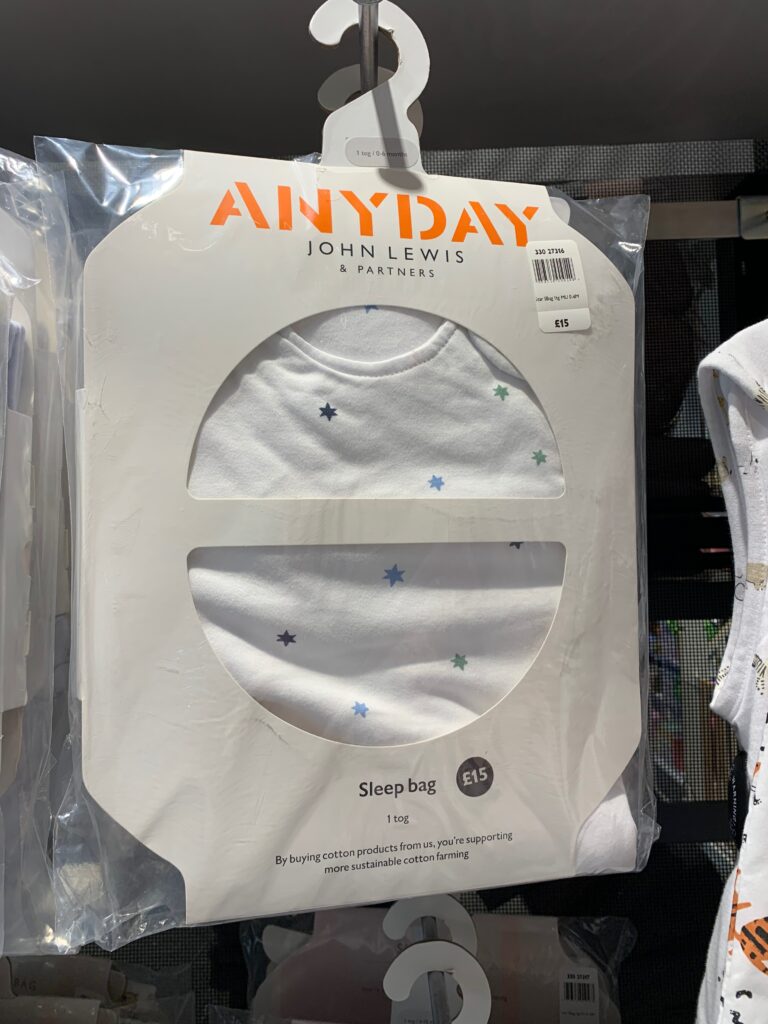 I could go on and on and on but as a relatively new father for the 5th(!) time, I have an interest in the baby category at the moment. There is a lot of money to be had and Mothercare went bust because they literally drove themselves over a cliff, people are still having babies, so where are they going for their merchandise?
Not John Lewis I'll wager.
From the utter lack of category management in key areas like Toys, or Clothing to an absence of signage around key areas – such as baby monitors (there was only a few types but no signage to advise customers, at all, around what should be bought, features etc).
Standards were equally disappointing, partners were too thin on the ground (although 3 were sat in the nursery advice centre interestingly) and when advice was asked, there was no 'selling'. Just a 'no' when asked if a certain pram was stocked.
Sales lost! They can't afford to do this!
However, their clearance area was remarkable. This IKEA reclamation / damage area look and feel was not in keeping with John Lewis at all. What on earth are they doing?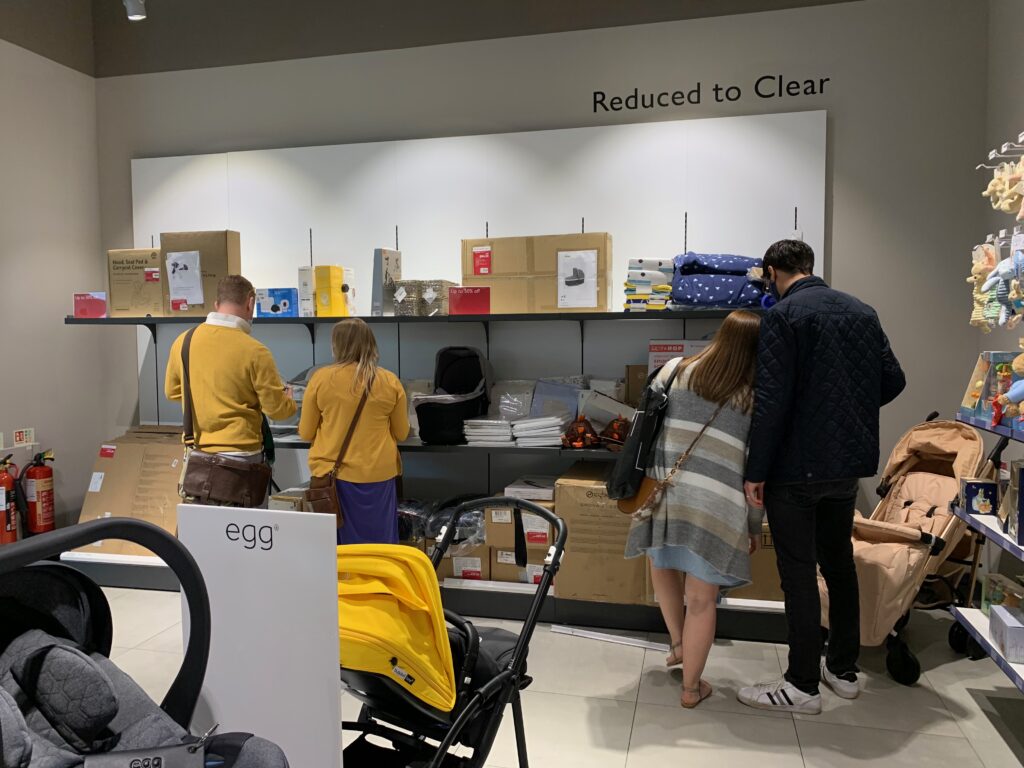 Prime selling space! Just abused. They have fewer stores than ever now so how things are not improving is beyond me.
In addition – I am unsure I have ever seen a store with a pre-dedicated clearance area inside a category, complete with signage / lettering too. Showing it was planned!
Busiest area of the store, also utilising prime space. No one minds clearance and we know that times have been hard for non-food. But why is it so bad?
Not really selling dreams, rather the ongoing nightmare. With an absence of any coherent plan to revive their fortunes on the horizon.
If John Lewis think Anyday, a wider range of insurance products, building social housing (an area that's difficult and where John Lewis have precisely zero experience) alongside closing stores is the answer.
All the while; retail sins like this go unanswered.
Start the car, they're in trouble.
(I could have put all 120 images of the store up on here. The Summer Toys were merchandised at the back and lost entirely in the category. The Toys was too much like hard work in any case with narrow aisles and customers unable to walk down the aisles with a pram, e.g.)
It made me want to scream. It's all self help, readily available. You just have to move. Quickly.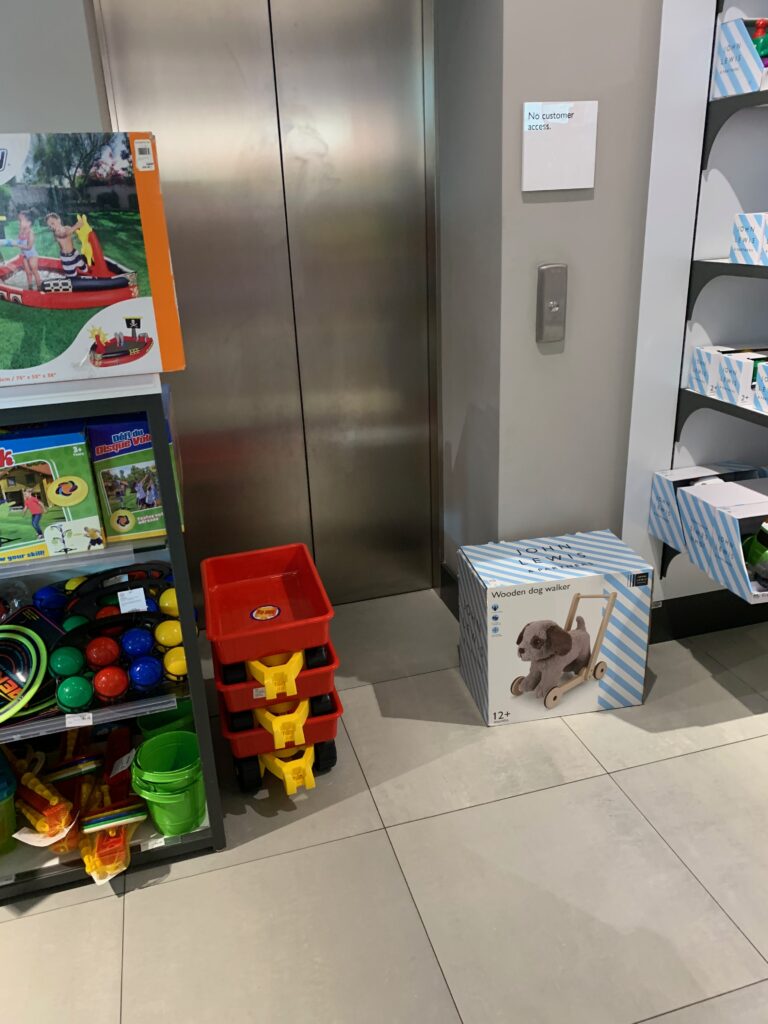 The only place to see our full run down of John Lewis and our thoughts on the store and their future, is via our email subscription list; subscribe and join, today.
You'll also get access to our archive of content going back several years too!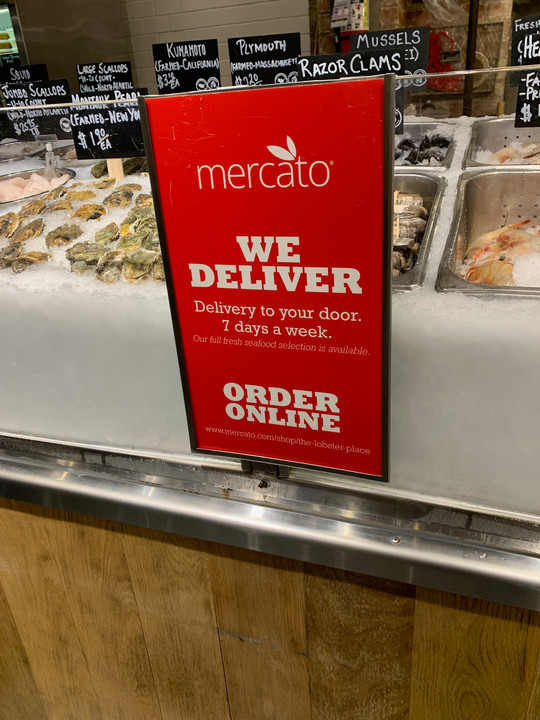 Retail by Email – Our email subscription service