Tesco's latest bright idea is to make stores look like warehouses, part of their ongoing focus on must fill lines (Coca Cola, Walkers Crisps, like a throwback to the JS top500 lines marked with a '!').
Basically the high rise shelving that either already exists above some products (and in others it will be added) will house the relevant overstock for that aisle, so rice and cooking sauce overstock goes above that aisle.
Benefits are that it makes replenishment easier, stock is less likely to get lost in the warehouse and as long as it's replenished accurately and continually counted and investigated then overstocks should reduce.
The drawbacks are that with the stores already looking like a slightly posher Aldi with Shelf ready packaging everywhere, lean staff so shelves not as tidy, empty cardboard all over and now stock in utilitarian boxes and shrink wrap above the customers eyeline, where will it all end?
Is it this Tesco's latest bright idea? Will it deliver savings? Or is it just another market in the race to the bottom?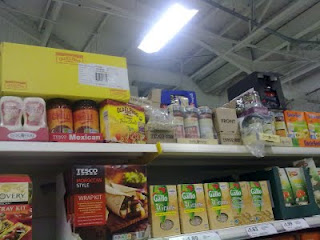 Another question posted is where will the Christmas / Easter Confectionery tins / selection boxes / anything over ordered by Head Office live with the high rise shelving being used for other uses?
Looking at other retailers who adopt the stock on the shop floor methods, the most famous is Morrisons with their well honed trading mentality, most of their ladder racks and dump-bins are built so overstock can be put underneath and replenished throughout the working day. Shopping at Morrisons as I do, you get used to seeing this excess of stock.
Sainsbury's are regimented in their approach, working on the shopping experience being good for the customer so you won't see any overstock out on the shop floor there, similarly at Asda who tend to concentrate more on shelf ready packaging and pre filled MU (merchandising units) being put on the ends that should last longer than a standard end filled with products.
One thing is for sure, this is another attempt at Tesco running the business as lean as possible (along with shop floor computers) to push up profits to historic levels thus keeping the stock market happy.
How long can this continue? By all accounts under investment in shop floor staff is showing with store standards slipping and Tesco losing market share (as they have been doing).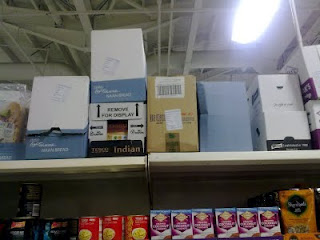 It's a case of a small bit of gradual investment in staff now to really see these efficiencies bear fruit, rather than continuing to run the business on the bones with stores just struggling to survive each trading day. When stores are just struggling to survive, routines aren't adhered to as regimentally as one would prefer and there is more risk of errors occurring on checkouts, with shrink and with replenishment.
Last of all (but least in most retailers' books it seems) customer service suffers with customers unable to find a member of staff / the member of staff is too busy to give the customer full attention / queues galore / shop floor staff assisting on checkouts / shelves empty / more stock on the top shelves than on the shelves themselves.
It slips very quickly and the competition are more than happy to take the business away.
The Tesco bright idea seems smart, but is it right for customers?
A weekly email covering the latest events in the industry; such as Tesco store operations, store visits or new promotional packages are all covered. Please visit our emailed retail insight page for further information.
Grocery Insight provide market insight on the UK sector with a focus on individual retailers such as Tesco. This insight is useful to various stakeholders and due to my store based focus. Insight can be delivered to suppliers to focus on growth opportunities, analysts and investors to assess the business performance and long term outlook and retailers themselves to assess best practice.