In the next couple of blogs, I'll be taking a look at how the retailers are setting up for Christmas, there's always an abundance of offers, stock, staff and trade in December as everyone starts to go a bit 'mad' for Christmas.
The trade patterns are shifting massively at the minute, there's a real concerted effort by shoppers to spread the cost of Christmas out over a number of months, Morrisons CEO Dalton Philips reckons customers have changed the mantra 'time is money' to 'time saves you money', noticing that customers spend far longer doing their shopping, thus noticing price increases / special offers and more of the range.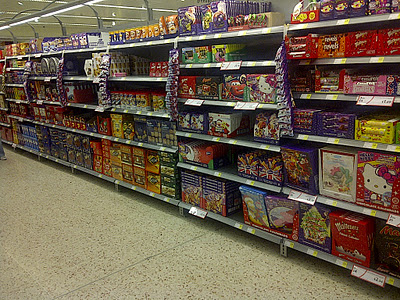 Morrisons had their Christmas confectionary range in stores – 5th September
It was an unofficial race to see who could get their Christmas range up and running first, with Morrisons comfortably beating everyone as their Chocolate / gifting range appeared in stores by the first week of September, closely followed  by Tesco and Sainsbury.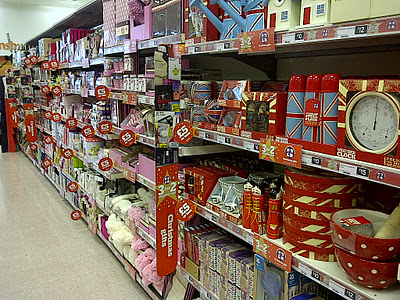 Sainsbury's were quick to market with a vast gift range – early October.
Asda were miles behind the rest, very surprising considering their lowest price ethos means they're very close to the heartbeat of the customer, surely they'd know customers wanted to buy in September / October to spread the cost of Christmas? Andy Clarke noted that last year that customers were buying tins of chocolates very early, September in some cases.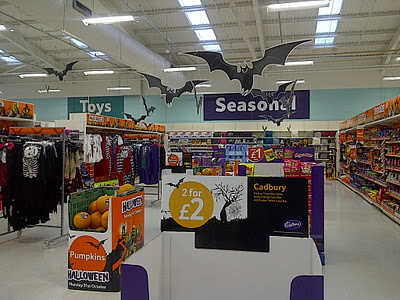 Halloween has become a major event in the UK retail calendar, Tesco have ramped up their offer.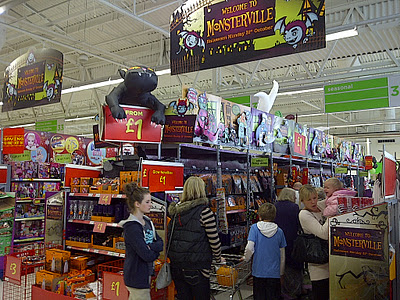 For Halloween; Monsterville was superbly executed in Asda.
If you wanted tins of chocolates, then you could have got them at Asda but nothing else until early November, with the retailer choosing to focus on Halloween and the baby event. A Halloween focus is understandable considering the Walmart ownership and it's probably fair to say it's an event that Asda excel at, perhaps the only one these days as their rivals sharpen up their act.
The Christmas seasonal aisle didn't 'land' in Asda until early November once Halloween was over and done with. With Asda tending to do phases of  launching things into store, for example core assortment will arrive first then you'll see more of the biscuits / chocolates. Phasing ranges in makes sense but I was surprised to see it happen here when they were already two months behind the rest with their Christmas range.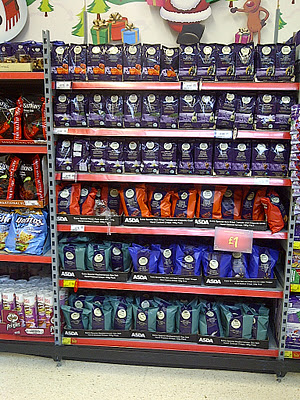 A bay of Extra Special coffee / crisps in early November
The first launch was a remarkably uninspiring range of chocolate, crisps and coffee, of particular note was a  whole bay dedicated to Extra special coffee with a further two bays dedicated to giant (larger than usual) sharing bags of crisps. Presumably Chicken / Stuffing flavour to compensate for having no money for a Christmas dinner perhaps?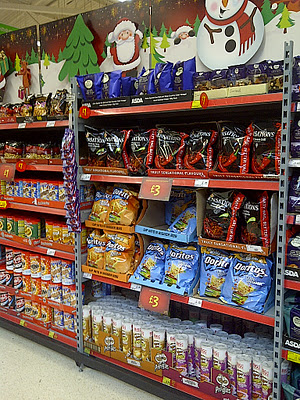 First variation of seasonal saw lots of sharing crisps.
I jest but the initial range seemed bizarre and almost like something you'd expect to see in late August before the full swathe of confectionary arrives, but for early November it seemed very sparse. Considering that their rivals have had Christmas lines out for two months and subsequently attracted early spend, you'd have expected Asda to be keen to make up for lost time and to go in hard with it.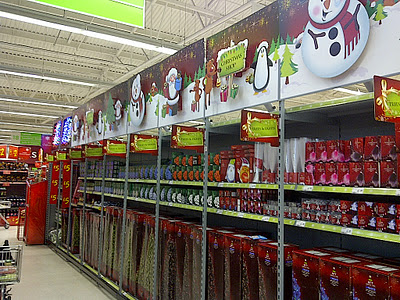 Working Christmas lights at the top of the aisle with a strong range of trees.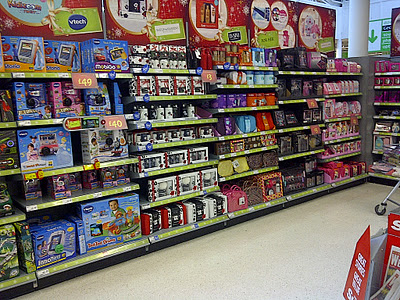 Gift sets and toys were available from early November
The non food range from Asda is strong (as you'd expect) with the Halloween seasonal aisle disappearing to be replaced by Christmas non food, a good range of trees, decorations and gift sets were notable and the merchandising it particularly impressive, trees overhanging the aisle and fully working Christmas lights all add to the glamour of the season.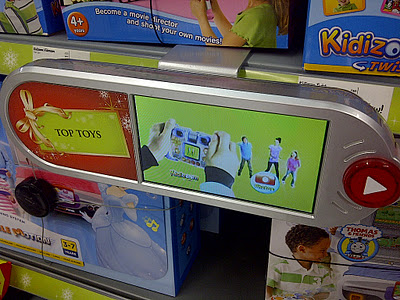 Shelf edge barkers advertising the latest toys.
A strong range of toys was also evident, despite this supercentre having two aisles of toys downstairs, some core toy offers were placed upstairs with some great shelf edge barker sized video adverts. Pressing play meant a small commercial played advertising the latest toys / game available.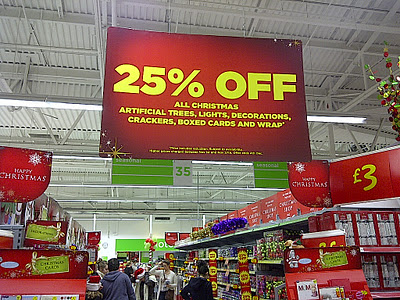 Asda joined many others in an 1st weekend of December price cut.
The season aisle is now far more 'complete' as an offer than it was in November, I recall being told that their strategy of selling Easter eggs notably early three years ago paid dividends and they reached targets well ahead of Easter. It's somewhat surprising they didn't go hard with their offer considering the lost time, but it's all live now, complete with the floor sticker which forms a part of so many seasonal events.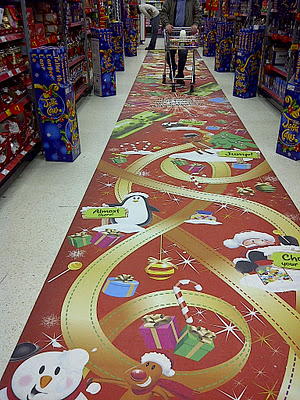 The floor sticker 'game board' plays a part in the Christmas theatre in store.


There is a lot of promotional activity going on within Asda as there is with the rest of retail, many Christmas lines on the seasonal line are on rollback along with promotions on Beer, party food, Christmas decorations and trees.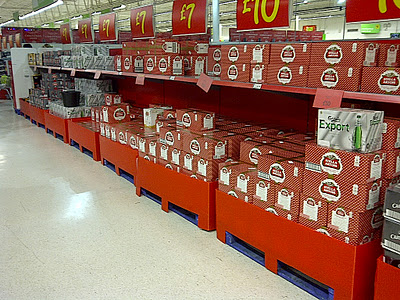 Lot of pallet space given up for Christmas beer promotions.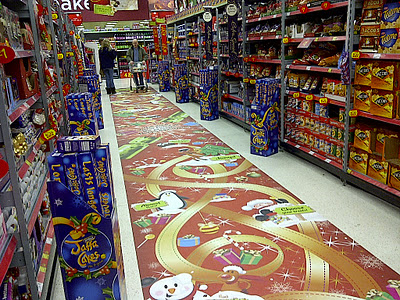 A lot of rollback activity – as to be expected in Asda.
The 'action alley' appears to be the Christmas aisle, with the Pudsey supercentre giving up a full aisle for Christmas food with the other two seasonal aisles for Christmas non food, trees, lights, cards etc. It's worth noting that there is a lot more focus on stacks this year in Asda, far more so than before which indicates their determination to drive up the sales per sq ft metric by siting a load of extra displays across the store.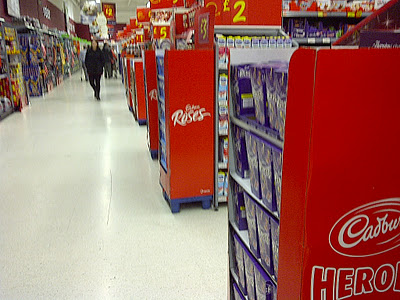 Additional pre filled shippers help to drive sales – and efficiency.
The middle bay in the aisle is given up for Extra Special product which again, using standard merchandising principles seems to be something Asda prefer to do. They went through a phase of merchandising all the organic product together at one stage, before abandoning that particular strategy. They seem to like doing it for Extra Special though despite their rivals ranging bays with the top shelf given up for premium ranges, all biscuits live together with the top shelf being a premium offer.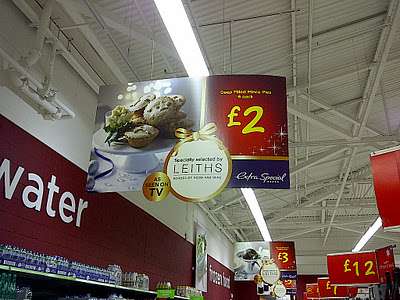 Leiths plays a major part with the Extra Special range.
Extra Special is the focus for this year but is it right? Asda spends most of it's year telling us how poor we are, the income tracker continually points to a worsening economic picture and everyone is feeling the economic woes, price guarantee is 10% cheaper, we're the cheapest for 13 years etc etc etc.
I do understand the shift to premium as it's a classic tactic used by retailers over Christmas, knowing there will be an element of trading up but Asda have to be careful not to lose customers to rivals who are seen to offer a better food range, Sainsbury's in particular always do so well with the taste the difference range at Christmas.
Equally, if customers decide to stay with Asda then the offer must remain with the core demographic in mind, the recent advert for £4 pate is perhaps pushing things a little too far. It may well be very good pate but pegging it other brands such as Waitrose top label Duchy Originals (£2.99 for 170g) means it doesn't come out particularly well as a comparison.
Andy Clarke said that they'd not done the work on Extra Special range to allow them 'credibility to shout about it' two years ago, have they done enough this time? The Leiths partnership is interesting as it will underline the quality of the food, does it have resonance with customers? Does it mean as much to customers as people like Aldo Zilli, Pierre Koffman, Heston or Delia?
Wrapping up, Asda will be hoping their famed availability problems don't hamper(!) their efforts this Christmas, the core Asda Kantar figures released this week showed industry leading growth, cynics will remain until the Netto effect is annualised and things settle down on that side but it's a positive result.
Nevertheless a good Christmas is key to both Asda and Andy Clarke – it's arguably vital for Clarke considering his key strategic points such as Chosen By You and the Extra Special relaunch will need to bear some fruit, as will the Netto acquisition now supermarket conversions have been completed. However a wise man once said, the last thing you need in Quarter 4 is small shops…..
Next up – we'll have a look at the blog favourites – Morrisons and their Christmas offering,