Regular readers of the blog will know the blog retains a slight bias towards the fortunes of Morrisons(!), so the Christmas spotlight is turned onto them for this blog looking at their Christmas offer…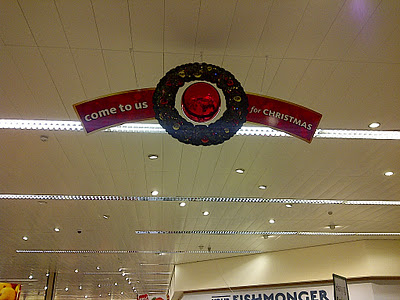 Strapline is 'come to us for christmas' with decorations across the shop.
The trading year has been very busy for Morrisons as charted on the blog. More stores of the future, o2o kicking off with a ready meal relaunch, a store of the future as a new build in Wrexham and the launch of the M Local convenience chain with Ilkley and Wilmslow opening. Added to that is a continuing increase in sales, space acquisition for new stores and a share price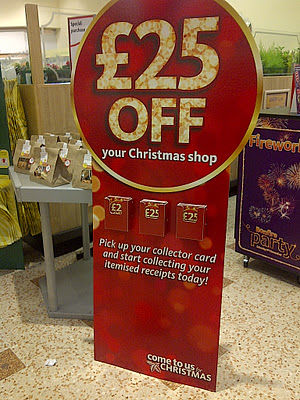 Popular Christmas voucher scheme starts 6 weeks before Christmas
With all those positives, it will count for little if the company doesn't have a good Christmas, it's the same for any retailer – the 'golden quarter' of Q4 is the holy grail and a successful Christmas generally results in greater profitability. There are greater margins enjoyed by retailers on products sold, plus in these austere times it's one of the few opportunities for consumers to throw their budgetary shackles to one side and treat themselves.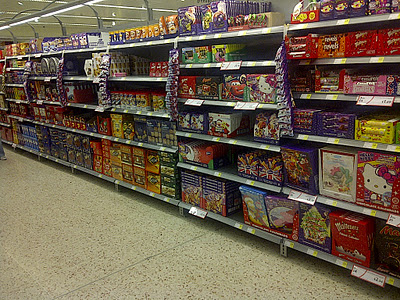 5th September – Kirkstall displays a full 'run' of Christmas confectionary
Morrisons were the first to market with everything Christmas related this year, their confectionary offer appeared in stores early September, followed by Cream and Chilled ready meals by early November, very early compared with the competition. Clearly their research lead them to the conclusion that customers wanted to spread the cost out of Christmas and would start buying early.
That is not to spend less, but rather keep the treats and enjoy Christmas but rather than spending all of December's wage, or indeed using a credit card. Customers choose to split it over 2-3 months and buy bits for Christmas within their weekly shop.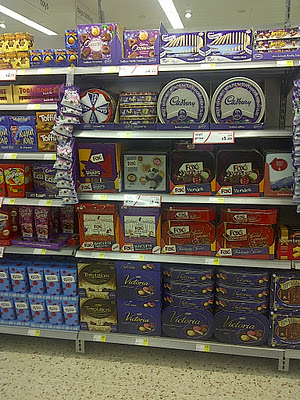 Also Christmas biscuits available early September, some on deal to entice early buyers.
Underpinning the Christmas offer is the £25 voucher, the ruse is simple; collect 5 receipts on 5 different weeks spending £40 each week, then you are presented with a £25 voucher off your Christmas shop. Cynics point to the fact that of course customers probably spend far more than £25 per week so Morrisons are gaining, however giving vouchers back underlines their strength in the offer.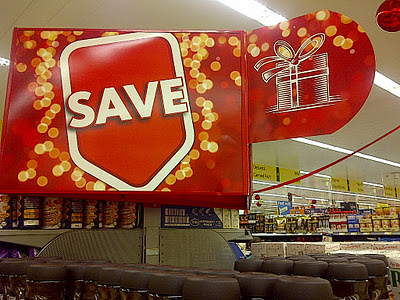 Promotions feature heavily in each retailers offer – even at Christmas.
Vouchers from schemes such as the Clubcard are not ideally to be spent on food where margins are poorer than say non food, you only have to look at the 4x up on Clubcard vouchers, it's on attractions, vouchers for other stores, non food, clothing, electricals – all things that attract a strong margin. Even Tesco Finest food is included in a double up, but due to higher prices, it offers a better margin than food.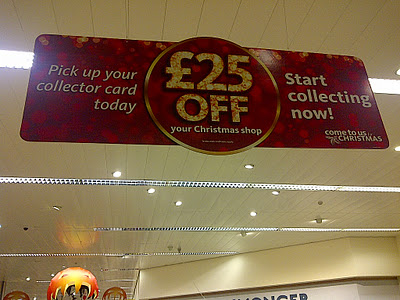 POS and collector cards were in before Halloween.
Morrisons benefit from strong margins despite their low exposure to non food, helped by vertical integration and their focus on fresh foods so a £25 voucher off the Christmas shopping isn't as keenly felt by the chain.
It's generally accepted that consumers with £25 in their pocket will spend more than that when they are buying their shopping, so the chain may gain £40 extra sales for a £25 voucher giveaway for example. The same effect has been seen at Sainsbury's with their brand match scheme, customers don't just spend their voucher amount when redeeming, they spend a little more.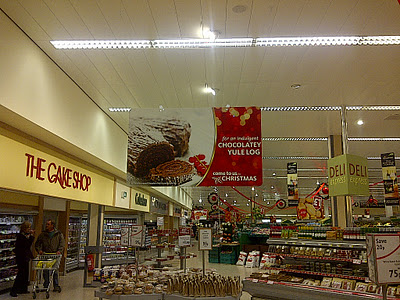 Another new line is fresh cream Yule log supported by hanging POS
To entice that extra spend, the 'elves' on market street have been busy creating many an trifle, cheesecake and gateuax. The Hidden Orange chocolate cake is a bit 'Heston' esque but is notably good value at £3.50, there are the usual plethora of desserts along with the larger versions of sponges, cheesecakes and gateau for parties over the festive period, also backed up by each counter advertising the ordering service for Christmas.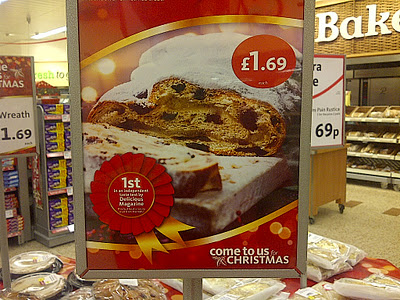 Award winning stollen
Previous favourites such as Stollen and Panettone freshly baked from the Bakery return, also featuring on the tv advert with Freddie, it's clearly been a popular product as Sainsbury's have commenced producing their own in store stollen this year as well. Morrisons won an award for their stollen this year from Delicious magazine, beating the likes of Waitrose, Harrods et al into first place.
POS for promotional bumble bees also has the Christmas theme.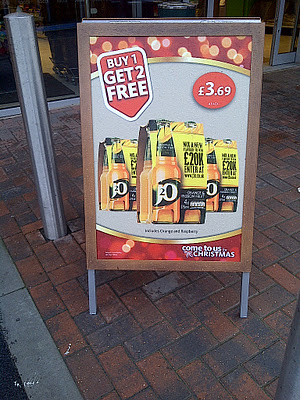 M Local also offering the BOGTF on J20
There was much talk about the promotions of last year with industry leading Buy one get two free's adopted by Tesco and JS too, this year it's been much quieter although Tesco have been busy offering a few different products on BOGTF, Morrisons have launched some over the last two weeks – Pringles, J20 and Pepsi have been on promotion. Dalton and Richard Hodgson discussed their extra investment in promotions for this Christmas recently, It's an effective footfall driver and there is not a danger of it being a Safeway 'mega deals' situation where customers pick up the promotions and go elsewhere, there's too much on offer elsewhere and the fundamentals of the business remain very strong.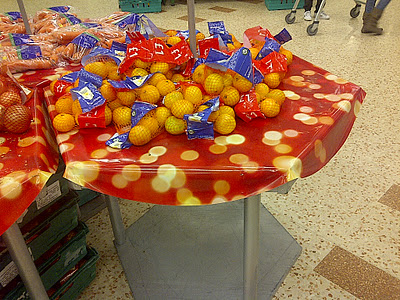 Promotional tables were covered in Christmas themed POS
In terms of store environment, little tweaks to add to the festivity have been made covering the display tables (typically selling focus items / promotions) with a red / orange covering in the Christmas colour scheme is one. Whilst not a huge change, it does make things a bit brighter than the usual drab grey, stores were also well decorated this year with bunting and decorations hanging from the ceiling in many stores, adding to the 'come to us for Christmas' theme rather than another shopping trip.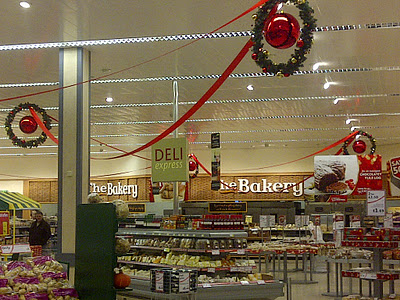 Morrisons stores are well decorated this year.
Like Asda, JS and Tesco, attempts are made by Morrisons to tempt their customers to try their premium offering, I still feel JS get it right with 'taste the difference' and that has a real resonance with customers. Clearly Morrisons don't feel 'the best' sends out the right message so opt for sub brands relevant to the categories, 'Bistro' indicates a decent wine bar / bistro style menu, 'baked by us' is relevant to bread and the Morrisons owned Bakeries.
As 'the best' was only introduced in 2004 (previously Morrisons had no top tier brand), it's hardly got real resonance for the Morrisons customer, especially since it was a Safeway brand. Revamping the range as well as the labels makes more sense in the longer term.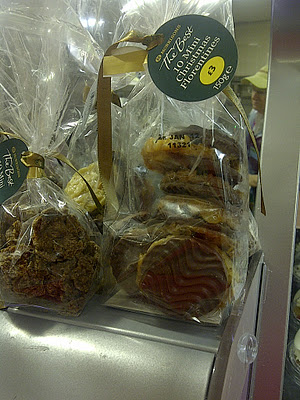 'the best' remains in areas that are yet to receive o2o treatment – additions like Florentines will attract good margin.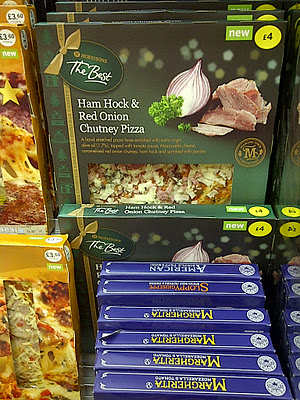 'the best' Christmas themed pizza – does it leave customers confused as the brand reemerges?
Whilst 'the best' hasn't disappeared across the product range just yet, the first plank of o2o was ready meals / pizza which saw it disappear to be replaced by 'Bistro', initial sales have been well ahead of ambitious expectations, a positive for the category review process which will continue apace into 2012.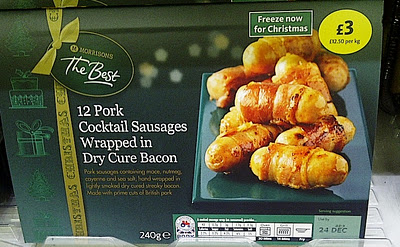 Party food carries the 'freeze now for christmas' message on the packaging.
In terms of pace, Morrisons were first to market with everything this year, not just confectionary but chilled party food and an expanded cream / brandy butter offer was also into stores very early, again trying to capture that spend as customers seek to spread the cost of Christmas.
Party food carries the moniker reminding customers to 'freeze now for Christmas' which is printed onto the packaging, showing it was a conscious effort to launch Christmas lines earlier into store. It seems to have been successful with early sales being positive and the range being markedly improved compared to recent years, lines such as 'Crostini' show a increasing focus by Morrisons to appeal to all demographics.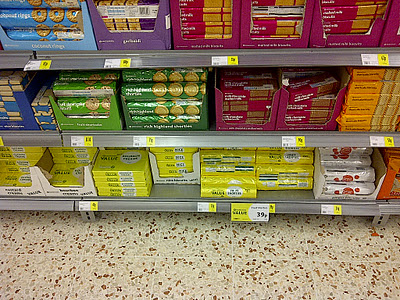 Savers on the right hand side is aesthetically more pleasing than the value yellow.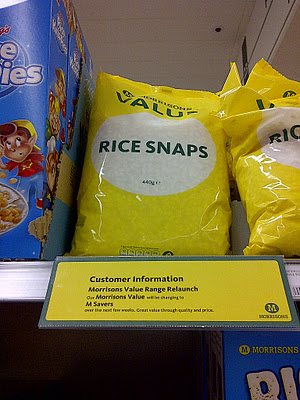 Morrisons to M – another sign of the rebrand – 'M' Bistro, 'M' Savers, 'M' Local
Another sign of the increased pace in which Morrisons are acting is the emergence of the first 'savers' line, the new value tier offering as part of o2o. It replaces, well Morrisons value and their garish yellow packaging which not only screams poor quality (despite many items being decent quality) but isn't appealing to the customer who is shopping on a budget.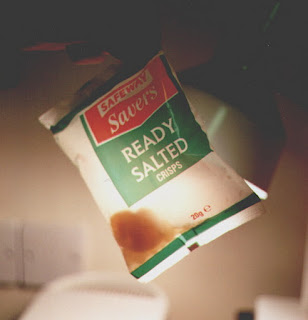 Safeway Savers! – (c) Rich Durge
It seems Morrisons have redressed the balance with 'savers', certainly it's a small roll out so far with only ginger snaps and Veg spring rolls seen in the stores I've been in so far. I'm told frozen fish has appeared and the marketing magazine had a picture of the revamped Lemon curd so it's a small initial launch but interesting that it's another launch ahead of schedule, it wasn't due until January.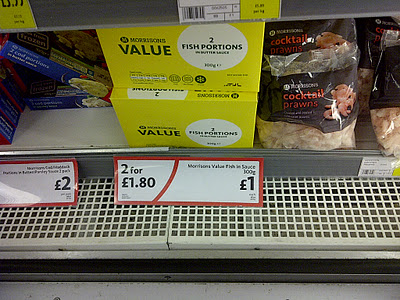 Frozen fish appears on promotion in stores at the minute.
The rest of the range will be converted in the new year and products will start to switch over as depots begin to empty of the residual stocks, it's interesting to note that some Value frozen fish is now on promotion as presumably it's ready for conversion to savers but high stocks of Value product remains.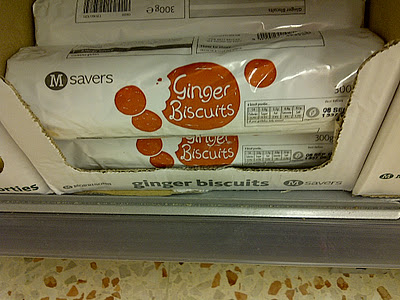 New Morrisons 'savers' ginger biscuits.
It's also interesting that Morrisons have chosen to launch their value tier so close to Christmas, traditionally the focus goes onto pushing customers upmarket to more profitable items like 'the best' rather than value tiers, indeed many a retailer shifts the focus over Christmas so value lines aren't always replenished as quickly as in previous months.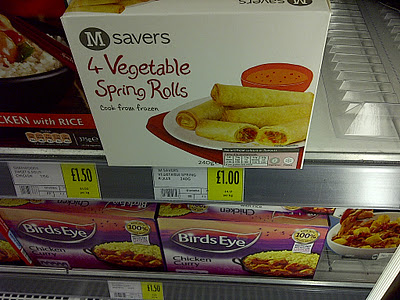 The packaging is far better – very Sainsbury's Basics esque / Waitrose Essentials.
M Local has also been decked up for Christmas with some very smart decorations both externally and internally, as the format is essentially not shackled by corporate 'rules' as it's still in trial mode, there's been some nice additions for Christmas.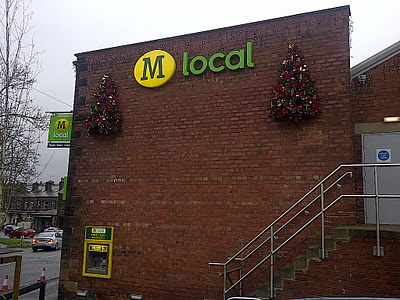 M local looking very festive with external Christmas tree decoration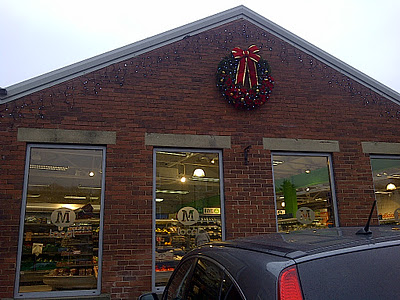 External decorations also include smart looking wreaths
It's the first Christmas for M Local of course, so it will be interesting to see how they perform over the festive period, they are open relatively standard convenience store hours so open boxing day and new years day but it will be interesting to see what product range is available.
Considering that main stores are closed both Christmas day and new years day, it's hard to see how any fresh  craft lines will be available, they've already lost a day's shelf life by being closed Christmas day so they may open with some stock suitable for boxing day but then it's hard to see it being replenished with Keighley / Cheadle both being closed Boxing day.
Unless of course there are staff working on Boxing day to replenish the stocks in stores, however once the price labels are printed for fresh cream / meat / bread, then the date is 'stuck' and you've only got a day or two to sell through. So I'd expect craft workers to start early on the 27th to provide availability and freshness however it's likely someone will be in at the hub stores to produce some lines.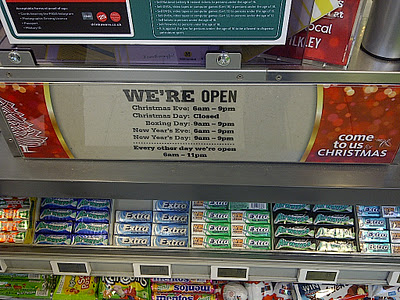 Opening hours for M Local, Boxing day this year is the first time a Morrisons store has opened  I believe.
Hopefully there will be some aspect of service out of Keighley as there will be opportunities to utilise the ordering service, customers will no doubt forget trifles, gateaux, fresh meat or fish for Boxing Day so it could be quite lucrative if they can optimise the ordering service and have stock in store if ordered by 11am that day.
Of course after Christmas, January then brings the trading update and all eyes will be on how well the tactics of 'getting the gear out early' have worked, considering the low consumer confidence it's a wise move but not without drawbacks. The industry leading £3.99 chocolate tins deal at the end of September led to sales well below expectations, If you recall, it was a bumper week for BBQ's as we experienced summer esque weather!
Their Christmas tactic of focussing on fresh, the Christmas collector cards and subsequent promotional deals will lead the chain to a good Christmas in my opinion. The big winner? For my money it will be Bistro lines and general wider ready meal range, they'll motor as consumers trade up for meals around the festive period.