I'd planned to write a piece for each retailer in the run up to Christmas, but I've been a little busy so I'll roll these two together.
The major focus of course will be in the new year where I'll look at how the retailers are coming out of Christmas, Tesco for example seem to be holding onto stock these days, rather than pursue the aggressive markdown, sell, return to working capital strategy that Sainsbury's, Morrisons and Asda adopt to clear their stores of seasonal products.
Indeed the Christmas will prove pretty key for Tesco, their last set of results were quite poor at -0.9% lfl but strangely the analysts didn't seem too concerned, clearly thinking that profits would be fine regardless especially with the growing international side of the business.
It's amazing quite how fickle the City are, and it's becoming a bit like football management where long term planning doesn't appear to be on the agenda, Morrisons were slated for years for their lack of non food and focus on market street. Now after Dalton has adjusted things a bit with 'fresh market' it's suddenly absolutely the right move, 'they're not over exposed on non food, good on them.'
Morrisons always knew it was the right move, where retailers were hammered for not converting to non food space to take advantage of the strong margin, Morrisons continued to stick to their strategy and quietly rebuild their margin which had been damaged after the Safeway integration.
Sainsbury's are one who have aggressively expanded their store estate, then selling and leasing back stores that have no further development opportunity, in order to free up cash to fund further expansions and land.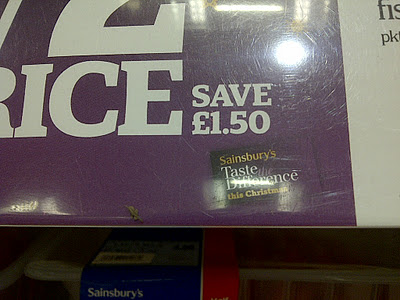 'taste the difference' this Christmas.
Their additional space by the way of extensions has seen a real improvement in the non food range with TU clothing performing particularly well, of course the slowdown has affected everyone but Sainsbury's are still famous for offering good quality food too. Their own label was recently relaunched as 'by Sainsbury's' and the Taste the Difference brand continues to be a class apart as a premium tier offering.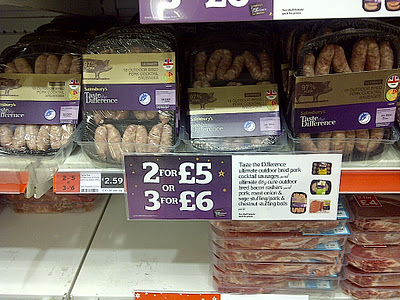 Taste the Difference is always so important at Christmas
TTD performs very well at Christmas for Sainsbury's, they're perhaps the only chain who can get close to Morrisons for fresh food, whilst they don't have the vertical integration, they do retain a number of in store personnel to prepare fresh food such as Pizza, Fish, Meat and the Bakery.
They are also developing skills with staff able to go to an store based training centre or an external college to learn about the craft skills involved in baking or butchery. Whilst they don't prepare anywhere near as many fresh cream lines as Morrisons, JS do prepare some cream lines store and are expanding their ranges.
In terms of Taste the Difference, for me there is far more resonance with Sainsbury's pushing this angle than Asda currently are. It seems that there's been a step change within Asda from a relentless price message, bad news from the Asda economist, we're the cheapest again for the 14th year to a 2 week long message about Extra Special for Christmas and spending the money.
I just don't understand it, the products seem nice enough but the price points aren't remarkable, £4 for fresh pate is reasonable enough but for value conscious Asda shoppers? It's the classic trade up for Christmas trick that Asda are playing but they've been utterly brutal on price this year. I don't see how a few adverts, hanging POS and in store brochures will convince customers to switch straight across.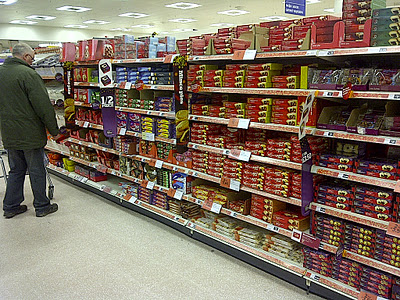 Strong branding and ranging for Christmas cakes in Sainsbury
Sainsbury's generally stay out of the price war and their price perception data shows customers still think of them to be more expensive than their rivals, brand match has gone some way to proving that isn't the case and they are comparable on branded goods at least. That's fair enough but their own label has a very good pedigree and is always well thought of when it comes to taste tests and general opinion.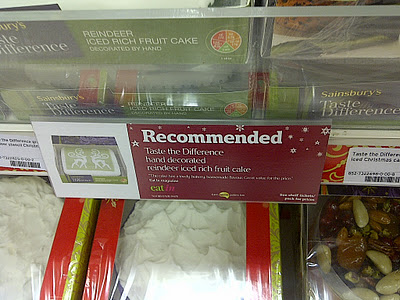 Award winning Taste the Difference cake.
Their availability and store standards are far better than in previous years, the nightmare days of Sir Peter from the Pru and his 7 years progress in 3 led to Sainsbury's being on it's knees come Christmas 2003. Until Justin King rescued them in 2004 with a number of smart moves around improving availability, which is now at record high levels but crucially it's efficiently done too, with the latest move to abandon scanning low levels of stock focussing purely on gaps underlining their confidence in the ordering and forecasting system.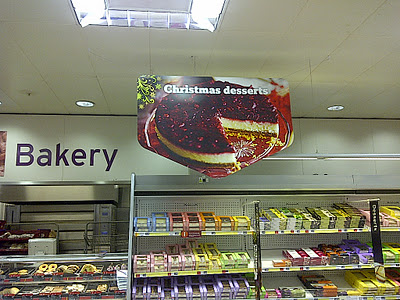 Christmas signage points customers to new lines.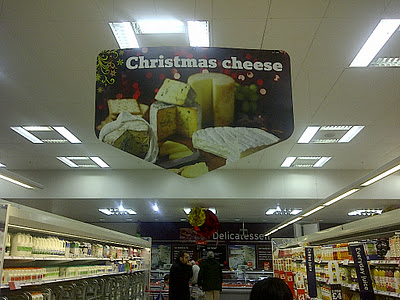 Like Desserts and Christmas Cheese.
For Christmas, Sainsbury's can be seen as a destination for those who want to splash out a bit. The increased ranges on Bakery, Cheese and the increased levels of chilled desserts indicate that Sainsbury's clearly feel confident in their offer. Crucially their key lines weren't in stores until early December with final range not arriving until 20th December which shows a real defensive stance on wastage but then again, to maximise freshness it does make sense.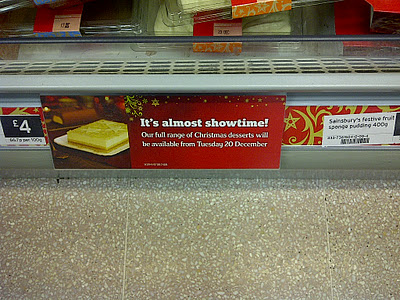 Late arrivals from Sainsbury's – very strong POS theme too.
Looking at Morrisons who have had their prepackaged lines in stores since early December, but the in store produced lines have been available since early November, it's the polar opposite in terms of strategy. You are gambling on people only going to Sainsbury's for their desserts and not being tempted by anything else beforehand.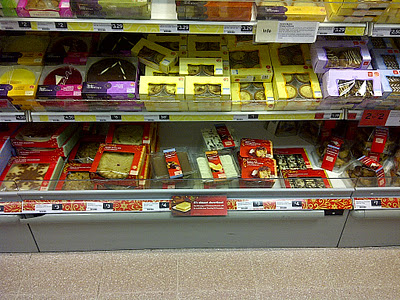 Strong theme for Christmas, lots of red and prominent merchandising in the base.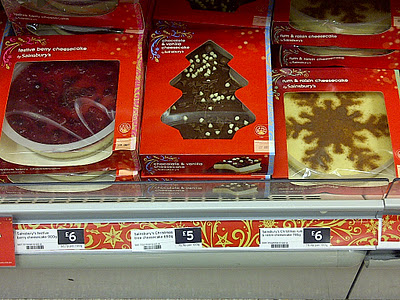 Festive lines such as Rum & Raisin Cheesecake
There is an increasing emergence of a fresh Chocolate Yule Log, Morrisons have been selling theirs (produced in stores) since early November and it's been successful with sales on the rise and indeed it will be within the minds of customers as they entered the final week before Christmas.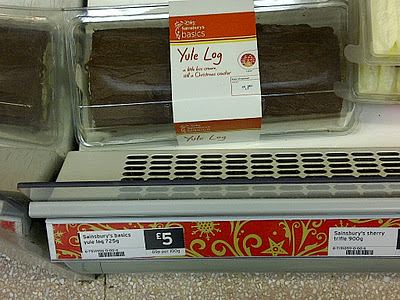 Yule Log under the Basics banner seems a strange move.
Sainsbury's have their own Yule log but almost bizarrely, it's marketed under the Basics brand which seems a real error, priced at £5 which isn't really a Basics price point. Considering customers are happy to trade up at Christmas (and move supermarkets to do so) then selling it under the standard own label would make sense.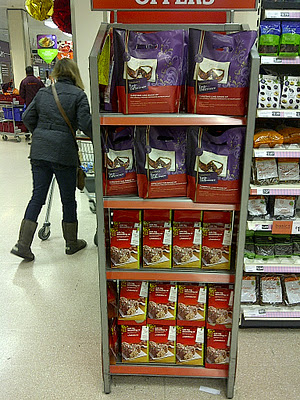 No POS admittedly but Cake Mixes down to £2
One definite 'non winner' for Christmas is the Christmas cake in a bag, all pre weighed ingredients that you add eggs and butter to before baking in the oven, they started at a remarkably ambitious price of £12.99 in many a store (Waitrose had the Delia one at £15) but they've been reduced everywhere. Sainsbury's are no different with their Taste the Difference bag reduced down to £2 and stock cleared from depots to sell through in stores.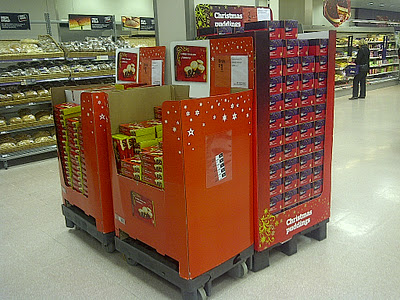 Pre filled shippers are few and far between in Sainsbury's – these are own label ones.
Another thing that's notable about Sainsbury's is their standardisation across the store estate, gondola ends are followed to the plan, process is relatively stellar across the estate and availability is on the rise. They also are remarkably strict on shippers and other secondary siting. Morrisons are very much positive when it comes to sales per square foot and think nothing of siting stacks, pallets and shippers all over the store, indeed the stores of the future focus much more on a clutter free shopping experience with an absence of dump bins and a near absence of pre filled shippers.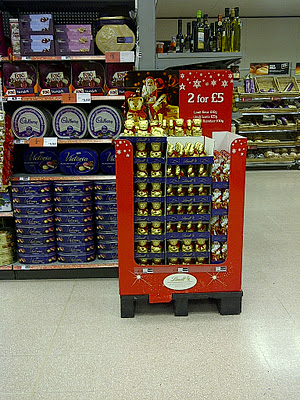 Although some pre filled manufacturers shippers exist – they are not plentiful.
Stores have been very well stocked of Christmas confectionery confectionery which will be a concern to margin as markdowns hit in the new year, all the retailers I visited this week (22nd / 23rd) still had a full range of Christmas chocolate tins available. People have bought earlier or taken advantage of other deals, by weight – 1,2kgs of Roses (including packaging) worked out at £3.49 when Morrisons ran a Buy one Get two free on the 400g boxes in early December. The tins are only 850g so it's clear that customers are no longer buying with no thought, the same is true for biscuit tins and boxes which remain very heavy into the peak trading day.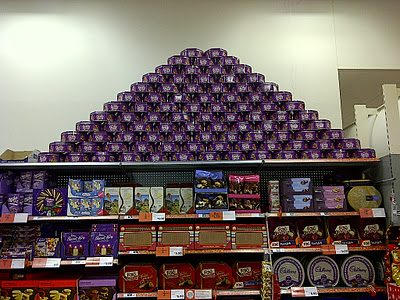 Pyramids of chocolates remain (last weekend) but look at the promotions too!
Another thing that Sainsbury's do very well at Christmas is maintain the additional lines, such as the traditional cheeseboard, which makes another appearance this Christmas. Notably the taste the difference one must attract a great margin considering there isn't 'too' much cheese in it.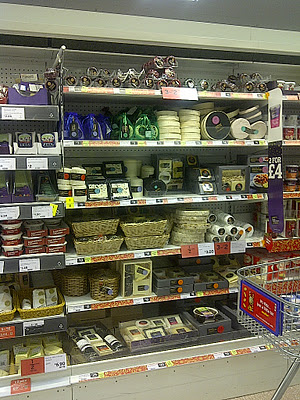 Space flexed for Christmas cheese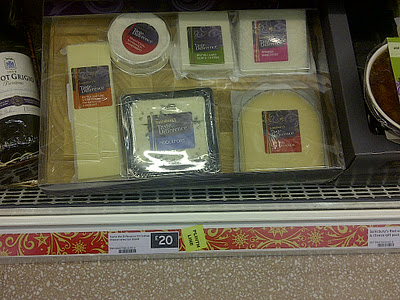 Strong margin likely on the £20 TTD cheeseboard.
These lines are not without risk, certainly the poor selling Christmas tins of biscuits are indicative of smarter consumers who probably work out that the biscuits inside cost around £3. Why spend an extra £2 on a tin that you don't actually need?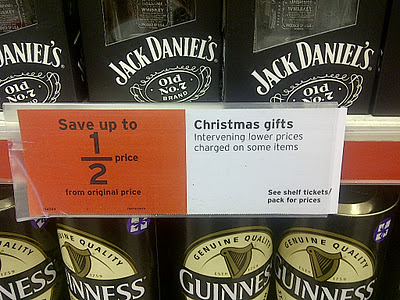 Discounting was evident across the store.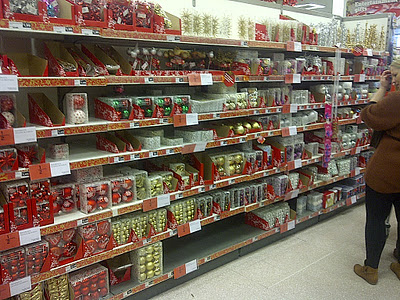 Not far off Christmas (17th Dec) but many decorations remained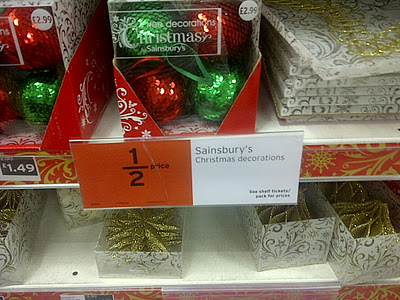 Half Price to clear the decks and clear the warehouses.
That aside, there was a strong range on gift sets this year too, Sainsbury's clearly felt things weren't moving as quickly (like everywhere else) so were able to reduce down to half price in order to clear the warehouses. That's the priority, especially since disposable income to get 'bargains' isn't as readily available as in previous years.
Overall, a very solid performance from JS, their consistency of delivery is very good these days. Stores perform well and availability, corporate standards and promotions are generally very well executed. All eyes on 2012 for their developments, the future XL stores will be interesting (the blog visits Heaton Park, Manchester in the new year) especially with the non food woes and the JS strategy of driving non food into new space and extensions. The last thing JS need is stores that over expose on non food like Tesco are.
But what of Tesco? I'll be honest my local store (whilst being a superstore) has all the concessions you'd expect of an Extra but a notably poor food offering, that isn't an excuse for how poorly the store is traded though. Queues at checkouts and poor standards are no excuse even if the build quality of the store isn't there.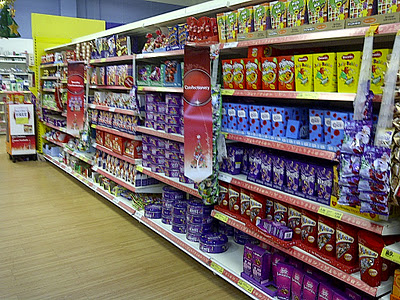 A strong confectionery range at Tesco
Their whole package has been uninspiring, the Christmas advert used some more relatively basic marketing that sounds like an over enthusiastic A level Business Studies student getting involved, 'Crackers in Caerphilly' etc is very much like the 'keeping freezers filled' 'mornings moving' and the like. Where is the focus on product? If anything the advert focuses that they are everywhere these days which is often to the char-grain of residents near new superstore developments.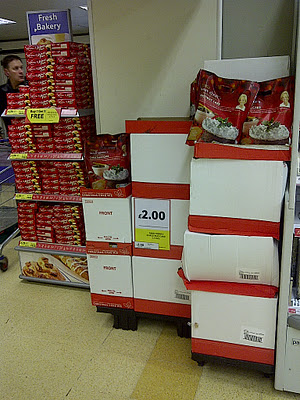 Mary Berry – Do not collect £200, do not pass go. – Christmas cake bags have been marked down everywhere.
Morrisons advert focuses clearly on 'PAN-EH-TONY', Game pie and the Christmas Quiche, despite the questionable shift to premium at Asda, their message is very strong and focusing on product with Leiths.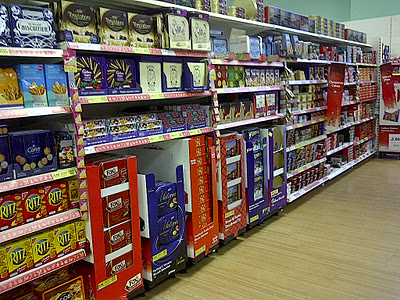 Several pre filled shippers are the order of the day in Tesco
Sainsbury's ran a similar advert, the last one with Jamie Oliver (wipes tear away) but the food is the central point once again, I'm not really sure what Tesco stand for anymore, their customers don't seem to understand either and with their rivals revamping their own label ranges, surely Tesco will have to switch their focus to food once again and try find some point of difference within the offer.
Their Finest range continues to perform well, but there seemed to be no focus on it this year, I did see an advert for the range today but it's hardly been a relentless message. For the critique of Asda, their message both in store and externally has been relentless and very much in the minds of customers, Tesco don't seem to have put anything into the food offering, adverts for Tesco Direct were plentiful though?
Not much of a look at Tesco admittedly, they've a lot to do in 2012, arresting the sales reverse is a start but are they now too big? Richard Brasher is yet to have any impact certainly the big price drop hasn't done anything for the group and they are in danger of being left behind in the food stakes as the other 3 revamp their ranges and tighten the offer.
Above all else, you want a decent shopping experience Christmas week, with rumours of a few stores having their overtime budgets cut which will lead to stressed staff, empty shelves and long queues. Tesco have to put the customer at the heart of every single thing they do, you could argue the customer has been lost in the midst  of step changes to save hours, more massive promotions and more profits. It's no good saying 'we love the customer', that's not enough.
So that's Christmas rounded up, all retailers will have had busy stores but Sainsbury's and Morrisons are my tips to perform particularly well, we never 'quite' get the answers that we want from Asda but their supermarkets appear to have been notably quiet. Tesco are the ones with the most to lose, already losing lfl sales, is there anything to make shoppers return for Christmas?