It was (based on store visits and anecdotal evidence) a remarkable Christmas for Morrisons with a strong fresh food offering seemingly winning customers over, specialist lines such as handmade chocolate Yule logs were available long before Christmas came around to ensure they were in the minds of the customer.
Stories of car parks being full at 7am for store opening and record sales across many stores means surely Morrisons has had a good Christmas, however would it translate into the figures?
I estimated on Twitter that a figure of around 4% lfl increase would be around accurate, however since then RBS analyst Justin Scarborough forecast a rise of only 0.6%, which would be notably below previous Quarterly performances. Since then other analysts have come out stating they feel it will be higher than that with Shore Cap estimating 2%, I then revised to 2.6%. It turned out the house broker was right with a 0.7% hike.
I did fear what could affect the overall figure would be the slow start to Christmas, with the weeks being 'standard' that is Christmas falling on a weekend rather than a weekday, it led to customers holding off their spending until the final days before Christmas. Indeed the feedback was that there was a mexican standoff with customers waiting until the back end of the week before spending.
Profitability wise though, Morrisons not buying sales by offering a ton of promotions like in previous years will have done them no harm. Compare that to Asda giving away £5 up to Christmas and the alleged high volume of Nectar vouchers instantly printing off at Sainsbury's stores up and down the land..
Post Christmas, everywhere has felt the slowdown once more and the swathes of Christmas lines at heavy discounts (70% in Sainsbury's now) shows that the disposable income isn't there even for items on discount. Everyone had a big ask to get the consumer spending for the Christmas period.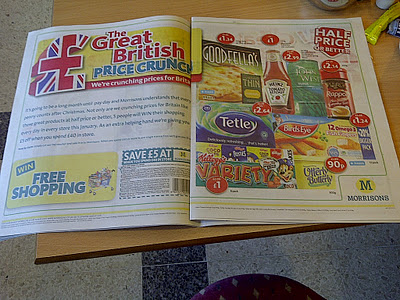 Newspaper promotion running in the Mirror and Sun for £5 off when spending £40
Rolling into the new year and the offer packages come thick and fast, 'the great British price crunch' has seen some solid promotions and half price deals to entice customers back into stores. The Morrisons millions promotion must have been successful as it's returned in a similar manner for the 'win free shopping' promotion, the ruse is the same collect receipt numbers and then enter them into a site to win the value of your shopping.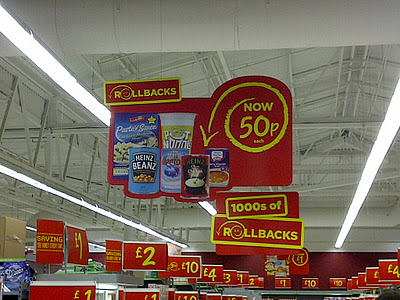 Asda kicked off the new year with a lot of rollbacks
Whether it's had the same impact as the 'millions' promotions remains to be seen, my local store hasn't had many redemption's so I wonder if the promotion has captured the imagination as much as was hoped, either way it's a nice bonus if someone does win but perhaps a consideration should be 'free shopping' immediately makes customers think of 'con'.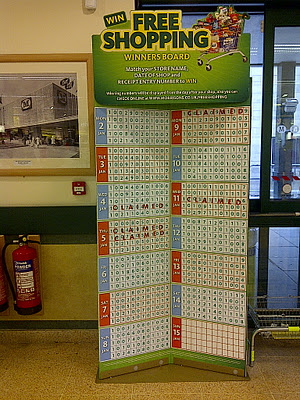 Admittedly a quiet branch in Bradford but not many redemption's for 'free shopping'
We were promised a package of promotions to replace the £5 new year voucher that was included in the £25 Christmas collector scheme, the steady raft of initiatives shows that was a wise move with a fuel Britannia promotion running last week offering 6p off a litre of fuel after spending £40.
Disappointingly, the media reverted to type when the Christmas update was released. Clearly they had dined out on stellar rises of 2-3% for a good while so writing their articles became relatively simple. It was disappointing to see so many nearly slating the business for their modest +0.7% hike.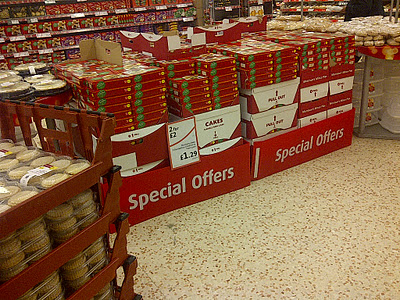 A strong focus on Christmas trading at Morrisons
The Sun ran a story with the Morrisons results being accompanied with a face nearly looking a bit sad, with the headline 'Morrisons Christmas Turkeys'. It was a 0.7% increase in like for like sales, the way some other journalists and analysts carried on you'd have thought Dalton had announced a -7.0% drop in sales.
It was behind expectation true but that was driven by the high expectations considering former good performance in the like for likes. Christmas is a tough trading time and competition is at an all time high, Morrisons (and Sainsbury's) didn't buy sales this year and focused on quality, fresh food and availability so whilst the like for like increase will be modest – profits will be protected.
One of my Twitter followers made a great point that he felt Morrisons may have pushed sales into the previous quarter considering the early arrival of Christmas confectionery (early September) which enabled customers to spread out the cost.
Sainsbury's announced very strong results of 2.1% for  Q3 including Christmas but their figures include VAT and also include the store extensions of which they are so fond of. Removing both elements, their results come in around lower than Morrisons at 0.3%. JS confirmed in their analyst call that store extensions equated to 1.0% with VAT accounting for a further 0.8% out of the 2.1% growth.
NOTE: As Sainsbury's have pointed out today, there does need to be a little context applied to the results. JS Q3 is a 14 week period, whereas Morrisons and Tesco only report a 6 week period to to the end of the year. So JS may be a small rise of 0.3% but it's over a longer period.
Compare that to Tesco who announced a -2.3% drop, which was disastrous and saw their shares drop like a stone. Let's not get ahead of ourselves, we're not going to see Tesco closing lots of stores or indeed go into administration but for their stellar performance in the last 15 years, it came as a huge shock, especially since the previous year saw Tesco fall as customers were forced inside by a flurry of snow.
No real shock for readers of this blog or indeed twitter, I've been saying for a while that standards had taken a notable turn for the worse but the level of the drop in the results did surprise me and many others. There'll be a wider blog on Tesco and what they need to do when they do respond – and they will respond.
o2o:
The own label expansion continues with ready meals, bread, morning goods and now Frozen ready meals gaining new ranges. The M Kitchen range expands to the frozen section with the ready meals also carrying the sub brand.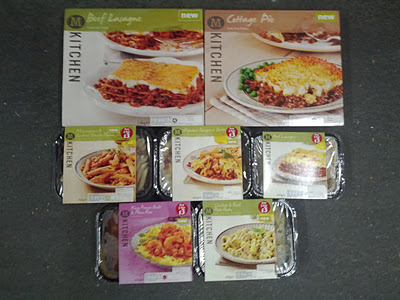 New frozen range of ready meals – using the M Kitchen branding.
The notable addition is the revamp of the value tier – Morrisons Value disappears to be replaced by M Savers, the new value tier range. The new products are a real improvement from the horrendous yellow packaging that was previously seen, not only did it scream 'value' but it also gave the products a poor reputation when in reality the quality wasn't that bad.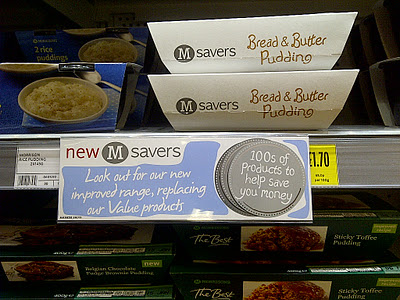 M Savers POS – note it's above 'the best' ??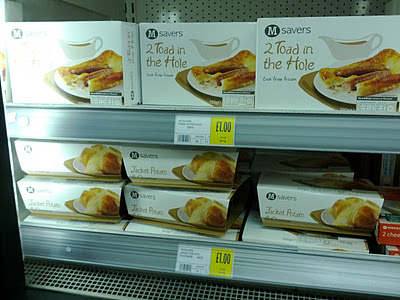 Value > Savers revamp is also evidenced on Frozen.
The Savers range looks far superior to the previous 'value' tier, certainly with Morrisons trying to grow their OL market share it makes sense to revamp this tier, especially in these austere times.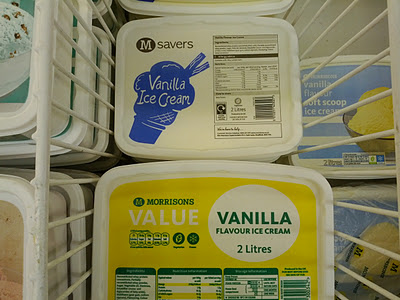 New vs. old on Ice cream – with existing core OL on the right.
Revamping all the own label is the challenge with o2o and with ready meals showing healthy sales increases, the focus naturally turns to other areas. Bakery and morning goods have had the full treatment with 'baked by us' highlighting lines that are made within the M bakeries along with the popular M Kitchen range on fresh ready meals. Savers lines that have arrived into the Bakery or Ready Meals category complete the fixture and offer a choice for every single customer.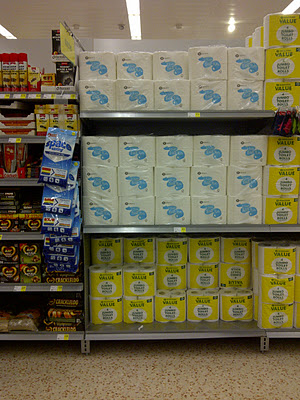 Savers and Value on toilet tissue. A marked improvement
The problem within say, Ice Cream or Pet Care is that the wider range hasn't yet been developed so the risk is that introducing a revamped 'value' tier will result in customers moving from the standard own label to the new value tier range. Whereas in Bread / Morning Goods and ready meals, there is the full range for customers to pick from thus driving better purchases, there isn't necessarily that clear distinction in other ranges.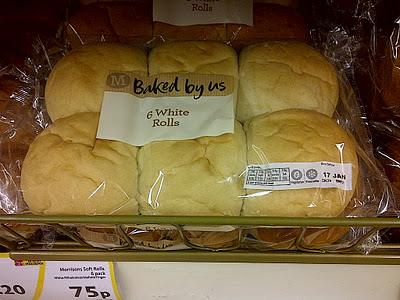 Range development – 'baked by us' White Rolls look more appealing for a mid tier product.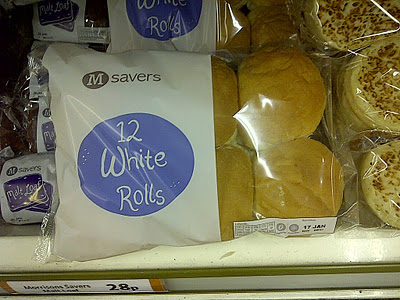 Whereas Savers look smart but within a developed range – value tier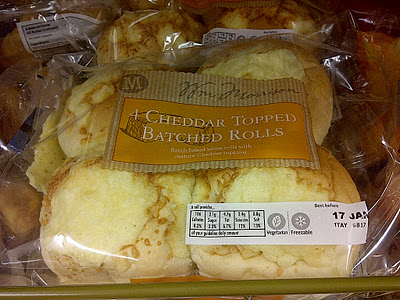 Developed own label means sub brands carrying 'Wm Morrison' are also evident – premium tier.
There have been three category revamps now which have seen 'the best' disappear and sub brands such as M Kitchen, 'baked by us' and 'Wm Morrison' appear within the categories. But what for the remaining ranges? Their offer isn't as compelling hence the revamp of each individual own label product, is it a risk introducing a smarter looking lower priced product before revamping the entire category?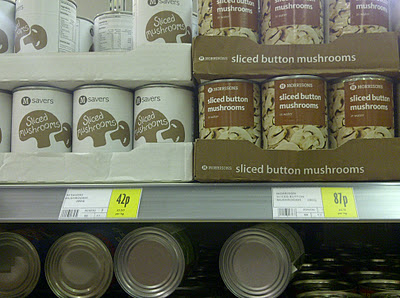 Savers vs. Own label – big price difference but is there a difference in product?
When Sainsbury's commenced their yearly category review programme, they revamped many of the categories, removing poor selling lines and introducing new branded lines and own label lines. The Basics relaunch of the previous 'economy' label came after each category had been reviewed to ensure if complemented the entire store range.
The Savers lines look superb, a marked improvement from Value but against the existing undeveloped own label, they look a better option at a much lower price which isn't necessarily great for business.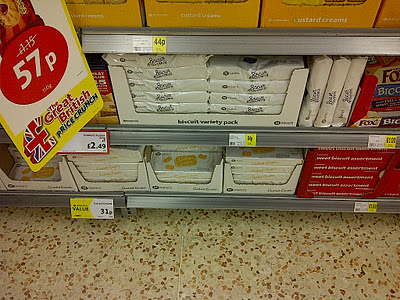 Shelf ready packaging increase is welcomed but OL biscuit assortment on bottom (red)  – Savers product above.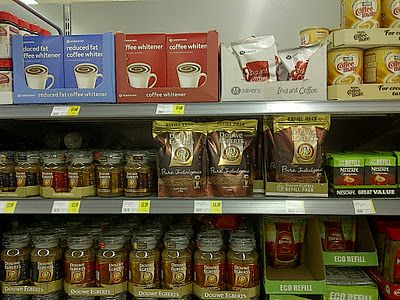 Branded premium coffee – M Savers has pride of place at the top – surely the base?
Questions also have to be raised over the merchandising of lines, typically the value tier is in the base shelf of any fixture, it doesn't capture the customers attention that way, so customers who are unsure tend to pick the appealing premium tier product (higher priced of course too!)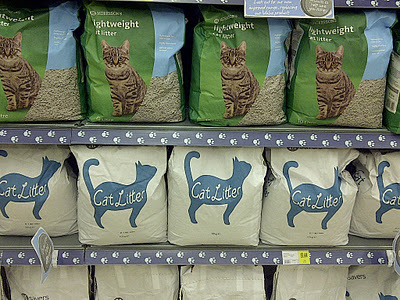 Key difference in Savers but the own label needs to catch up.
However Morrisons seems a way behind with these merchandising principles, the ceasing of gap filling has helped stores identify where availability problems lie and drive more effective ordering but there still appears to be issues with merchandising principles, driving customer purchases upwards is not just product but also needs to be about placement, with the placement of many Savers products actually on line with or above premium products, there needs to be a consideration that customers may well opt for the newer looking one.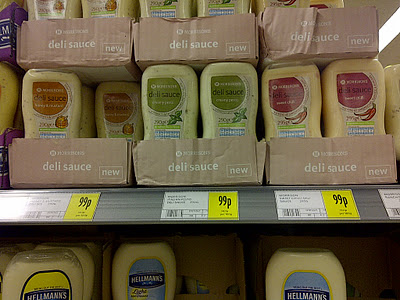 Another sub brand 'deli sauce'?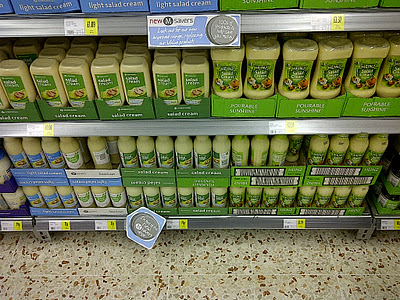 Savers bottom left sandwiched with higher priced low fat  and standard own labels.
The Ready meal / pie category is another good example of where the category has been developed fully and the merchandising principles and layouts make sense. Savers lines live within the base of the shelf with a fully developed category offering choice for each customer, there is the standard M Kitchen label along with a more premium product in Bistro.
Admittedly this a mature category for o2o considering the recent revamp but in my opinion, wider grocery departments should revisit product placement to prevent sales drifting to a lower priced, poorer margin product albeit with a smarter design (and backed up with POS!)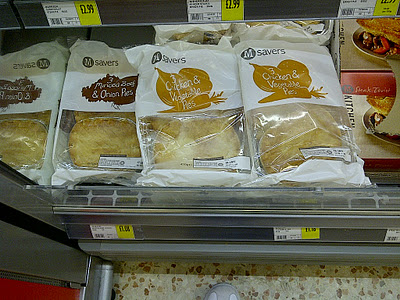 Savers in the base within pies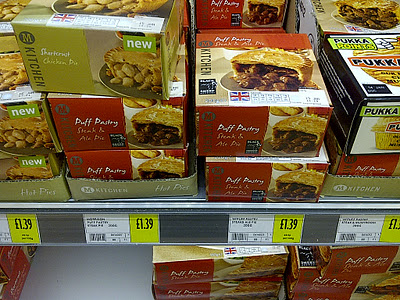 M Kitchen pies are the mid tier – merchandised in the middle of the bay.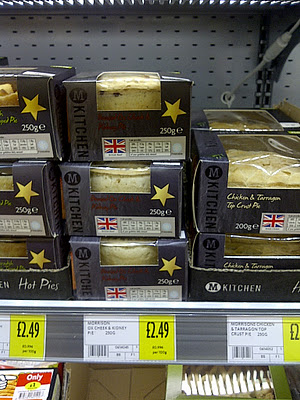 Bistro pies at eye level to offer a premium level product for those wanting it.
M Local
Despite all my sources and contacts, you don't get any figures or indeed much news on M Local stores, a brief comment of trading 'ahead' of expectation is the closest I've got. I think they've been relatively surprised at how well the food 2 go offering has performed, it's an area done very poorly done in many convenience stores so Morrisons using their fresh expertise is a refreshing change.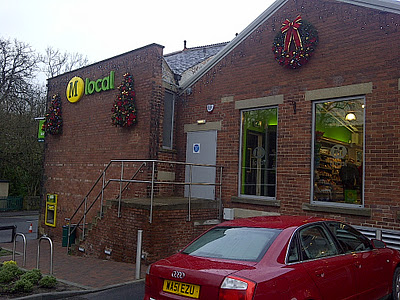 A festive looking M Local in Ilkley
Fresh and Food 2 go represent excellent margin and the shops are notably better than anything else within the market, far better than the tired Co-Ops for example. The two that are trading at the minute (3rd opened today, Monday in Manchester centre) are in affluent areas, Ilkley and Wilmslow aren't areas that spring to mind as suiting a Morrisons but they've struck a chord with the affluent foodies. They love fresh food and there are tales of customers ordering whole salmon and other strongly priced items out of the Ilkley M Local store, ordering before 11am and picking up that night.
The key question from our lovable analyst friends will be the expansion, naturally analysts will want a 300 store estate to pop up by May 2012 and for there to be an aggressive expansion beyond that. The sites are there in abundance and Dalton has always been relatively confident in that, the property team have pulled some blinders out so far, Ilkley, Wilmslow and the proposed site in Chapel Allerton all look positive.
Despite the proposed store size being 10.000 sqft, there are rumours that this store will become an M Local site, it does makes sense as Morrisons stores tend to have a full 'street' counter offer which take up shop floor space both with counter and back area prep space. By opting to build the store as a M Local, it means that the hub and spoke model can be used thus eliminating the need for counters and meaning they can lean on larger stores for freshly cut meat / fish and focus on a wider range of food.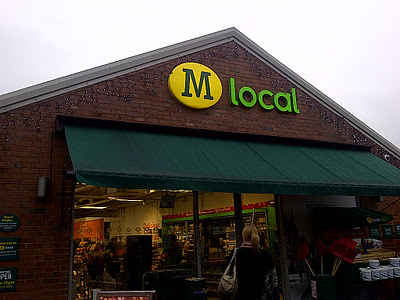 M Local – coming soon to an area near you?
There are further stores planned in Doncaster, Birmingham New St (former Habitat store) and the enigmatic Upton Rocks, Widnes store is due to open at some stage. It was mentioned as being the 3rd store but it's not even the 4th (Doncaster in March), I heard there were some delays with the building contractors as it's part of a wider development but I'd have thought it'd be near opening by now. Widnes was planned to be the 2nd store to run off Cheadle, this is likely to be the acid test for the hub / spoke model, having more than 1 Local to supply, it therefore makes sense to have Grafton Street supplied by Cheadle too considering the geography.
I'm hoping to visit the Grafton Street branch next Friday (27th) so I'll have some further thoughts beyond that but the flexibility of the fledgling chain is impressive. Naturally it's easy to do so when you've only got 3 stores but they're keen to test everything and have full flexibility to do so. Grafton St retains a wider range of Savers products, a seating area and more food to go than the other two stores.
This makes a lot of commercial sense, namely the food 2 go, it's good profit margin and with the store in student-ville and also near a hospital, there are likely to be many customers wanting fresh food to go. That is fresh food, not a sausage roll that's been in a heated display for 14 hours.
Interestingly, it sounds like the remit of the Convenience directors extends to operational decisions too, with both Ilkley and Wilmslow being run on the SMS system (which is as close as Morrisons get to a modern replenishment system, designed to support the business for 10 years, back in 1987 when it was built…) which relies on counting stock and gap scanning in store and a team at HQ also dipping in to manually allocate where applicable.
With the Grafton St store, the store appears to use the larger store system of manual ordering to drive availability. With it likely to be a very busy, high density store with lines moving extremely quickly (Value Cider and Pot Noodles if it's near the University) manual ordering makes sense to maximise sales, availability and ultimately profit but coming at a cost of extra labour, a price worth paying however.
Scope for the brand continues to be relatively easy, the Northampton correspondent says off site petrol stations could be rebranded as M Local, which will then surely pose questions about a potential bid for petrol stations such as those owned by Total.
Two instances of interest for former Safeway colleagues, the petrol station rumour does sound scarily like the BP/Safeway tie up which was famously broken up when Morrisons took charge in 2004. In addition, the proposed Chapel Allerton store is literally 10 seconds away from a former Safeway store that was sold and wasn't on the divestment list. Who said the more things change, the more they stay the same?
Stores of the future & Online:
There will be much spoke about both of these in March and the city are likely to be twitchy about expansion, particularly with the excitement over stores of the future. After all, since the St Albans store was converted, sales have rocketed and it's been getting rave reviews from all those within the M25.
We knew of the potential with the continuing tweaks to Kirkstall and anecdotal evidence indicates customers were queueing to get into Kirkstall 2 days before Christmas, that is queueing to get into the car park… The store itself carries a lot more fresh lines than their standard store cousins so it's reasonable to expect that profitability will support itself despite the outlay in staff cost.
There is understandable concern within the wider estate though regarding their stores, there are some stores particularly ex Safeway ones that are not showing the best Morrisons has to offer and are in dire need of a refit. The issue is that any refit would encompass the store of the future treatment and I don't think Morrisons are entirely comfortable with the format in the more typical areas that their stores are located.
That's the challenge going forward, the same impact with no hanging POS, adjusted lighting and lowered units would work well and the range can then be tailored for that individual area. There are waste concerns with the store of the future, a greater number of loose lines and open food mean wastage can be higher, when waste is a concern then it impacts profitability. It flies in the face of the history of tight cost control that many of the Morrisons staff have been brought up in but it's a necessary evil to achieve the greater profitability and growth for the business.
The latest batch of stores to get the updated treatment are starting their revamps shortly so it will be interesting to see their performance, I'll be tracking one of the stores closely with a good look at 'before and after' as the store of the future is put into a local relatively small shop that over trades heavily.
Online food remains in development with teams over in the US working with FreshDirect, I don't believe there is a material difference to the timescales promised. Similarly the primary location appears to be London which would make a lot of sense considering the poor geographical spread of stores within the capital. As for further rollout plans beyond that, it's difficult to say.
Morrisons have got to be confident that the model is not only profitable (something we don't actually know from any retailer since we don't get stripped out figures, bar Ocado who's troubles are well documented) but it's also got to highlight the unique nature of the Morrisons business, that is fresh food, directly sourced and the provenance of counter service. A difficult ask to get across in an online package. Marc Bolland thought so with the famous 'I'm not sure you can sell fish online' quote.
Online non food looks set for a rollout shortly, there appears to be a steady influx of people doing various jobs around marketing and online, allied to the oft picked up quote from Dalton about 'non food isn't going to be sold from big box stores, it's increasingly going online', Morrisons look set to use the Kiddicare platform to launch their non food offer shortly.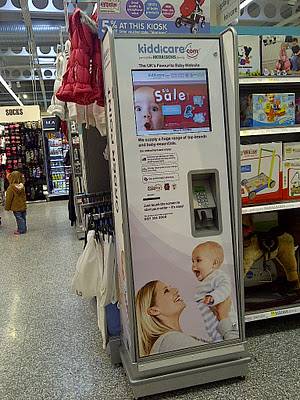 Kiddicare Kiosk in Wrexham – trial has been successful.
It's a bold move by Morrisons, they've foreseen the slowdown in non food and realise there's little point liberating space for increasing ranges of non food as Tesco have found out, Sainsbury's with their maturing ranges have found more success but they are increasingly strong on the non food side.
Whether it will just be the non food platform that will be used from Kiddicare or if they will use the strength of the brand to move into the vacated Best Buy stores remains to be seen, there was no comment on the conference call with the analysts last week but would you expect one?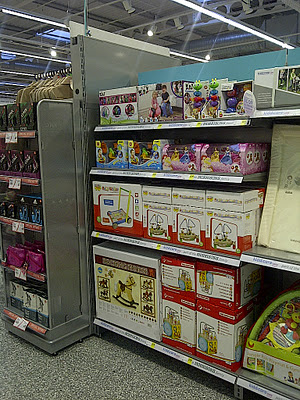 Complimentary non food in stores is a huge opportunity – leveraging scale with Kiddicare is one.
It would be an interesting move but I think a smart one, the Kiddicare brand has a strong resonance with customers and the baby market is growing all the time, backing it up with a non food online offer makes sense. I'm less keen on the plan to put Morrisons non food in any potential big box store, the Morrisons label when it comes to non food needs work for it to have resonance with the customer, Morrisons simply aren't known for non food. There isn't that element to be able to 'shout about it' yet by putting it into a standalone Kiddicare store.
So, that's 2012 for Morrisons, there's a lot more to come on the blog as you'd expect but there's a bit more on the other retailers in January – Heaton Park is a new 97k sq ft store from Sainsbury's that houses their brand new XL format, there's a full visit report on the blog next.
Then it's Tesco and their woes, does simply putting the right amount of staff into stores solve their problem? Of course it doesn't and far more needs to be done, I'll look at what I think they need to look at first, and there'll be a report from the new Grafton St M Local.
A weekly email covering the latest events in the industry; such as Tesco store operations, store visits or new promotional packages are all covered. Please visit our emailed retail insight page for further information.
Grocery Insight provide market insight on the UK sector with a focus on individual retailers such as Tesco. This insight is useful to various stakeholders and due to my store based focus. Insight can be delivered to suppliers to focus on growth opportunities, analysts and investors to assess the business performance and long term outlook and retailers themselves to assess best practice.