After hearing a lot about the Sainsbury's XL store format, especially the Crayford store. I decided to arrange a trip to the new expanded Heaton Park store in Manchester. Usually I just arrive at a store and carry out a visit incognito but considering it was a bit of a focus store and it's around an hour away… I decided to formalise the process and my thanks are extended to Sainsbury's HQ and indeed Michael Broadhurst, the store manager at Heaton Park for showing me around.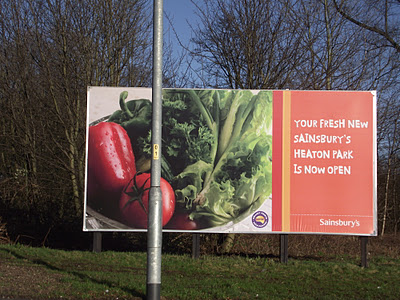 It really is 'fresh and new'.
The store itself is in an interesting location, it's perhaps one of the easiest ones to find as it's literally just off Jct 19 of the M60, around a roundabout and you're there. It's not an extension as so favoured by the chain in recent times, the store has been flipped and rebuilt at the back of the car park. This went on whilst trading from underneath the mezzanine floor in the interim period which is a lot smaller than the final 97,000 square foot store!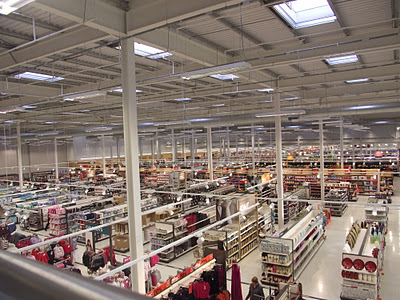 View across the Heaton Park store from the in store cafe.
It's testament to the countless folk who work in retail, their resilience in times of change is often admired, not just Sainsbury's but every retailer has elements of change going on within the business. To take a decent sized store, compress it into a tiny space under a mezzanine floor (housing the cafe) then trade out from that to an enlarged 97,000 square foot store is remarkable.
That's what Heaton Park had to do in order to continue trading, there was a time where stores would close for a while ahead of a refit but with competition on the increase. Especially after the enlarged store reopens with competitors often offering money off coupons to entice customers into their store. You don't want to be losing customers at any time but especially in these times of austerity.
With regard to the austere times, we've seen the Tesco sales slowdown culminating in somewhat of a profit warning and subsequent business turnaround plan in April to be revealed by Phil Clarke. He blames big box stores with people seeming to jump on the bandwagon that is stores laden with non food are now white elephants as online becomes more important. Certainly Morrisons think so and their stores with very little non food now look sleek as the market changes once again.
I'm not convinced it's as simple as that, Sainsbury's are slowly expanding their XL store format where sites allow and crucially – something that Asda and Tesco seem to have missed with their new big stores. There's an attractive enough proposition on the food side of things within Sainsbury's, expanded counters, more open food areas and differing merchandising tactics compared to the usual standard model.
It would be crass to say that big box is over and done with after Tesco's poor performance and indeed the woes of Carrefour across the channel and into Europe. The format does look in decline, especially as online and click & collect become more important for the customer. Sainsbury's say their XL stores aren't 'hypermarkets' per se as they focus more on food (this one does marginally with a 53/47 split) but their focus on food is evident with a real sharpening up on the counters operation and revamped Produce, Wines and Bakery operation.
Maybe retailers just have to work a little harder to capture the non food spend?
Sainsbury's will be hoping the non food boom isn't over and done with as they were relatively late to market only really joining the race in 2004 / 2005. The analysts back then were clamouring for everyone to have 100,000 sq ft stores selling mostly non food (where the profit is after all) and lamenting Morrisons lack of non food and as it was then. Sainsbury's were a distinct 3rd place behind Tesco and Asda in the non food stakes and the thirst to recover profits was necessary after the company's first ever loss was posted in 2004.
Since 2005 they've been quietly expanding their estate and where the store could support an extension it got one and with it a full range of non food. It's not all worked though, Harrogate has been extended and performs very well with a strong range of both food and non food. Monks Cross, York less so and it misses the sales target set when it was extended. The issue with the York store is that you walk directly into non food, which is never a good sign as primarily customers are there for food.
Heaton Park is notably striking in that regard as the remodelled store has the store entrance literally in the middle, it's also the first Sainsbury's store to be on the one level rather than non food being on the mezzanine like at Crayford. Upon entering the store, it's notable that you can see everything and can make instant decisions about where to head in the store.

JS Heaton Park panorama of the entrance.
Upon entering the store you've got a very 'light and airy' feel despite the store being a giant within the Sainsbury's store estate, at 97,000 sq ft it's one of the biggest stores in the estate, It benefits from the largest food range available from Sainsbury's (like all large stores) additionally Heaton park is the first store to be built and traded on one level. The other XL stores like Crayford and Lincoln feature non food on the mezzanine level.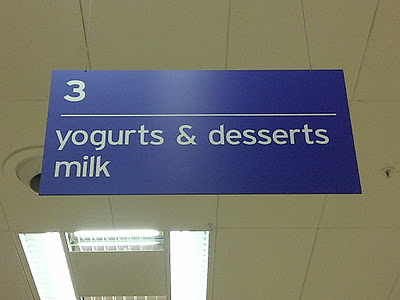 Old style signage – this is an older version of the overhead signage.
Another notable event within the store was the emergence of the new font and in store POS, gone is the Interstate Regular font signage replaced by the new branding and font. The new font is used across the store on both fixed and changing POS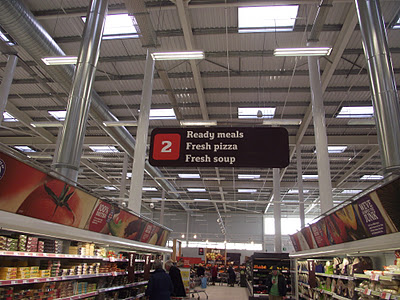 New font upon new signage.
So where to start? We'll take a left turn and go into the clothing department first, since Jeff Banks was 'terminated' early into Justin's reign, the 'TU' label has been a roaring success for Sainsbury's and its rapidly gaining loyal customers. Admittedly Tesco and in particular Asda are ahead of the pack with their respective labels due to their focus but TU has done a great job of closing the gap in a relatively short space of time.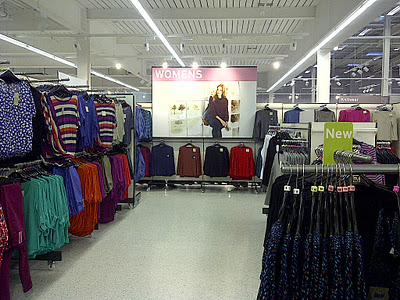 Almost more M&S than JS.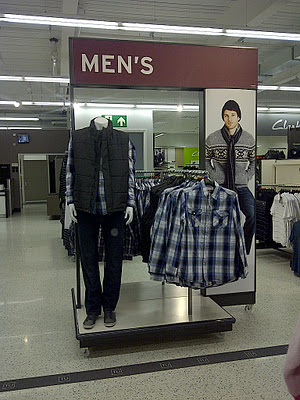 Focus on 'fashion' with TU – not just functional / formal.
The recent tie up with Gok Wan has helped grow the brand further, especially with women of a certain age! The one thing I noted about clothing as well as the wider non food offer was it was tailored to match that of a specialist non food / clothing outlet, you don't see high long aisles in Next for example, so why should you see them in Sainsbury's? The new Tesco Extra in Bradford makes a decent stab at remodelling the clothing department so it feels more clothing store and less supermarket, however the non food remains the same as food in merchandising and display – there is no differentiation.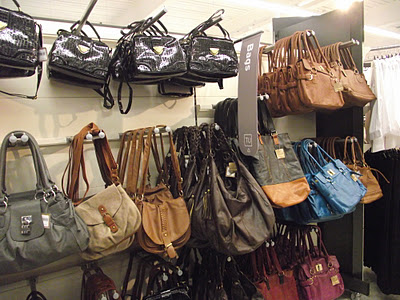 A wide range of bags – again you'd perhaps expect a smaller range in a supermarket.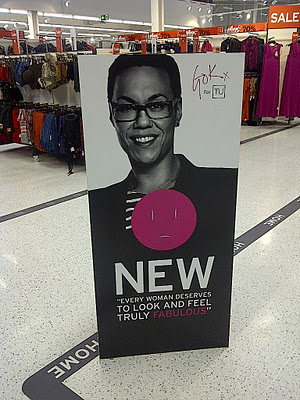 Tie ups with the likes of Gok Wan can only help enhance the brand.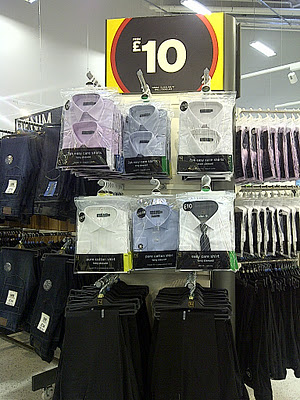 Smarter merchandising aside – price is still vital.
Sainsbury's also have made their TU clothing area feel notably impressive, it's almost like you are not within a supermarket, such is the layout and indeed the accompanying features like mirrors, signage and plastic models displaying the latest fashions. There was a time where you'd happily get socks, underpants and work shirts from a supermarket but it seems Sainsbury's are trying to capture the fashion spend by offering much more than just the functional 'safe' options.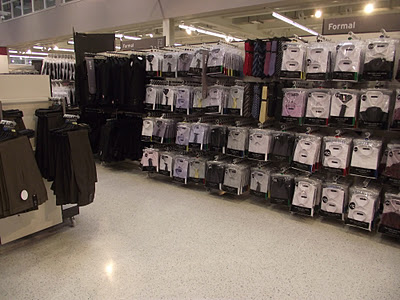 Formal shirts – often functional within supermarkets but JS want more than that for TU.
I recall fondly stories of Morrisons being aghast at inheriting a Safeway warehouse full of 10,000 pairs of jeans as they didn't want to sell non food, then we had the £3 George jeans from Asda… The supermarkets have really pushed the clothing angle, look at the range of jeans available within the TU collection here. It's literally taking the fight right to the likes of Next, Peacocks and the others with this range. Given Peacocks struggles and subsequent tip into administration, it's of little surprise considering the increasing levels of competition.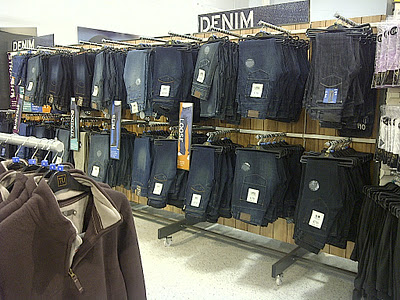 A wide range of jeans – arranged by fit type as well as size.
Kids clothing is very important, Next and M&S generally do notably well from kids clothing and Asda George have always performed well. Even Morrisons, the anti non food boys have recognised this by tying up with Peacocks for their stores of the future to hold a small kids clothing range. How that will transpire going forward remains to be seen but it shows the opportunity available to retailers selling kids clothing.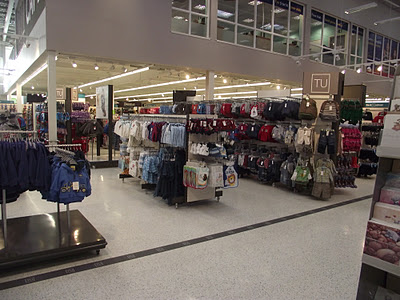 A strong range of kids clothing, and note the aisle space for customer flow too.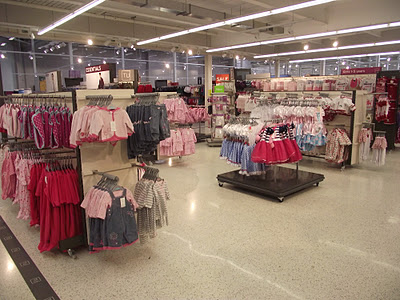 Another good example of differing merchandising tactics on girls clothing.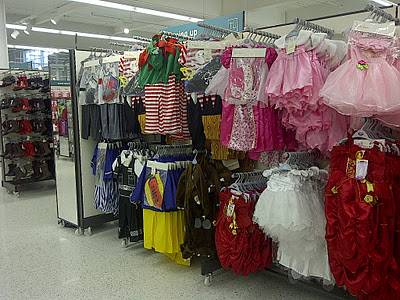 The emergence of fancy dress outfits is another development that the multiple retailers have cottoned onto.
The store isn't just pure sales floor, there are a few concessions in the store and notably a Clarks concession is sited at the back of clothing near the kids section. An effective footfall driver but also a sensible concession, Clarks still has a lot of resonance with parents and will drive good sales from a busy store. Furthermore it represents an opportunity for Sainsbury's to capture the school uniform spend within store and then Clarks to capture the shoes spend, especially with the preference for one stop shopping trips.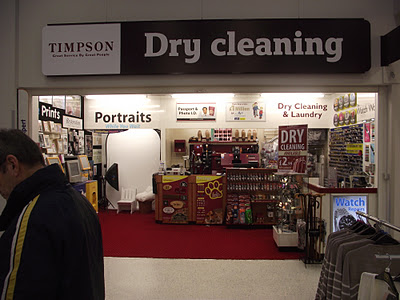 Concessions add to the experience – Timpsons & Dry Cleaning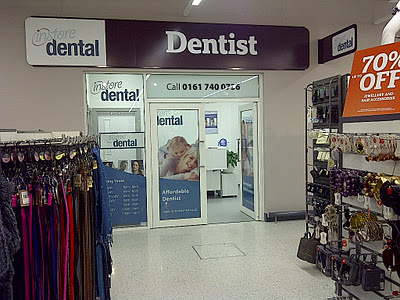 A dentist too which remains as part of a historic agreement with Sainsbury's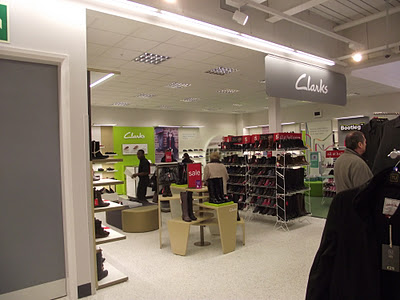 Clarks concession adds to the 'department store' feel of non food / clothing in store.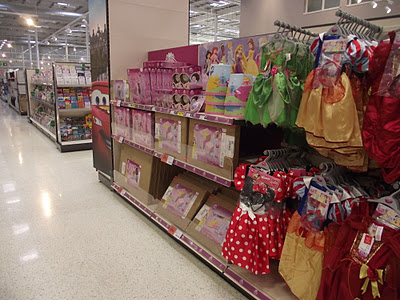 Kids clothing is an important part of complimentary non food – like on Disney toys for example.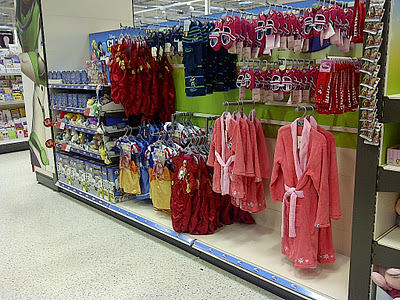 On kids nightwear too – teaming up with Toy Story franchise on the end.
Moving across the back of the store after clothing features even more non food! The clothing department makes up around 35% of the non food area in my estimation but it may well be less than that. It's a vast range and shows TU expanding as a brand in its own right. It's increasingly clear that a non food section doesn't just sell a few pots and pans, dinnerware and a sparse electricals section anymore. Sainsbury's certainly sell everything to accessorise your latest purchase within electricals whilst offering a good wider variety of homeware with different styles and colours.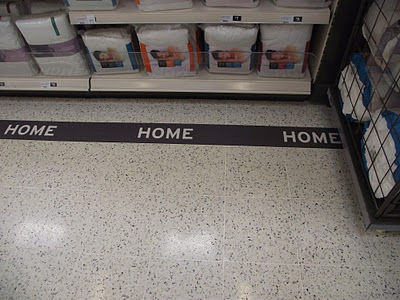 Each non food department has this 'tape' around it indicating 'Home' or 'TU'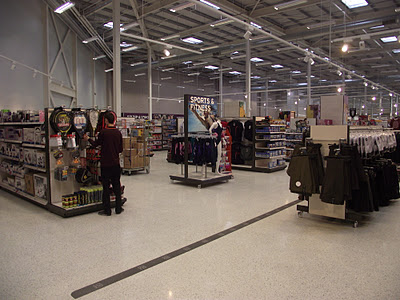 Looking out from clothing to the rest of non food.
The store is nicely divided up into different areas, as you can see above – Sports & Fitness is on the left from clothing which then flows around to TV and electrical whereas toys are located just after the kids clothing section which represents a good flow for the customer (and indeed the kids!)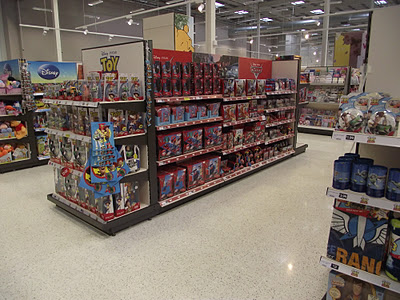 Strong Disney theme with backing POS for Toy Story / Cars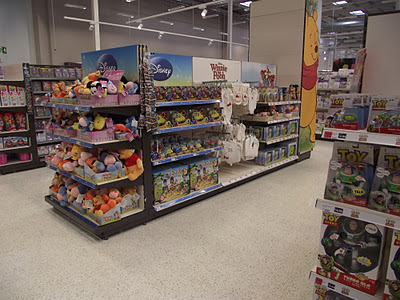 More Disney range – a strong range of toys taking JS into market vs. Toys R Us et al.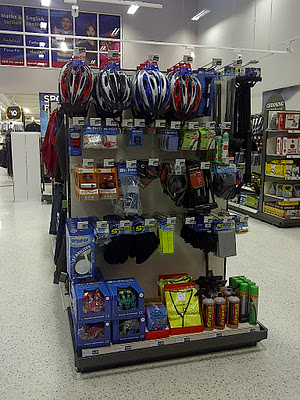 Sports & Fitness was also surprising – a full end dedicated to cyclists here.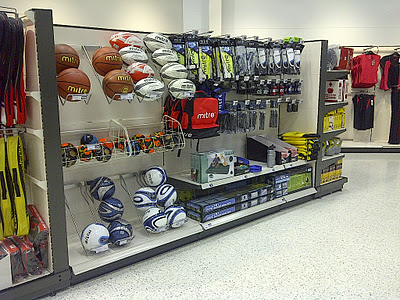 Plus a range of football and rugby merchandise with sports clothing on the back wall
Toys are to be expected within retailers these days, certainly the big sheds seem to sell a vast majority of toys and hold their own toy events these days that are eagerly awaited by parents close to Christmas. What was notable was the merchandising of the toys, backed up by official POS and backing boards made it feel more a Disney store than food store. Especially with the large pillars adorned with the likes of Winnie the Pooh.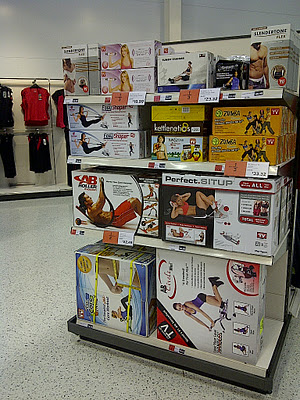 Cashing in on the home fitness market with Zumba.
Sports & Fitness is another notable inclusion and I know Tesco have stocked a range of sports goods for some time but it's perhaps a nod to the fact that bar Sports Direct there aren't that many fitness stores left, especially as JJB struggle on. It's a category that has largely gone online but nevertheless I would estimate that it attracts a fair few impulse purchases from those browsing the store. Especially with the specialist range of things that are available, cycle helmets, Zumba kits and footballs.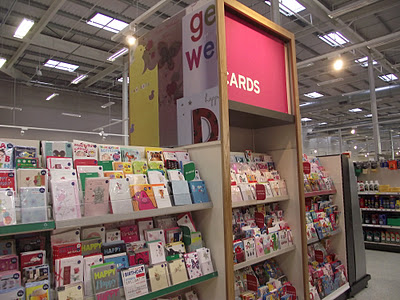 'cube' signage are bus stops across non food.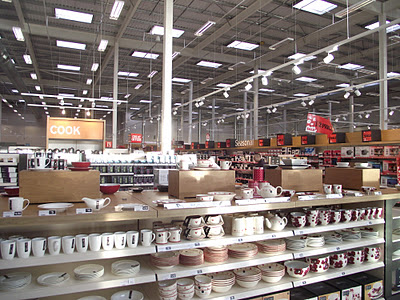 Lowered displays give the store a clearly defined divide between food / non food
The signage within Heaton Park was very well done, hanging signage can leave the non food side of the store feeling like a food store, what's clear here is how Sainsbury's have realised retailing non food is markedly different to retailing food. Indeed you could argue that the Tesco model of selling non food from the same height displays as food has contributed (with a number of factors) to a sales slowdown.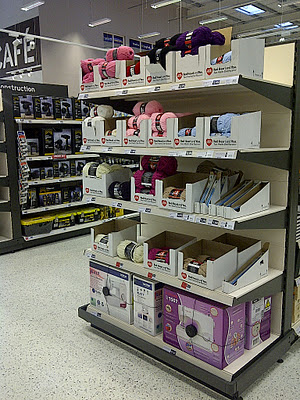 Non food requires innovation – Wool and Sewing machines reflect a  specialist market.
There is a definite slowdown in non food but I think Tesco need a rethink of how they merchandise their non food assortment, indeed a clothing buyer said to me that 'making Tesco realise that clothing is very different to selling food is part of our battle'. It's probably the same with non food, there'll be a big look at what Tesco need to do in a forthcoming blog but they need a big rethink, especially when you look at stores like this one.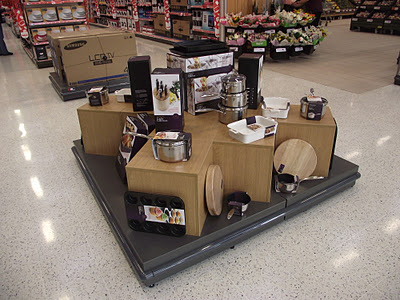 Store foyer has 'feature' lines such as JS 'cook's selection'
What Sainsbury's have also done well is develop good, better, best within non food, rather than calling a premium Pan 'Finest'. They've called it 'cooks collection' but used the same colour scheme as used for Taste the Difference. They also had 'different by design' using the same colour scheme at one stage.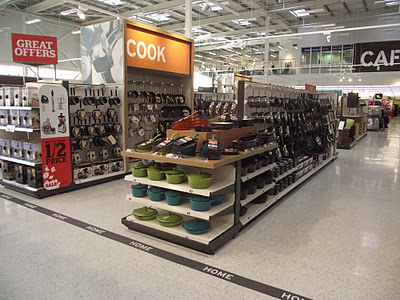 Strong range of cookware within the non food department – note department style merchandising.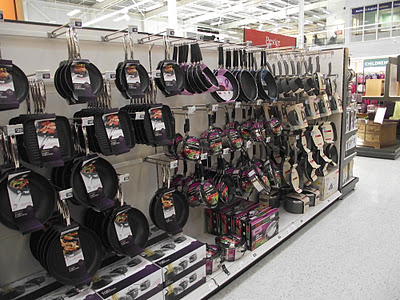 A very solid range of pans with own label prevalent.
Cooking is an important part of home life within the UK, perhaps more than ever as customers return to cooking from scratch. The 'bread and butter' of supermarket non food was electrical and elements of cookware, Sainsbury's retain a strong range of cookware here and the merchandising remains strong.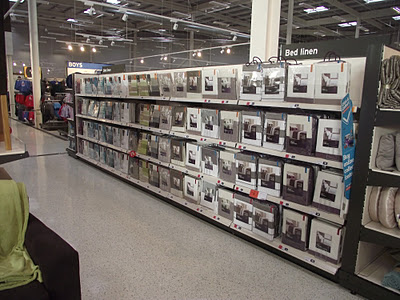 Bed Linen and pillows – you can get everything here.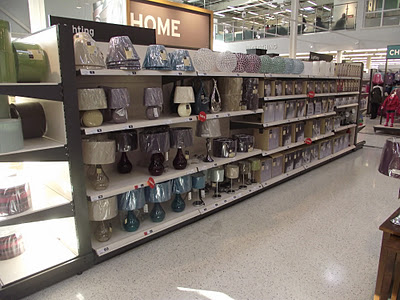 Lighting – standard line alongside the more decorative light balls on the top shelf.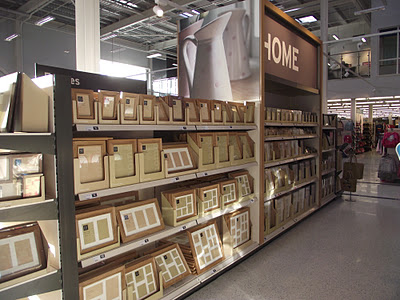 A lot of photo frames here – is it something that customers will always buy?
Another challenge facing retailers is that customers who would purchase new dinnerware / cookware whenever they had a dinner party will now be cutting back. They won't buy a new frying pan for each fillet steak they purchase anymore and as a result capturing the spend becomes ever the more difficult. It's the same with kettles and kitchen electricals, price is important but durability and quality are also as important.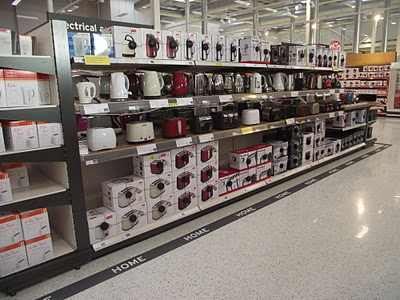 Note the tape at the base of the shelving indicating 'home' – Basics range of electricals on the end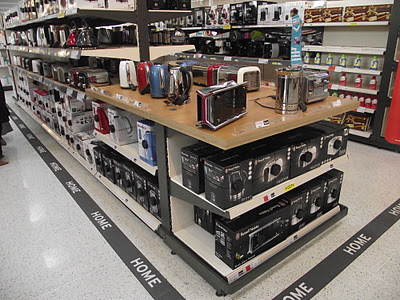 Ends are lowered for featured items
Another interesting focus area for Sainsbury's is click and collect, it's been very successful with Tesco and Asda, Sainsbury's have also found notable success with the model. Morrisons will hope to utilise that success when they launch their non food site later this year. What's interesting within Heaton Park is that Sainsbury's are promoting items in store that can be then ordered online.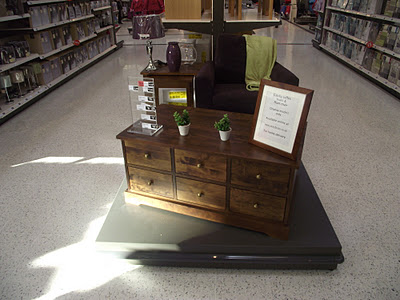 Oak table and chair can only be ordered online – however showcased in store.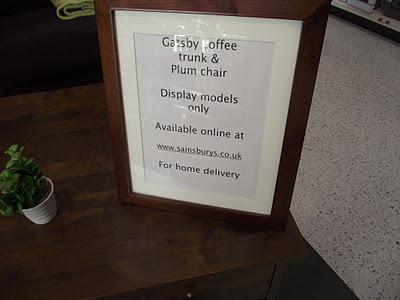 It can be ordered online – an order pod would perform nicely here to capture spend.
The featured item above can only be ordered online due to the size of the product and is then delivered to your home, I'm told it has some success and showcasing items like this in stores is far more effective than on a website considering the flow of customers. How long though, before we see an order pod near this product inviting customers to 'order today, pay today, deliver tomorrow?'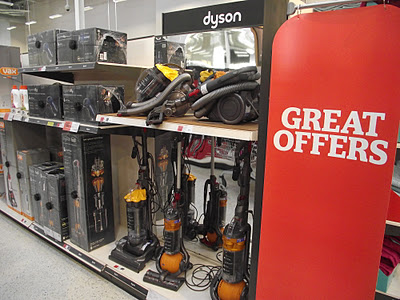 Dyson on display – notable shelf edge stripping and POS with 'Dyson' on it adds a dept store feel.
Moving across to the top of non food (yes, there's still more!) and you pass by the items such as vacuum cleaners and irons, taking Sainsbury's into competition with the non food specialists such as Argos, Dixons and even home catalogue giants like Littlewoods. It's great that you can see the product, all too often customers just see the box but each item is on display so customers can touch, feel and see what they're buying.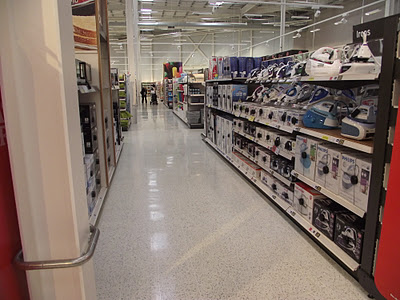 Ranges such as irons are now a 'necessity' within non food.
The wider, clean, clutter free aisles are evident within Heaton Park, particularly on food (more on that in part 2) but non food has precious few stacks or shippers. This is in stark contrast to Tesco who seem intent on driving sales by parking shippers all over their non food (and food) areas. The clean, clutter free shopping experience is something Sainsbury's hold very true and it's apparent that it continues to be vital to them.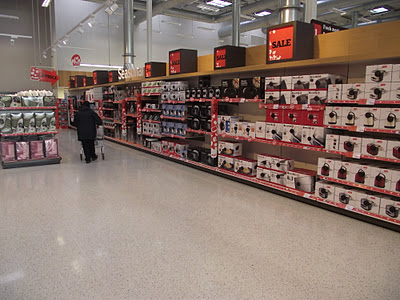 Wide aisles for the sale range – the seasonal space is interchangeable throughout the year.
A staple for non food ranges within supermarkets and arguably 'where it all began' is home entertainment. Cut price CD's were the first encroachment onto HMV's territory and few could have imagined how big the supermarkets would become within the entertainment market and also the wider non food market.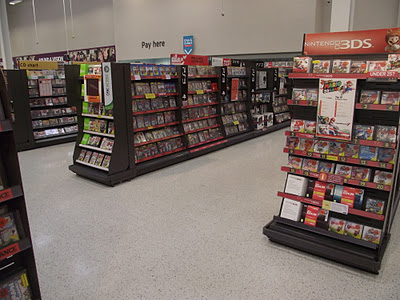 Entertainment as strong as ever – smaller console formats feature on the ends.
Critics, particularly those living in a parallel universe to ourselves blame the supermarkets for being 'too big' and 'powerful'. The fact is that supermarkets offer fairly priced goods and open at convenient times for their customers is irrelevant apparently.
It's no coincidence that supermarkets perform so well, for me there's no wider conspiracy about the fact that HMV are performing poorly, in the mid 90's with the lack of competition both from supermarkets and Amazon, they had their day in the sun charging £18 for a album when there was nowhere else to go.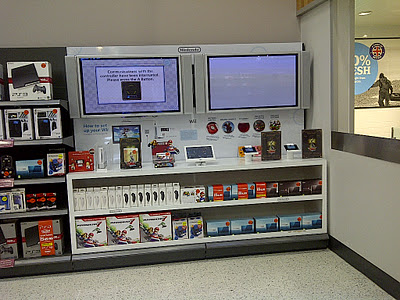 Nintendo Wii demo in store along with other consoles available to buy.
It's not just HMV who have suffered, Woolworths disappeared and GAME suffer as the range of computer games is a lot bigger than many other stores. The product range encompasses most of the common formats like Playstation and Xbox, not just the top charted games. Coupled with that is the wider range of accessories such as extra controllers, adaptors and cables.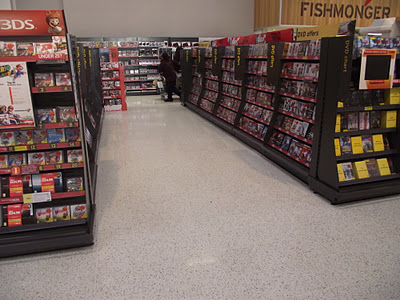 DVD offers on this aisle alone – driving good value.
It's the accessories of the electrical non food that is perhaps the most impressive, previously you'd be able to get away with buying a TV, laptop or games console from a supermarket but you'd struggle to accessorise it with a HDMI cable for example.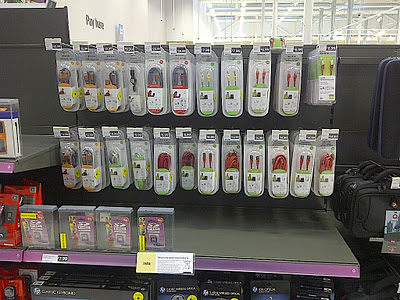 Good  range of complimentary non food here like network cables for laptops.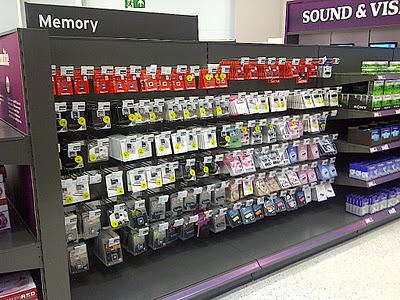 A lot of memory here!
That's where a lot of complimentary purchasing can be driven, parents buying gifts will generally buy extra controllers for a playstation for example. It's the same for TV's or laptops, people want to get their big ticket items home and be able to use them straight away, it can be baffling not knowing what you need to get started.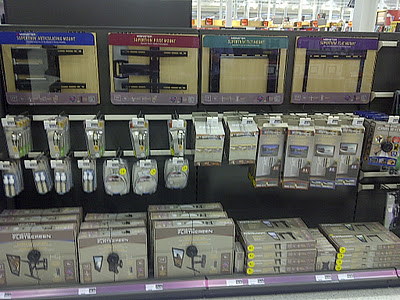 Extending to TV stands – flat screen TV's can be mounted on a wall so why not sell the stand too?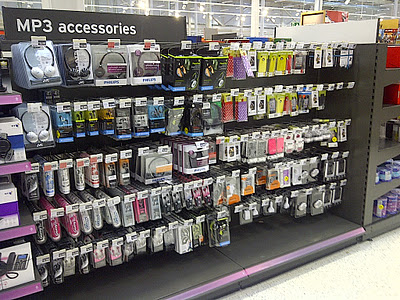 Accessories for iPod / MP3 players
The opportunity to cross sell isn't missed by Sainsbury's, why not sell complimentary products like network cables, headphones and TV stands? If you don't, then customers will either go to the competition or go to the specialists. It's an easy way to capture additional spend and a good strategy backed up by strong merchandising and is clearly a winner, if you buy a flat screen TV and want to mount it, you'll need a bracket!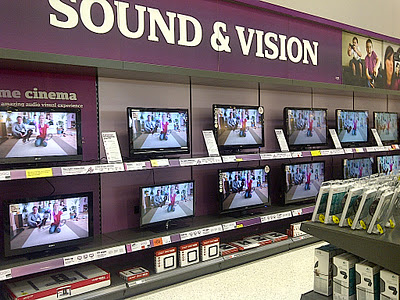 All the televisions on – always a winner!
Finishing off non food is the electricals such as Televisions (located on the back wall), and then a separate display housing Apple products (on the end) and sat navs, cameras and MP3 players located on the same display.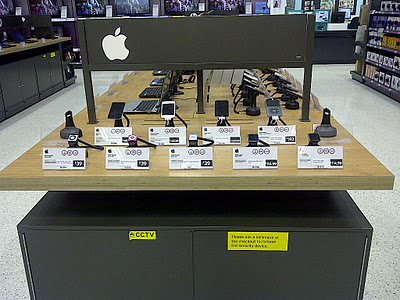 Apple products are a winner in any electrical range.
Finally,(Food to follow in the next blog, and that's worth waiting for, it's not all non food in this store!) it's worth looking at books, just located to the right of the wider electrical range before the store goes to the food. Much has been made about the supermarkets encroachment into books, Waterstones ('s) struggle to compete with the 2 for £7 paperback offer that JS promote heavily here and the emergence of supermarkets and Amazon saw the demise of Borders.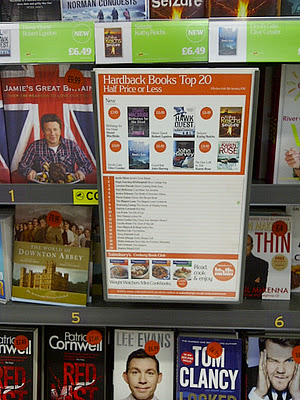 Quick moving Paperbacks from the chart mean an ever changing list.
The strategy of Sainsbury's is that they can focus on the fast moving chart paperbacks whereas a book store such as Waterstones will hold more slower moving books to encompass a wider choice for the customer. It's the nature of the beast sadly.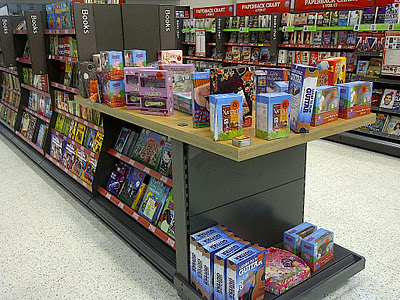 Extra featured space gives the store flexibility to promote different books.
So, that's the mammoth food section at Heaton Park! The food side of the store is to follow and that's notable as there's been a lot of tweaking to the food offer within Sainsbury's too.
The critics will of course point to the slowdown in non food and the struggle of Carrefour, WalMart (US) and Tesco and their big sheds. Sainsbury's only have 5 of these XL stores and Justin King has argued they aren't particularly known as 'hypermarkets' as there is a wider food offer. We'll see that in the next blog but I'm quite confident Sainsbury's can drive a bit of profit through these stores however it's dependent on store location.
As we know, there are still struggles within Sainsbury's to improve the underlying margins and with brand match being successful, price matching Tesco and Asda will impact margin so growing non food makes sense, especially as Sainsbury's continue to post good growth.
Kantar data out today (31st January) shows Sainsbury's recorded a 5.0% growth to their sales on a like for like basis, this does include store extensions like Heaton Park but nevertheless the business is in good health and looks set for further growth, especially if models and learning from this style of store can be rolled out.
A weekly email covering the latest events in the industry; such as Sainsbury's store operations, store visits or new promotional packages are all covered. Please visit our emailed retail insight page for further information.
Grocery Insight provide market insight on the UK sector with a focus on individual retailers such as Tesco. This insight is useful to various stakeholders and due to my store based focus. Insight can be delivered to suppliers to focus on growth opportunities, analysts and investors to assess the business performance and long term outlook and retailers themselves to assess best practice.