Following on from the first blog where I focused on the non food side of the 97,000 sq ft store, it's now time to look at the food side of the operation and indeed the 'bread and butter' of the Sainsbury's operation.
As Justin King is eager to point out about the XL store format, he doesn't believe they are 'big sheds' full of non food, the store itself has a developed food offering as well as a highly developed non food offering.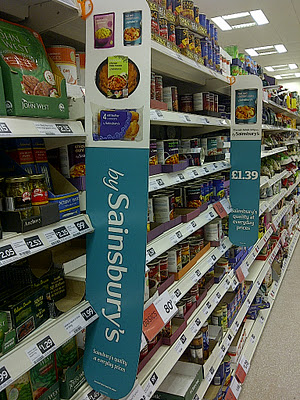 'by Sainsbury's' has been promoted heavily in 2012 – new POS and focus.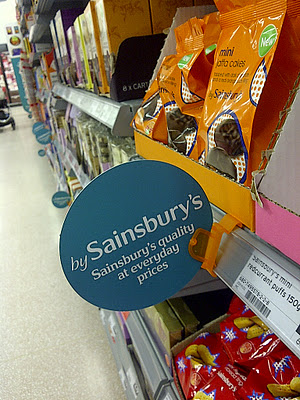 'by Sainsbury's' – Bold move with Sainsbury's putting their name to their products.
The big thing about Sainsbury's growth has been the stellar performance within the business, standards are generally very good across the estate, corporate plans and planograms are followed through and routines are followed and availability is vastly improved from those dark days via Sir Peter Davis. So good is the system at forecasting gaps and issues that colleagues are now instructed to only scan gaps (out of stock items) in store rather than low levels and hours operating the stock control department have been hugely reduced.
Availability has underpinned the entire business recovery from 2004 when Justin set out his plans but the wider company has improved across the board. The yearly category reviews are phenomenally powerful in terms of removing poor selling lines and continually offering innovation via new products. When you look at the project Liberate that Morrisons are undertaking, culling poor selling lines is something that Sainsbury's have been doing on an ongoing basis for 8 years now.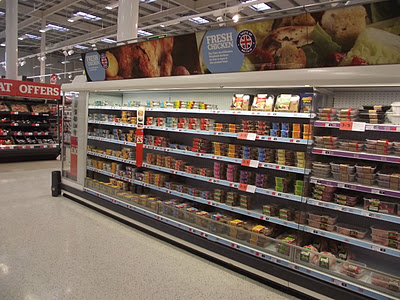 Strong availability has underpinned the chains recovery.
Making the stores a great place to shop is something that is pure lip service in many of the retailers, they say it but many don't believe a word. It's a bit like the 'one in front' promise that Tesco have for queues, let's be honest, in many Tesco stores you're lucky if it's not 10 in front.
Sainsbury's have their principles and generally they are rigid in sticking to them, sourcing British, being 'values' centric and offering great food at fair prices. Justin King has generally achieved everything he set out to do, the only concern is operating margin and the profitability longer term, and of course – what happens when the highly successful King moves on to pastures new.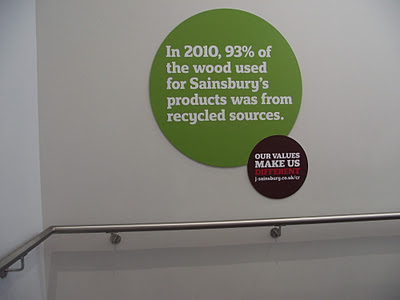 'our values make us different' – does it put money in the till?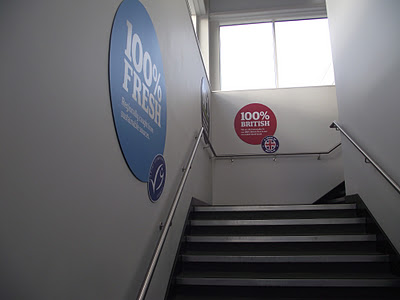 100% British pledge certainly does, I've seen customers only buy Produce from certain areas in the UK!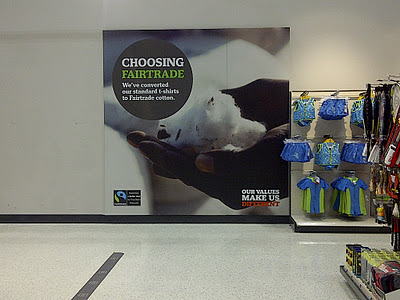 The Co-Operative do a lot of Fairtrade but their wider offer isn't there. JS make it mainstream and relevant.
With the new store, it's clear that Sainsbury's have designed the stores around customer flow by offering wider aisles and a clutter free shopping experience without stacks, shippers and dumpbins on every corner. It would be easy in a store of this size to sacrifice the customer flow somewhat and park a few pre-filled shippers across the store to increase sales.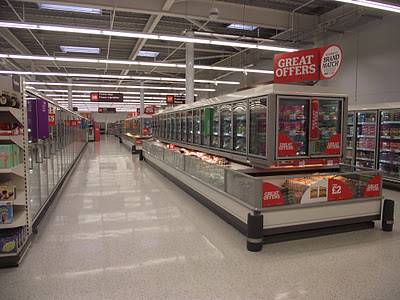 Wide, clutter free aisles enhance the shopping experience.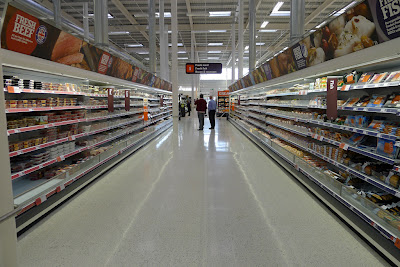 Wide, clean, clear aisles.
Morrisons with their stores of the future are switching onto this and removing the raft of secondary space sales drivers whereas Tesco are increasing their shipper coverage across the store. It's hard to see this being for the customers benefit, it's more to do with their falling sales rates.

Going right this time onto Produce.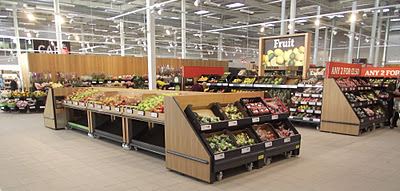 The Produce department – slightly lower first table with standard kit behind.
Looking at the food side of the store, we'll take Produce first as it's still the focus department for many supermarkets and is the first food department that customers come to within the store. It's a different layout and one that's seen in the newer larger Sainsbury's stores, again a focus on the department being clear and clutter free is evident.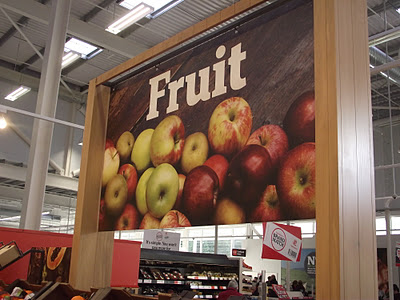 Elevated signage on Produce.
Produce continues to be important to Sainsbury's and ties very nicely into the values that the business has, sourcing more British produce for example is easier to achieve on Produce but Sainsbury's actively source British produce and heavily advertise the fact once it arrives in store.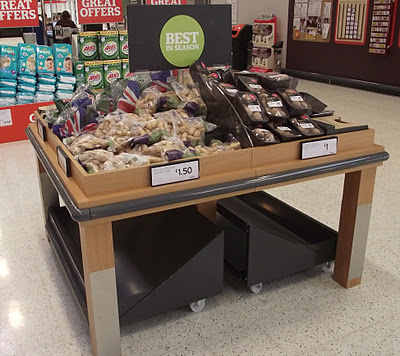 Best in Season Produce available in store.
The Produce department is an ever moving feast with growing seasons meaning lines change country of origin, change variety and of course change taste. In order to highlight this better, there's a table near the foyer with 'best in season' Produce on it.
At the time of visiting, the table featured Anya Potatoes from the Taste the Difference range along with Mushrooms and leafy cabbages. You'd imagine as the seasons change that Strawberries, Jersey Royal Potatoes and other Produce would be featured as the focus shifts with warmer (we hope!) weather.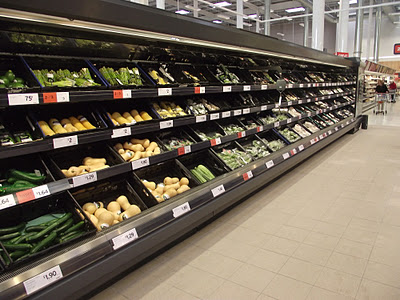 A wide range of vegetables within the Produce department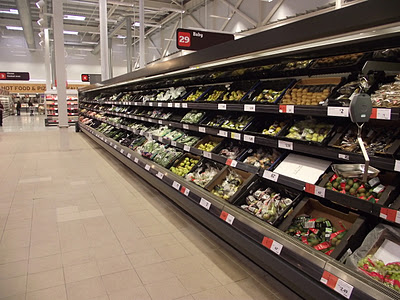 A vast range of fruit too.
Produce is an ideal place for bulk stacks but again, there is a total absence of them, the only time they ever do extra stack on the floor is at peak trading times such as Christmas. The shelving units themselves hold 3 cases so that product can be simply rotated on the shop floor, the chiller in the warehouse had to be seen to be believed.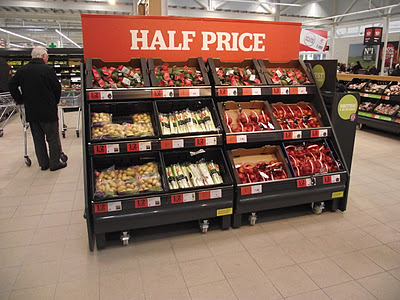 Strong endcaps featuring promotions – note the stand next to the end featuring British produce.
For a store of this size, the warehouse was tiny but the chiller was even smaller with very little backstock as everything is out on the shop floor. It's another testament to the remarkable transition within Sainsbury's systems, better ordering and forecasting which means they carry such tiny amounts of overstock which of course translates to better availability, lower waste and less manpower required to replenish.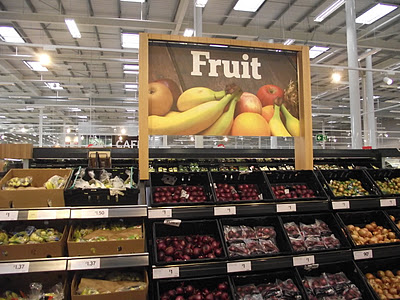 Onions as Fruit? Perhaps in Manchester……….
Kirkstall and the store of the future format has clearly impressed a number of retailers with visitors to both there and St Albans running into the hundreds. Most of the world's retailers have been in there, even Tesco! Phil Clarke tweeted 'well done Mr Philips' after he visited, so the influences are there, but will it impact the UK market at all?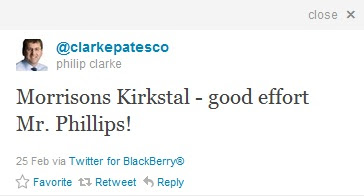 Phil Clarke – a big fan of Morrisons Kirkstal (sic).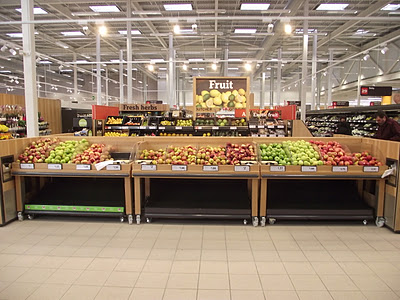 Loose Apples – looking out over Produce – these tables look similar too…
Infrastructure wise, there's only Morrisons who could probably roll it out nationwide considering their financial position and indeed the vertical integration side of things. Nevertheless it doesn't stop other retailers trying to take aspects into their stores. The loose apple trial in Heaton Park looked a bit Morrisons inspired and notably impressive, whilst you perhaps won't see the wider bits of the Kirkstall store in each retailer it seems certain that aspects will be picked up and adopted as applicable.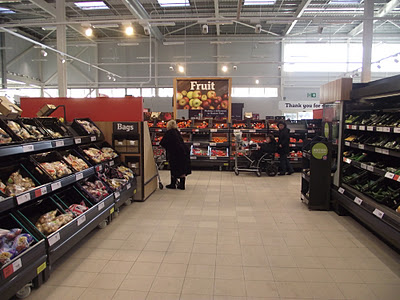 Looking down towards the store entrance
The one drawback Morrisons has at Kirkstall is the tables being wide and leading all the way to the back of the department. This makes it difficult to shop if the store is busy as you've got two narrow aisles at either end of Produce to navigate. Sainsbury's don't have these style tables all the way back in their department, they rotate their displays further into the department which creates space and aids the customer flow.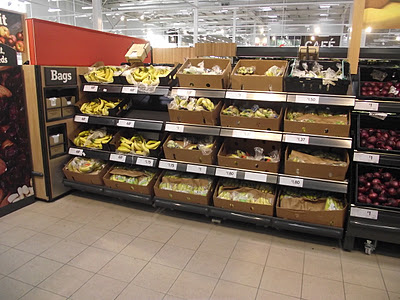 Produce bags tucked away neatly – but the Banana shelf ready packaging needs looking at.
The one negative is as above, Sainsbury's were the only retailer to have banana hammocks in the early 2000's but they were removed from stores when stores removed the 'american ends' (remember them? Wicker baskets, straw and a general nightmare) to be replaced by standard shelving thus selling bananas from the boxes as above, shelf ready style.
Since then, Morrisons have replaced their hanging bananas to decant bananas onto hammocks and both Asda and Tesco use hammocks for their bananas in store. Tesco at one time made a big push on selling bananas across the colours – Very ripe, ripe and what not accompanied with a colour chart so customers could see what they were picking up. Like many an initiative in Tesco, it's quietly gone away.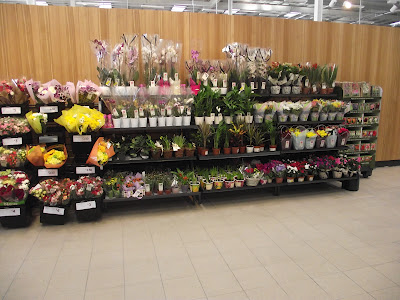 An expanded range of plants and ornamental gifting lines.
Looking at Floral, Sainsbury's have broke with their tradition a little and moved the floral offering to the left of the Produce department. A standard flower offering comes first and it's then backed up by a stronger focus on house plants and gifting plants like the ones above.
A criticism of Sainsbury's in the past was when you entered the store the first thing you saw was flowers, this from a food retailer? It looked as though the business didn't know where to focus, admittedly this was from the dark days of Sir Peter Davis. The business has moved along since but core stores still have floral as the first touchpoint when customers walk into stores so it must have some merit?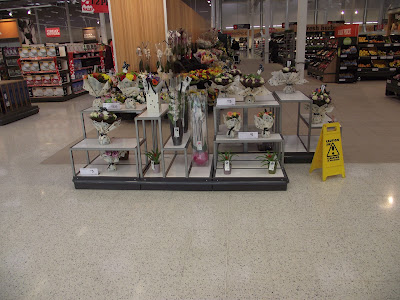 Premium flowers / plants are given featured space at the front of the store.
Stores within Sainsbury's are very very stringent on secondary space, promotional packages are followed and compliance is very good throughout the estate. It's not that trading is discouraged but the days of bypassing the stock control system to get pallets of stock are long gone.
Notably within Heaton Park,they get some freedom, these feature tables are a good addition to the store and allow the store to feature lines of interest. It's somewhat of a 'free hand' for the store to push lines to drive sales forward, Mothers day will be a very good time to feature the more premium range of floral to push the product and get the sale.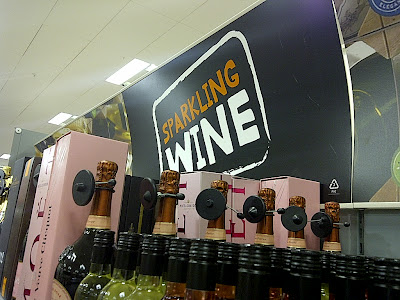 The font used on signage before the new format but after Interstate.
Moving on to the back of the store to take a look at the counter offering, I bypassed fresh foods which is a relatively standard offering within this store. The header boards are a firm feature of the newer stores (featuring the new font) and again showcase the British commitment that Sainsbury's have made.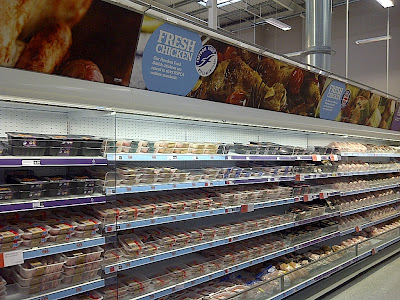 'freedom food' Chicken – farmed to a better welfare standard.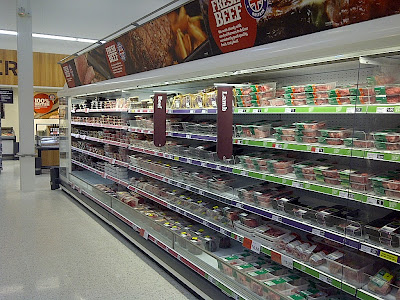 Fresh meat – more commitment to British too.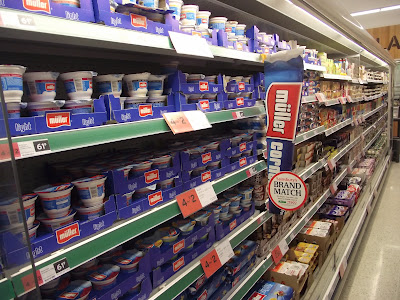 Brand match continues across the store – the POS is notably impressive for this.
The back of the store features the counter offering and I can see why Justin King states his XL stores are not 'hypermarkets' per se. The counter offering is improved from a standard store, the most notable inclusion is the 'kitchen' where items are made that day for the in store cafe. A nice bit of vertical integration and the counter offer is far close to Morrisons than it's ever been and it comfortably beats Tesco and Asda.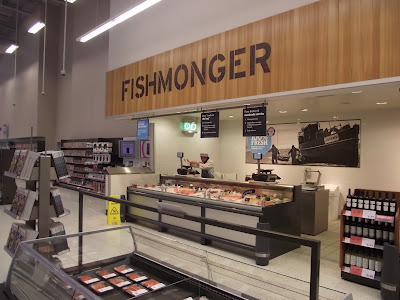 From l-r – Fishmonger – Note accompanying wines too!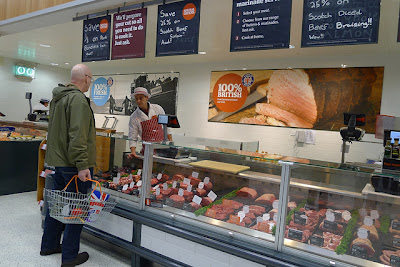 The butchery – need to work harder on removing that old chalk on the header boards!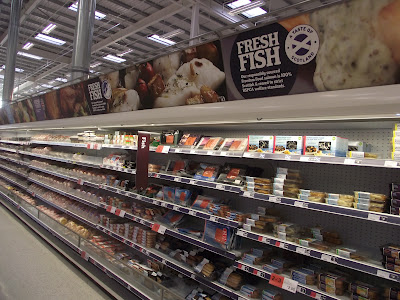 Fresh fish on the aisle – both British and responsibly sourced – and shouted about.
The fishmonger is a key component of the fresh food offering and again there's a commitment to sustainable fishing, all wrapped up within the values 'to make us different'. Most of the POS around the counters indicates sustainable and 'thoughtful' retailing. The Sainsbury's 20/20 CSR commitments shine through in this store.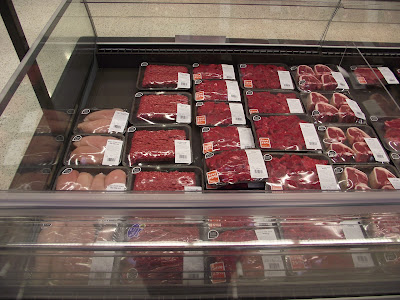 Freshly prepared lines are packed and sold from a secondary display unit.
Whilst this Sainsbury's store does focus on clear aisles and the great 'shopping experience', some space is made for two small refrigeration units near the butchery / fishmonger that are used to sell their freshly cut meat /fish via the Butchers. Michael (store manager) was telling me it's used intelligently for certain events – Christmas / Easter would see Salmon sold from the fish unit. The butcher will be notably busy with steaks / burgers once BBQ season comes around.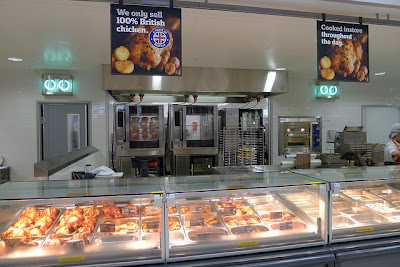 A wider range of hot chicken to go.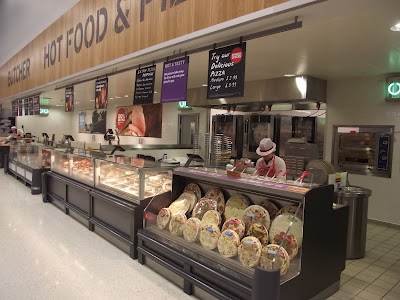 The Pizza counter.
The food 2 go Chicken offering has never been a vast but it's wider in this store and well executed, the notable additional counter is the Pizza offering. My local store had one added to their offering a couple of years back when they were refitted, but the larger store at the White Rose centre in Leeds doesn't yet possess one.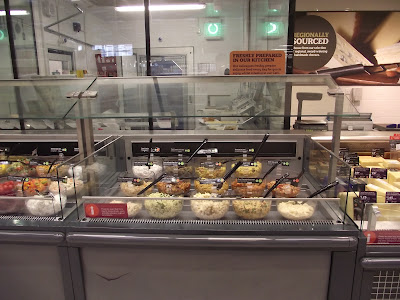 More food to go – A wider salad / fruit bar choice.
It brings Sainsbury's into direct competition with Morrisons and the market leader Asda when it comes to takeaway Pizzas, the benefits are obvious – especially on Friday / Saturday nights when more can be produced to meet demand. Sainsbury's will also cook the pizza in store for an extra £1, a good move to appeal to the takeaway market.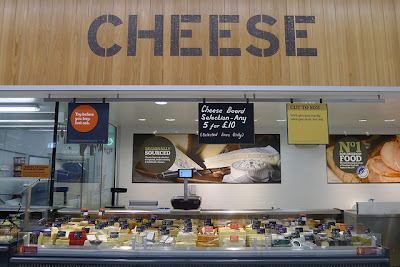 Cheese counter – strong promotion on 'any 5 for £10' (limited selection!!)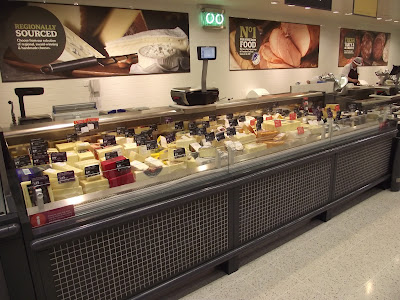 Lowered counter – allow customers to see and feel the product.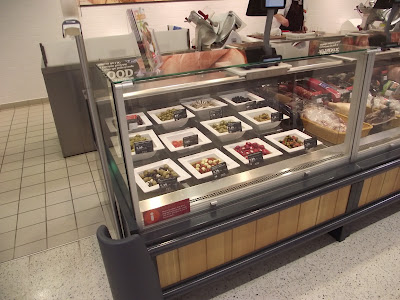 The Olive bar performs very well.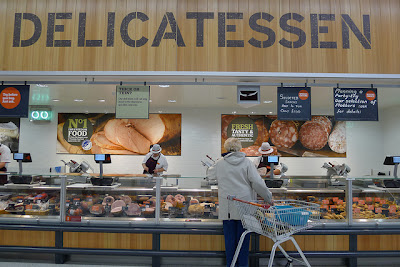 A wide Deli range – hanging POS pushes extra lines like Platters.
Sainsbury's have been quietly investing in their counter offer for a few years now, they've always tried to do it differently but with the availability and wider business issues, the message and focus was lost somewhat.
Their investment in colleges in stores for counter staff to be fully trained on butchery is a great move, as is sending staff to Bakery colleges to learn the art of craft baking. A real investment in people and judging by the excellent counters in stores, it's a very wise investment indeed.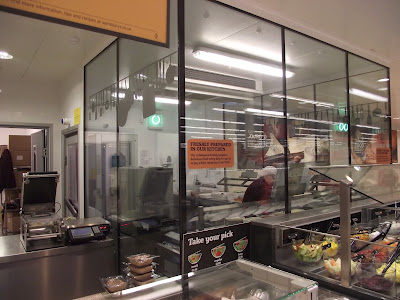 'the kitchen' – A very interesting move.
'the kitchen' is a new addition to the Sainsbury's stable of counters and a good stab at a bit of vertical integration in store, the kitchen within JS produces lines for the in store cafe which not only drives profitability but means availability can be driven on popular lines. It also gives scope for further movements in this arena with the facility to produce food in store.
The counters offer is highly impressive and further adds foundation to Sainsbury's mission to 'live well for less', by offering good affordable fresh food. The only slight negative I would say is I'm not sure about the wooden 'print' signage. It's in keeping with the store environment no doubt, but for the strength of the offer, smarter signage would enhance it even more.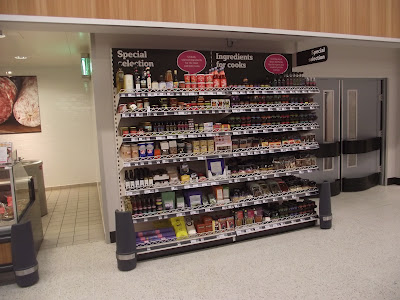 To appeal to the 'foodies' – Special selection near the fresh counters.
Ending the 'counters wall' is the Bakery, always always located in the right hand corner of a store (where possible) as customers are generally pulled into that area of the store by the smell of the freshly baked bread.
You're likely to smell fresh bread a lot more in this store than other branches, all stores are being told to 'wave bake' so rather than produce their entire days bread in one go at the start of the day, they stagger their bakes out and bake off every 2-3 hours or so – thus meaning there's 'fresh' bread constantly available.
As Allan Leighton pointed out in his latest book, when he was at Asda he asked why bakeries were producing all the bread first thing in the morning. Harking back to a time where people bought bread very early in the day, then went to work.
Obviously our working patterns have changed dramatically so why not bake throughout the day? It's a step change that's never really gone through UK retail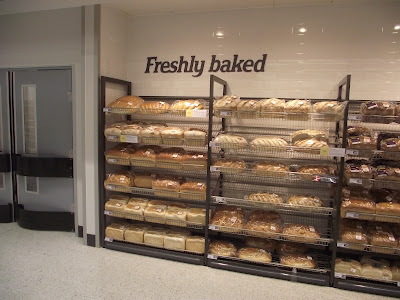 Reduced shelving space to encourage 'wave baking'.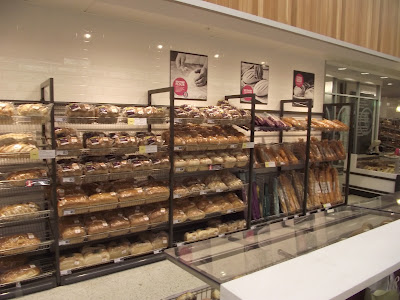 More speciality bread / stick leading to the counter.
Sainsbury's have realised this with their bakery offer and have effectively 'forced' the store to produce little and often by reducing the shelf space for bread to be displayed on. There is limited space on the shelving for each line of bread, forcing stores to bake small amounts. Of course stores could still produce all their bread first thing and replenish as necessary – it would defeat the object though!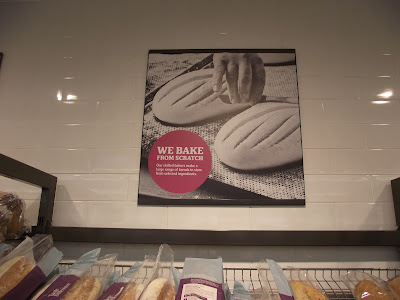 No frozen french sticks anymore – a number of lines are made from scratch.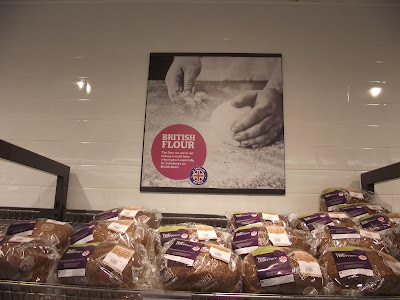 British flour – More strong values to resonate with customers.
The Bakery itself is where the 'magic happens' and there's always been an element of visibility into the back areas, not as much as Morrisons have done with Kirkstall or any of the other stores of the future though, Heaton Park appears to take some former Safeway ideas into this store – with the Bakery enclosed within a clear box like with 'the kitchen'.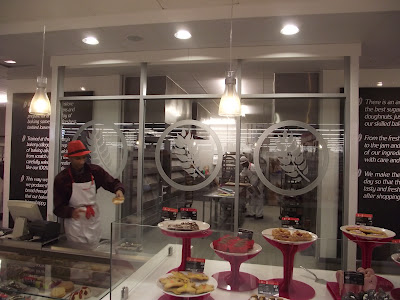 View into the Bakery area.
What it does is increase visibility into the back areas, as the prep table is in the middle with ovens and roll plant machinery on either side. It's also literally right behind the counter so it's very much part of the theatre even if you're just buying a cake.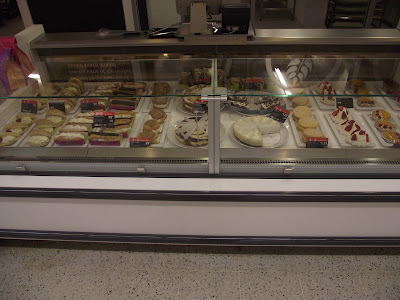 Fresh cream counter – a good number of in store prepared lines too.
The Bakery counter itself is also hugely impressive, there's a great split between ambient and chilled cake with the focus being on lowered displays like on the Deli / Cheese counter. This allows customers to look right in to view the product, rather being restricted behind a glass counter.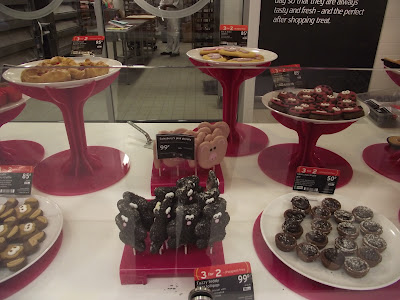 Ambient cakes and treats on stands rather than trays.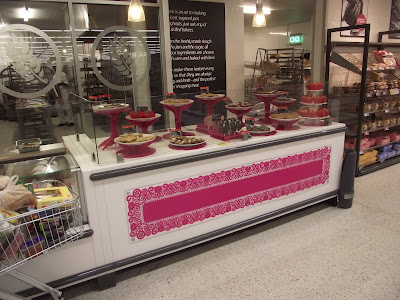 Ambient side of the counter looks to have a 'tea room' feel to it.
Sainsbury's also make use of secondary selling space once again, the back wall displays don't have space for the usual chilled cabinet with cheesecakes and other cream cakes. In store craft lines such as eclairs, choux buns and Fruit Tarts are traded from a small cabinet in the aisle just outside the counter, similar to those outside the meat / fish counter.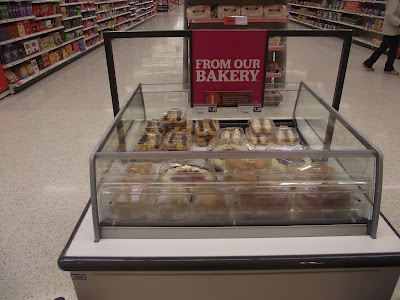 Secondary space isn't used often but near the fresh counters it is.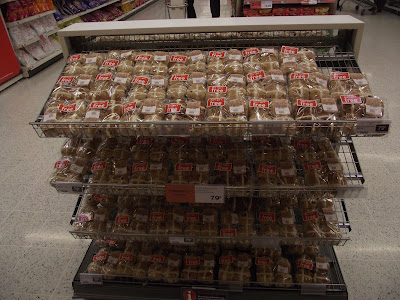 More secondary displays to feature promotional lines – though no advertising bar on product?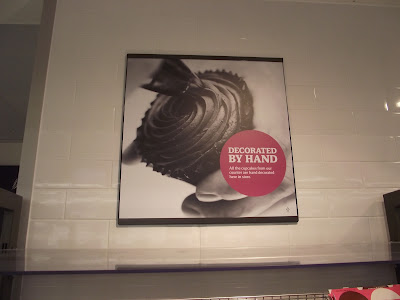 Sadly no cupcakes on my visit but JS are increasing their in store crafted lines.
Sainsbury's have made a number of step changes within their Bakery and are now producing more lines in store, they've retained a good number of cream cakes and are slowly adding to their production with larger tarts and as you can see above – their Cupcakes are also finished in store.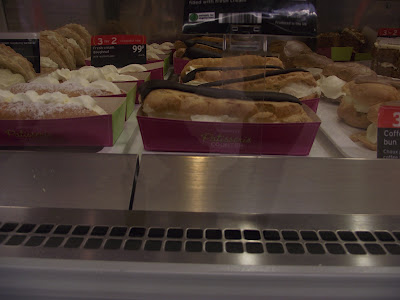 Brilliantly filled cream cakes.
It's a good move by Sainsbury's as they were looking at removing a number of the cream cakes from in store bakeries and choosing to focus on working with a supplier to send them into stores. The issue with this is two fold, quality is never the same and you run the risk of having them damaged as they're thrown around depots or stacked under much heavier product.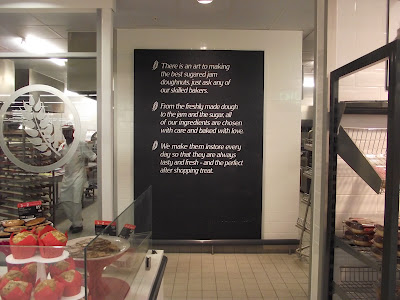 The JS taste pledge.
To see more craft lines coming into store is positive and it's a clear sales driver, Morrisons have done notably well with their wide range of in store produced lines and Sainsbury's are going the same way. Consider that both Tesco and Asda have removed any element of skill out of the Cream / Patisserie department, Sainsbury's putting labour and skill into it will resonate with customers who appreciate good fresh food.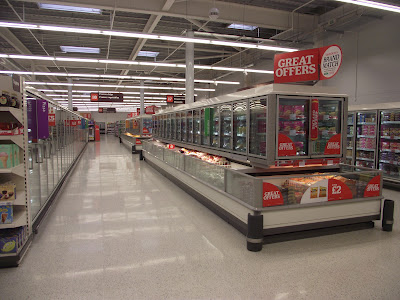 Wider frozen food department – two islands in the middle to aid customer flow.
Frozen food is a department that is neglected by most companies when refitting stores, a category that has been on the wane for a few years, however since the recession and the subsequent cutbacks; Iceland have been a big winner within the supermarkets. This has led to supermarkets reconsidering their ranges, Morrisons have tweaked their frozen offering to compete with Iceland and Sainsbury's retain a large frozen food area within Heaton Park.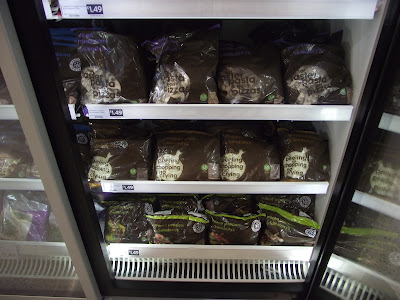 Frozen vegetables – a big seller.
Notably popular is the frozen vegetables, Sainsbury's have seen a large sales spike with these, there is no waste and they come pre cut, saving on waste means saving money!
Tesco have really switched onto the local demographics and ethnicity surrounding their stores and it was only a matter of time before their rivals caught up, Sainsbury's have expanded their Kosher range in the Heaton Park store and stock a range of fresh, ambient and frozen lines.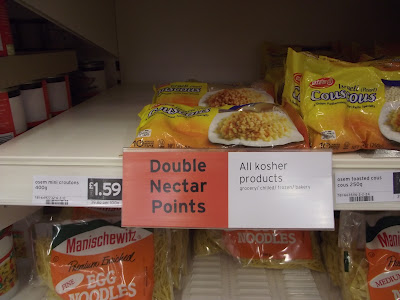 Double Nectar Points on Kosher Products.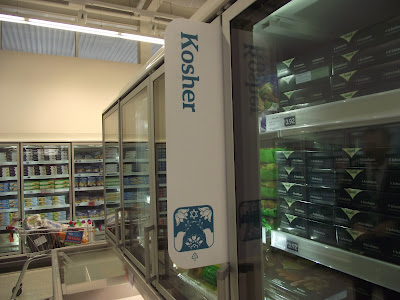 Frozen Kosher lines
Not only is there an expanded range of Kosher product, but the asian community are also catered for with large sacks of rice and flour so again, offering something to local communities around the store.
A smart move and it often will bring people into store for the specialist range, but they'll often buy much more from across the store which drives profit margins.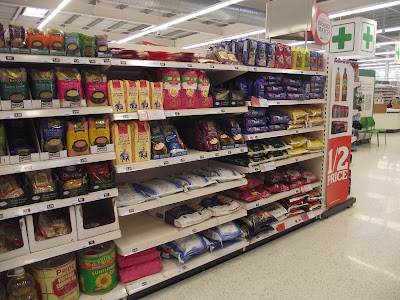 World foods expand to an Asian range.
The food range within Heaton Park is the XL range, that is the largest food range that Sainsbury's have for their estate. It's filled out well and offers plenty for the weekly shop, as you'd expect there's a good spread of own label products and the various branded lines that are included within the brand match promise.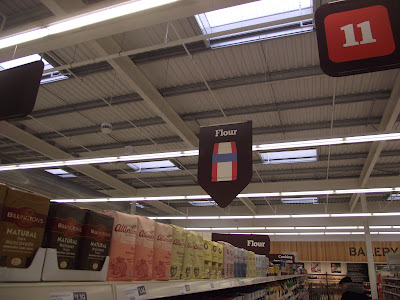 Standard signage remains but pictorial signage highlights core lines.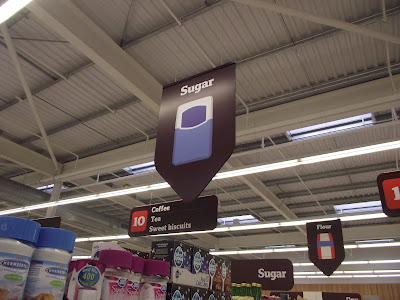 Sugar is another line that customers may want to pop in for – an essential line.
A major point of interest for me is merchandising and category management, it's notable the difference between the Sainsbury's and Asda category revamps and the one being carried out by Morrisons.
When Sainsbury's started their business transformation, they committed to carrying out yearly category reviews where poor selling lines were removed and replaced by new own label development and tweaks to the branded offer. Generally, branded NPD (new product development) comes out throughout the year and was sold when it's released and available – see lines like Cadbury's Philadelphia…
Adjustments to the layouts and planograms were made too, I recall one where all stores located the active health yoghurt drinks to the middle bay in the aisle. This saw sales rise massively, Sainsbury's have continued to tweak the offering throughout the years and ensure that they keep pace with the opposition.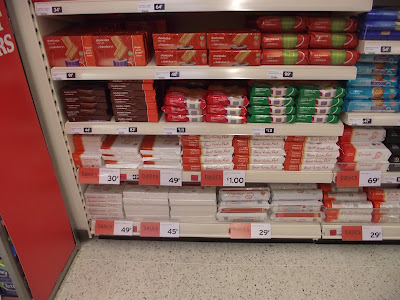 Basics clearly defined in the base with 'by' above – clear distinction between good / better tiers.
Sainsbury's consistency has to be admired, as does their adherence to planograms, premium lines at eye level and above with basics / value tier in the base. The own label development with 'by Sainsbury's' has helped distinguish between the tiers and add a further resonance to the brand with extra products and a revamped offering.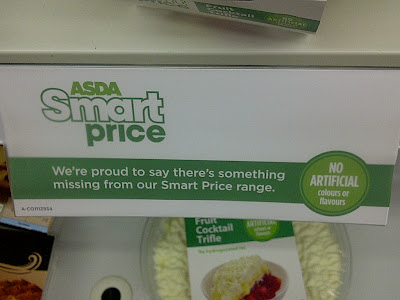 Product, packaging and branding all updated with Smartprice.
Asda did a similar roll out to Sainsbury's with 'chosen by you', the Extra Special revamp was done near Christmas to appeal to those that wanted to trade up whilst shopping at Asda.
Interestingly, the Smart Price changes are now being carried out after the main category work has been done with the standard and premium labels, it's a packaging change with a softer font and some on pack photography but a removal of artificial colours and flavours is a very positive move.
Sainsbury's did the same of course, replacing their 'low price' tier with Basics after they'd completed their category review work, Sainsbury's were (and are) known for their strong own label quality so updating their basics tier was designed to bring customers in who were shopping on a budget.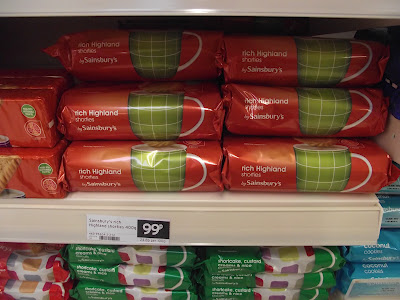 'by Sainsbury's' – a great development – great packaging here on the biscuits.
Morrisons have also relaunched their value tier as 'M Savers' and there can be little doubt that it's a huge improvement on the previous 'value' range. However as alluded to in this
blog
; the own label is somewhat behind their competitors and as such the Savers range now looks superior. This can be a worry when it's easier for customers to trade down to a lower priced product which is also returning a poorer margin.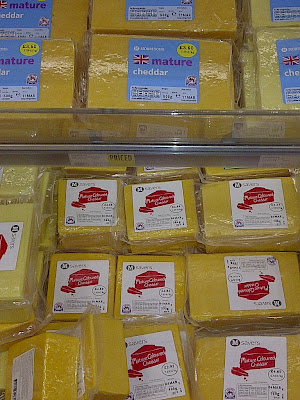 Savers range now looks more appealing than standard own label.
There are schools of thought that Morrisons should have relaunched the value tier after the o2o work which would have seen all the product groups revamped and relaunched under specific brands – like we've seen with Bistro on the ready meals for example. As it is, Savers looks superior to the undeveloped standard tier.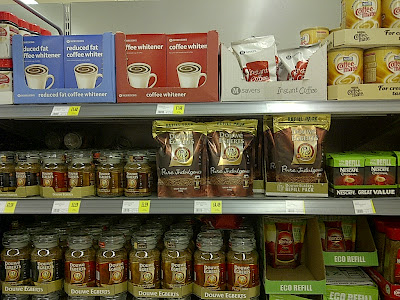 Savers instant coffee living with premium ranges like Douwe Egberts.
Whilst Sainsbury's merchandise to strong principles and 'guide' the customer to purchase – as Tesco have done for many a year, Morrisons are finding the balance difficult, Soup for example sees 'Savers' sit on the top shelf which is clearly to corporate plan as there's a number of stores that display it that way. However with Savers looking better than Value, it may drive customers to pick up the lower priced, lower margin Savers tier rather than the own label.
Moving on to the rest of the store(!) after that brief merchandising chat, another department with a great customer flow is Beers,Wines and Spirits. The aisle layout allows movement between the aisles as the middle section of the Wine department is split into two 'islands'.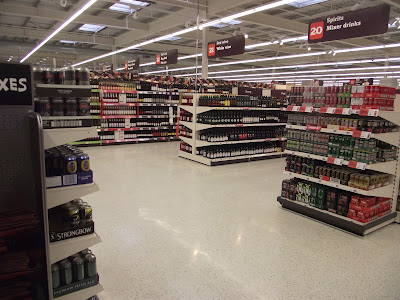 The middle of the department split up into 'islands'.
Associated products form part of the BWS department with a wide variety of mixers ranged opposite the spirits to drive complimentary purchases. Driving complimentary purchases is an important part of the shopping experience these days, especially as retailers try to encourage shoppers to spend every last penny with them.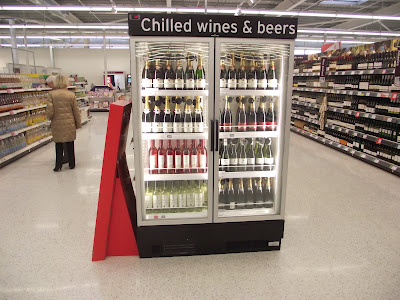 Chilled wines and beers.
Sainsbury's have a small chiller on the BWS department for Champagne and Wine which will prove to be popular to with the 'to go' market, especially on a weekend where people are going to dinner parties for example. It'll be popular in the summer when it's filled with Beer as well!
The Classic wine selection is another driver of purchases, particularly gifts and the offering of a free gift bag will only help drive purchases. It's a great attempt at appealing to the 'wine buffs' who are knowledgeable about wine and also those who are looking to take a more 'special' bottle of wine to an event or party.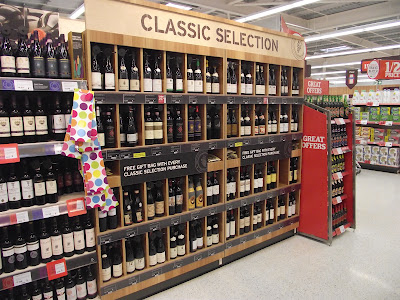 A classic Wine selection offering a more premium range.
The Health, Beauty and Baby department is very impressive, the baby department in particular carries a lot more non food than previous versions have done in smaller stores. It's bound to drive complimentary purchases as new parents will investigate nappies / wipes / baby equipment in store so complimentary non food can drive purchases.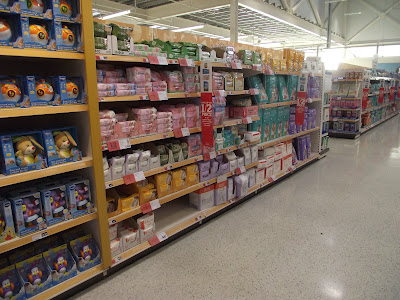 Wipes and nappies now feature within the baby aisle.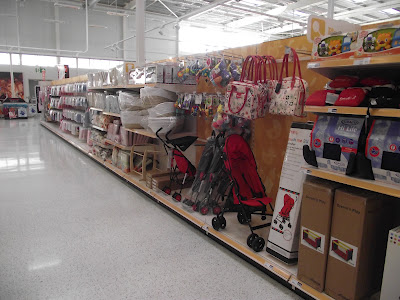 Complimentary non food – Prams, cots and car seats.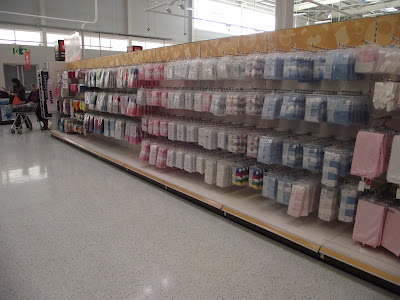 The aisle also has key baby clothing such as vests, baby grows and blankets.
The level of non food is remarkable, there's a full half aisle dedicated to cots, prams and car seats with the second half of that aisle stocking lines such as baby grows, vests and other baby wear like blankets. It flows a lot better with the aisle being together – a one stop shop for baby wear almost!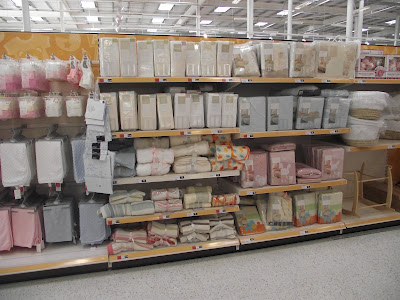 Blankets and duvet sets near cots – opposite nappies and baby essentials.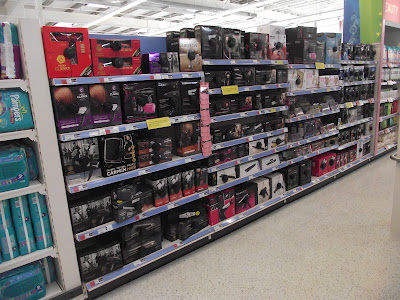 More complimentary non food – opposite haircare are hairdryers and straighteners.
Morrisons tried something similar at Kirkstall with the baby area and initial feeling is that it works as a layout – common sense for example but it's not driving the sales forward. Certainly customers don't seem to bother looking too much when I'm shopping in there. I think there's a lot of work to be done on that area across all retailers, it's not enough to stock a few bottles of shampoo and toothpaste anymore.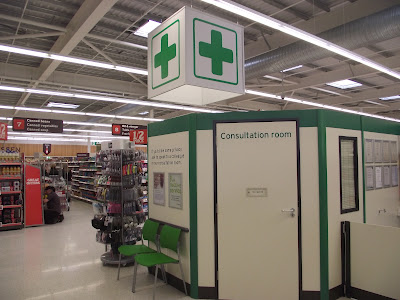 There's a pharmacy and consultation room in the store.
With Morrisons & Kiddicare there's expected to be a renewed focus on the baby area of the business – tying H&B up with baby and wider non food both in store and online. For me. Sainsbury's have stolen a march here as the layouts make much more sense for the customers and it must really drive a good number of complimentary sales. It's more non food true, but it makes more sense to put it next to baby essentials rather than just past the Playstations.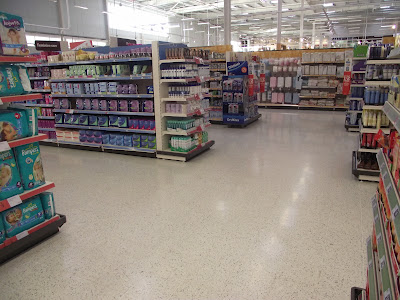 More clear and clutter free aisles – enables H&B to flow nicely.
Wrapping up this epic store visit is the pet care department – again another area that has seen a great deal of development. Tesco launching 'Lathams' and 'Vitacat' which are their own label nutritional pet food products, taking them into direct competition with Pets at Home and other specialists has stoked the market somewhat.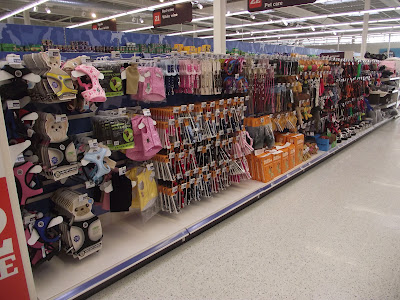 Collars and coats for cats.
It's another department where stocking a few bags of dog food and a basic range of toys seemingly isn't enough anymore, Sainsbury's have previously been quite tight with ranges on pet care for example, it's still seen as 'non food' but nearer food than say Health and Beauty. Most of these departments don't have much flex on ranges and barring a few differing pack sizes on pet food, it's a no innovation zone.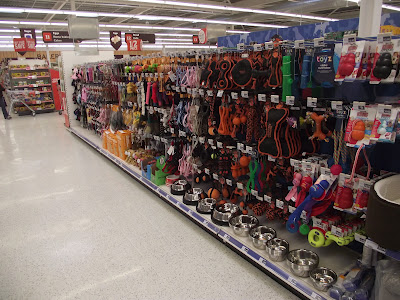 Sainsbury's taking the lead? (groan).
There is real range innovation on display in Heaton Park, a stunning range of pet toys and accessories are stocked and it's really encroaching onto the specialists territory. It's not just standard pets either, there are little toys and trinkets for fish tanks and a number of bird boxes available too, as well as the plethora of dog collars, beds and toys.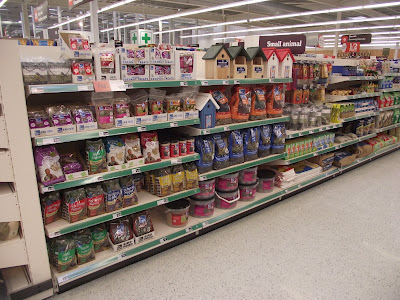 'specialist' animal products and bird boxes.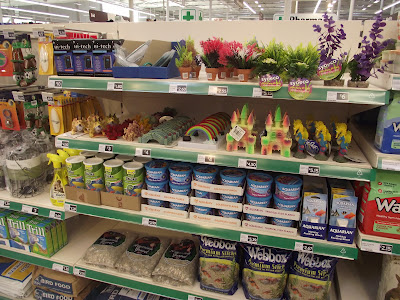 With ornaments for Fish Tanks!
It's clear that a lot of thought has gone into the XL format, it's not just space for the sake of space. The non food on the food arena works well into the relevant departments, certainly on baby.
Sainsbury's haven't forgotten that food is their core offer though, and the food side of the store is as impressive as the non food, the counters are superb and the customer flow and clear aisles make the store a joy to shop in. They've clearly looked at the other retailers strengths and tweaked the offer accordingly, their food based offer can only be a positive for Sainsbury's customers.
With regard to the wider business, I note Sainsbury's have been desperate to shake the perception that they are more expensive, their data and brand match backs up that people felt Sainsbury's were more expensive than their rivals.
Perception works both ways for them, they are perceived to have a superior quality offering on fresh food and their own label share probably backs that up. I thought brand match was just another tactic in the myriad of price wars but in reality, it's been a massive success by adding more value to the JS proposition.
You may pay slightly more for your own label product at Sainsbury's, but generally this will be out of choice and the quality will back it up, especially on fresh food. However with branded products being price matched – Sainsbury's effectively capture discretionary and essential elements of the spend.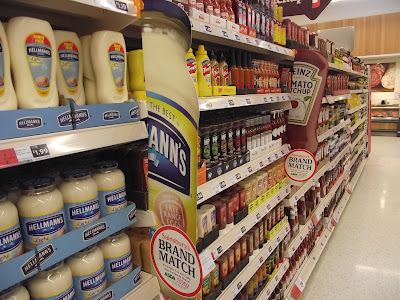 Brand match has been popular – crucially – not 'ripped off' like the Tesco price guarantee .
Asda are trying to switch on to a quality message with fresh food, notably difficult when you're an EDLP operator. In the UK we consider value to be about not just the price, but whether it's edible and of sufficient quality. Tesco have been so busy battling Asda on price that they've fallen into the same trap but without the own label development of 'chosen by you' so their message has been totally lost.
To say Sainsbury's had the most to lose in this recession with their value / quality 'confused' message, they've done remarkably well. The latest Kantar data backs this up too – a 5% rise in sales leaves them posting a 16.7% market share. Their highest since March 2003 and a figure that would have overtaken Asda had they not acquired Netto, remarkable progress by Sainsbury's to recover or a very stagnant Asda? I think a bit of both.
High hopes for the XL format, sites dependent of course! It would be nice to see some of the learning's from these large stores worked into the smaller stores as they are refitted. Overall thought, it's very impressive and all eyes are now on Tesco for their plans to reshape their business which has hit stormy waters recently.
Investing in counters and wider food offerings like Sainsbury's have once again here would be a wise starting point…