Every now and then, new store concepts appear and make you think that things may well change in the wider market. Morrisons Fresh format (or store of the future) were the first one I covered that changed the landscape, a real focus on fresh, shaking up the wider market. Similarly the M Local concept was also shaking up things with a focus on fresh foods and remodelled stores, the competition were in and taking notes, building upon their own offers.
Tesco, so often putting their foot down and being ahead of the curve with online, loyalty and convenience found themselves lumbered with a store estate that had been under invested in. Leading to tired decrepit stores, existing staff overworked and stores under staffed. A grim shopping experience lead to profit downgrades and a falling sales line.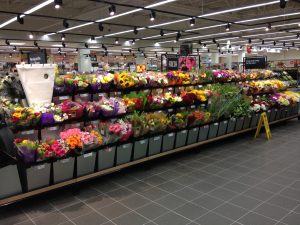 However, the first signs that the tide was turning was the announcement of store refreshes from Phil Clarke, these were designed around 'wood' (and lots of it) along with a fresh lick of Paint and new signage. Nothing groundbreaking, almost lining the sand in terms of bringing stores up to a level that was acceptable, putting colleagues back in stores, injecting a sense of pride.
London has chugged along very well with bespoke formats launched in Regent St and Tooley St (Metro) and Marylebone (Express) but these are currently limited to the capital, they're experiential too, far more than their previous incarnations. Indeed, you could argue that Tooley St & Regent St will now put to bed those rumours about the death of the Metro format.
That brings us nicely to Watford, much has been made of this on Twitter. Incognito pictures have been taken but as ever, the Grocery Insight blog gets access to the store showing departments in detail with clear photographs and a real feel for the atmosphere.
The changes are apparent from the exterior of the store with new signage featuring the 'established' year (1988) for Watford along with extensive advertising for the new concessions in store. Car park pillar are always useful and advertising Giraffe, Harris & Hoole along with the new look store ensure customers know something is happening in store.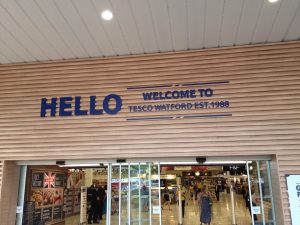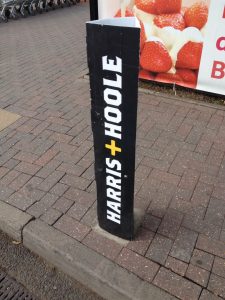 Upon entering the store, you can immediately see that things are quite different from a typical Extra, though the model has served the business very well for 20 years, it was based around customers spending and spending on TV's, Toasters and the various seasonal events that were rolled out. Times have changed.
The downturn arrived and the cheap credit used to fuel a new TV every year, computer games, cameras and laptops became harder to obtain which saw customers scale their purchases back. Sure, the tablet has meant that people don't necessarily buy laptops as much anymore but demand for consumer electronics slowed and Tesco found themselves over spaced.
A typical Extra means a customer enters into non-food which is not typical for a supermarket. The competitors generally have their customers enter onto Produce before following the store around to the Bakery in the top corner of the store. Tesco are different, with non-food, H&B and News&Mags on the right side with a 'power' aisle featuring promotions / seasonal events on the left.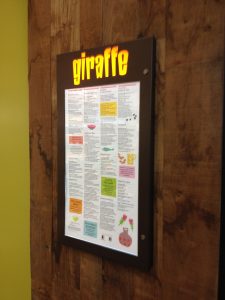 The store then flows to the central aisle featuring the key promotions, Produce is more in the top centre of the store opposite Fresh Foods and counters. There is no clear 'route' across the store, Watford does change this (though Produce is nearer the front, but not at the front of the store).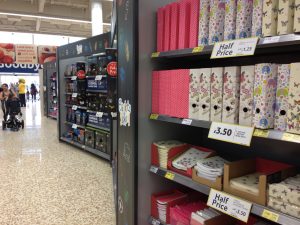 The key change in Watford is the 'action alley' of seasonal events, promotional dumpbins and non-food / news & mags is replaced by the innovative 'Super Convenience' which is essentially a small store of its own featuring 'food to go' options, complete with their own checkouts. Additionally, there is space for Giraffe (the store entrance tucked away in the corner).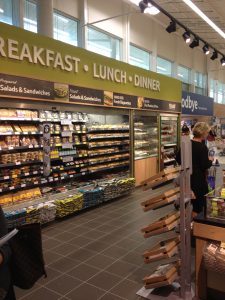 Euphorium Bakery (as we know) is featured in a number of stores in the capital and has been a success, differentiating the Bakery category with a real focus on artisan bread and pastries. The Euphorium Bakery is part owned by Tesco and looks to form part of a proposition going forward, the difficulty is moving the offer up the M1 given the infrastructure remains in Islington.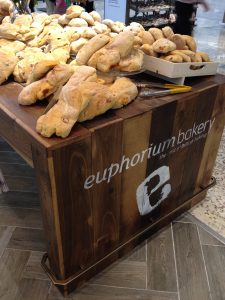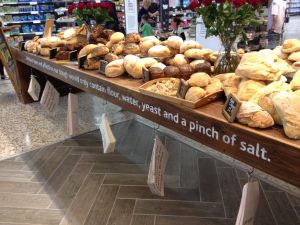 With the Bakery offer from Euphorium featured near the store entrance, the core Bakery offer is also located here. Interestingly there is no scratch Bakery on site which is a bit of a risk for my money. The British shopper typically loves a Bakery, the aroma and theatre helping customers as they navigate around the store, enticing them to the department.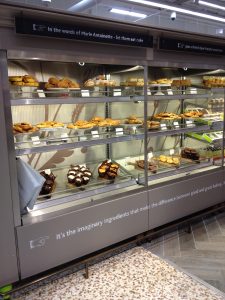 Even bake off stores (smaller stores / Waitrose who don't bake from scratch) make an effort as they can bake 'fresh' bread by warming up partly baked loaves. This means that each loaf is uniform but the taste can be somewhat lacking, however a lot of the artisan bread is 'part baked' in larger stores so it's not 'uncommon' by any stretch(geddit?)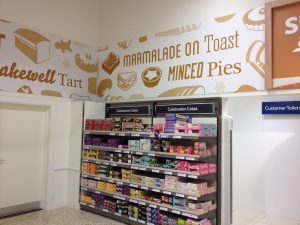 However, I digress. Euphorium bake all of their products in a central bakery in Islington before shipping them to Kensington and the various Metro / Express stores in London along with their own units. They now now come up the M25/M1 to Watford. Their artisan bakery features a wide range of Bread and Cakes, in addition, the own label Tesco range (bought in bread / celebration cakes etc) are also located beyond Euphorium by the customer toilets.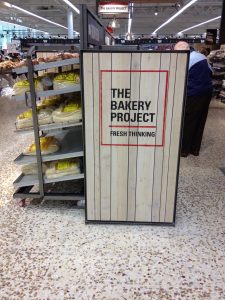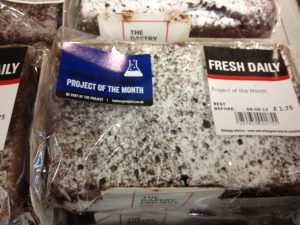 The project itself is centred around producing local lines and hiring apprentices, it was piloted in Hackney store and features 'Tottenham' Cake and other lines that our London friends like. It's centred around bringing back classic lines such as Battenburg, with these baked off site at Euphorium then shipped into store. This is a major theatre / craft opportunity missed here, particularly with the focus on local lines and bringing baking back to its roots.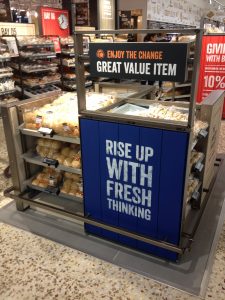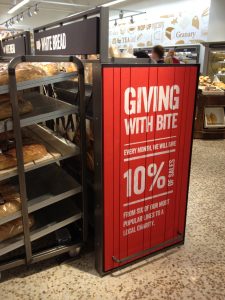 The Bakery Project is well laid out, with islands for all the key categories within the offer, White Bread / Brown Bread / Rolls / Sweet Buns in numbered bays. It's a really impressive 'look and feel' to the department, evoking memories of Whole Foods. There is a lot of mentioning of local, 'using our loaf' within the project itself. A nice innovative twist on Bakery.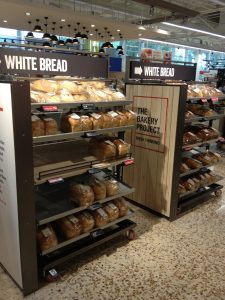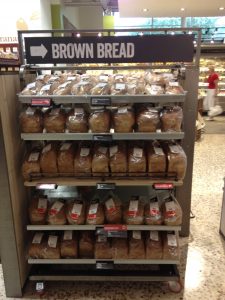 The ethos is also centre around 'great value' items and the expansion of the sweet treat category should be applauded, addition of Iced Buns, large packs of Chelsea Buns along with projects each month gives a good tilt to the modern supermarket in store Bakery.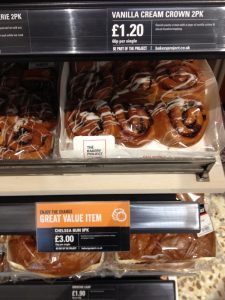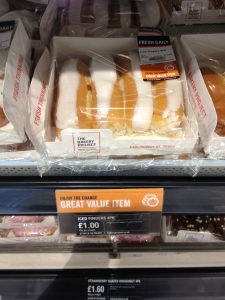 Whilst the Bakery Project undoubtedly looks good, the SEL's and general theme of the Project are very good indeed, it does leave the question about whether it resonates with the customer. The project itself is unclear, is it about local lines? If so, then making things from scratch on site would add to that feel. The 'Great Value' items are good at flagging value, but it seems somewhat completely at odds with the Euphorium offer next door.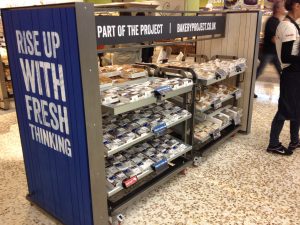 Hackney store was the first store to pilot Project and it works well there, a number of local lines are ranged and this allows the store to get within the community and the customers. Whether this is as clear in Watford remains to be seen, certainly having product shipped in from Euphorium gives a consistent quality to the products.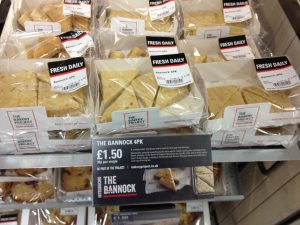 Bakery is heavily seasonal; with availability crucial particularly during warm weather. Display units don't appear set up for 'bulk' and relying on a Bakery in Islington isn't helpful if it's topping 30 degrees outside and you're awaiting the delivery vehicle from Euphorium.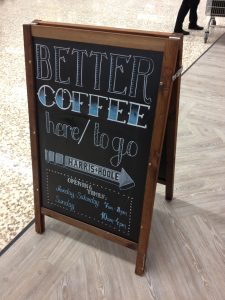 Continuing the theme of 'food' is the addition of a Harris & Hoole coffee outlet in store, the first real unit of its kind in a larger store. Admittedly there is a small 'bar' in Tooley St but it doesn't offer much of a seating arrangement due to the space being a former 'back office' area.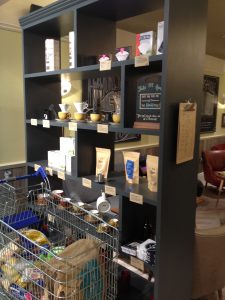 Watford does feature H&H and its done in a very contemporary style with wood throughout (unsurprisingly) but there is a feeling that you're not within a store environment, rather a coffee house which is very well done.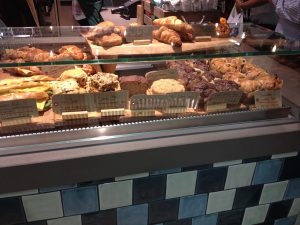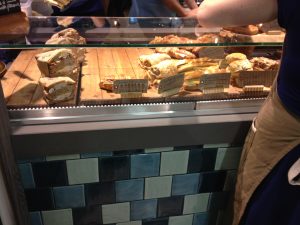 Much is made of the H&H coffee and it does match up to their hype, its simply really good and I'd recommend a drink if you're ever in the capital. It's very good Coffee indeed.
The part stake via Tesco makes sense too, Costa Coffee outlets are within a number of Extra stores and as these leases expire, dropping in Harris and Hoole would seem obvious. There are logistical challenges around the roasting facility being within Central London but Tesco expertise can undoubtedly help achieve the scale.
It remains to be see whether Tesco expand the brand further, into the Coffee aisle with instant / ground Coffee carrying the H&H brand name for example. This would also make sense but the market is huge and whether the brand has equity yet remains to be seen…..
So; from the food service aspect you've a larger food to go offer with self contained checkouts, Giraffe with both Harris & Hoole and Euphorium offering sandwiches and food 'to go'. Perhaps this is the most striking aspect of putting 'food first'.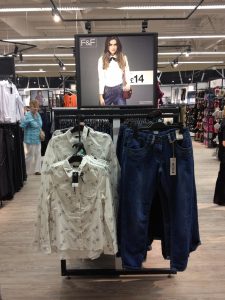 The top corner of the s tore features F&F, this is really stepping up as a brand in its own right. The success of George (Asda) is perhaps the golden goose all supermarkets aim for with their  clothing offer, F&F has come a long way since Tesco started taking it seriously in 2006. The appointment of Terry Green (formerly of Allders) did much as they tried to differentiate their offer within the supermarkets.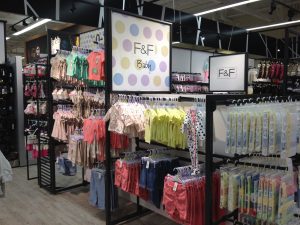 The offer has developed somewhat since then, with Watford featuring the latest thinking from the brand. This builds on the work done in the newer refitted stores such as Chelmsford. As M&S struggle with their soulless metal racks, they could be served by taking a look at the revamped department in Watford for some visual merchandising ideas.
More department store than supermarket I'm sure you'll agree…..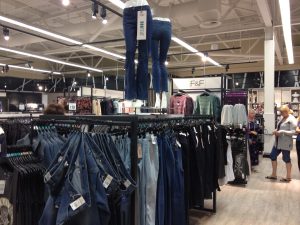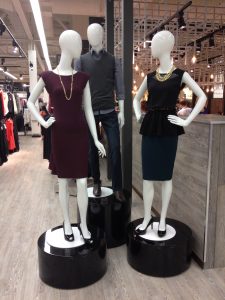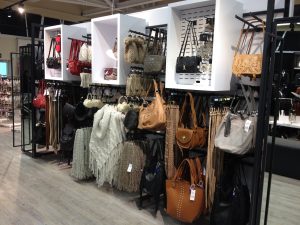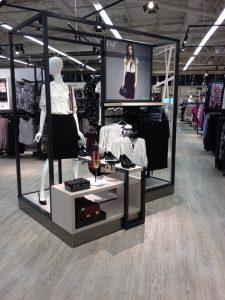 Given this is going to be an epic and feedback is generally centred around readers having to set aside an hour of their working day to read a blog. I've split this into 3/4 parts. The 'mall' aspects are above (right hand side of the store) with the food 'half' within the next blog, with GM and H&B in the final blog. Extra indeed.
Grocery Insight (my business) compile in depth reports on concept stores, and I'm writing a sample report for this store to showcase the work I do. If you're interested and would like a sample copy – please email – steven.dresser@groceryinsight.com