A source indicates that from April, Timpson owned Max Spielmann will take over the operation of the in store photo shops currently operated by Tesco.
Max Spielmann are a vastly different business after being taken over by Timpson who have revamped the chain and improved standards and customer service, Timpson shoe repair concessions are a common sight in Tesco stores.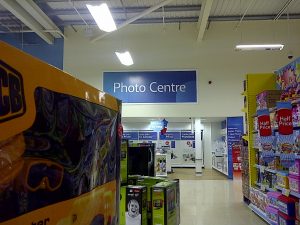 The expected franchise move does make sense from a Tesco point of view, there is always a requirement for instant photographs but there are more players in that market – Boots for example who operate from high street stores.
In terms of the in store operation, Photo shops are costly, they require minimum manning due to the service element around the equipment and helping customers. In addition, there are special orders that require printing up too, plus equipment is constantly evolving and repairs / replacements are expensive.
It's believed that staff will transfer over to the new operator, rather than stay within Tesco unless there are roles available. However with hours continually tight and stores close to contracted hours, especially post 'ideal schedules' – colleagues may have to move across to Spielmann and leave Tesco.
There is no doubt that Spielmann will make a great job of running the photo shops as its their specialism, but its interesting Tesco are taking the move to outsource the operation. Part of the plan?