Asda have blazed a trail somewhat with their online offering, they are still offering 2 hour slots but have more to lose than most with the advent of online, given they are heavily exposed in the 'out of town' hypermarket arena. Asda don't believe / consider convenience as an option (at least yet) so the options to advance into that arena are limited.
The Netto acquisition was expensive given the negligible effect on market share, it does give more exposure to smaller sites with some residential and others on retail parks. However they're not typically the locations that will attract shoppers in for click/collect, not like a high street store for example.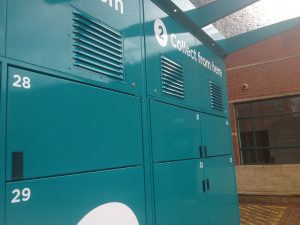 That said, my local supermarket is very busy with click / collect with Asda being clever to add Paypoint (household bill payment agent) and Collect+ options in store. This means that customers can pick up a number of items from various providers at their Asda Supermarket.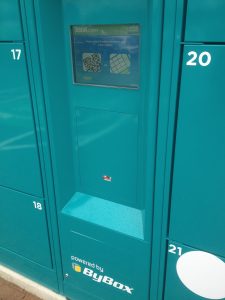 It's the hope of the retailers at least (given the associated delivery costs) that 'click / collect' for food will take off, non food click/coll does perform well as an extensive catalogue can be offered online with non core products such as Bicycles sent into their local Tesco Express / Asda supermarket for example.
It's been difficult to make that transition to click / collect for food, 'pods' have sprung up in Tesco car parks as they begin to aggressively expand this offer. It's popular in France but is the UK ready for it?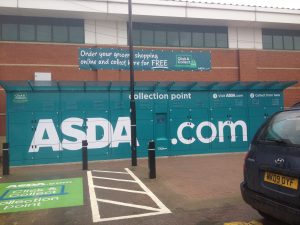 The irony of driving a big out of town supermarket to pick up your shopping isn't lost on some customers and of course, there are obvious time benefits of not having to undertake the shopping itself. Information from a source indicates that Tesco only have around 20% utilisation on their click / collect pods / in store models.
There was a time with online where deliveries were amazingly convenient, the wonderment of waiting in for items ordered on a computer screen. However, as time goes on that becomes inconvenient, waiting in for deliveries and long delivery windows of 7am-6pm are now unacceptable.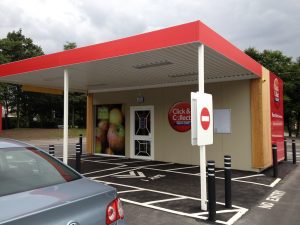 So, it's yet to take off in a 'big way' despite the benefit to the customer, there is a staff cost attached to the click/collect model though, with someone physically having to retrieve the shopping and help the customer to the car with it.
Asda have broken ranks from the 'big 4' and launched a 'locker' system which is a first in the UK (bar a trial within Tesco somewhere and Waitrose who have a few locker sites too.) It's a hybrid model which enables the customer to collect their food / non food order from the locker, there looks to be no staff interaction.
Parking spaces are located literally next to the lockers themselves, which means customers don't have to carry their shopping far.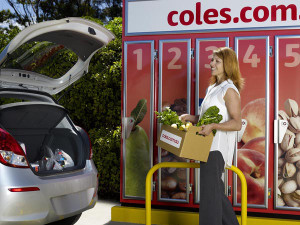 Coles have lockers in Australia, located at their Coles Express / Fuel stations. The customer receives a SMS message, keys that into the system and their locker glows green to show the customer where their shopping is.
Petrol stations represent a great opportunity to drive click / collect lockers ahead, particularly on food. Typically Petrol stations are in convenient locations near main routes which helps commuters, additionally a tie up between Shell and Waitrose for petrol vouchers could also prove lucrative if the click / collect locker trial was expanded into some of the Shell forecourts.
Tesco are likely to expand their lockers offering, particularly with how they've moved non food click/collect to be available in Express stores. The word was there was a trial planned and lockers would be a great advantage given the plethora of Tesco locations.
Morrisons promise an 'innovative' click and collect opportunity this year so naturally we're all intrigued to see what this will be, it's somewhat surprising that Sainsbury's have steered clear of food click and collect  and also any dark store / central fulfilment facility until plans were released recently.
Intrigued to see how this all fits together, the York non food drive thru was impressive, as is the non food click/collect where you enter your codes at the store entrance and a staff member brings the goods to you. I'll give this a road test and report back for you all.