It seems that the Bakery Project (first seen in Hackney) before being rolled to other London stores such as Kensington has performed well, Euphorium too offers a point of difference and I gather there are plans to roll this to around 100 Surrey stores, replacing the current core Bakery offer.
Euphorium has been a great investment for Tesco, the artisan bakery has really taken the core Bakery / Sandwich offer up a notch, particularly in the London format which has benefitted from the exposure to the Euphorium central bakery in the capital.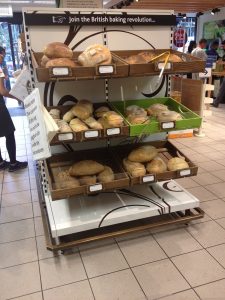 Refreshed stores such as Kensington benefitted from a revamped bakery / cafe offer with a key focus on differentiating the offer, a 'rustic' bread and cake offer with a huge focus on new recipes alongside improving traditional ones. A real artisan feel, far removed from the somewhat functional core bakery offer we see in stores up and down the country.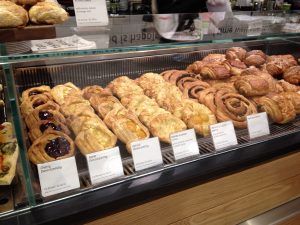 Some Express and Metro stores such as Marylebone High St have also benefitted from the implanted Euphorium offer, complete with a person who goes around the various stores replenishing the bread and cakes.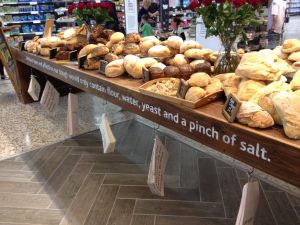 Euphorium was given wider exposure in the expanded Watford Extra, the first time the offer had been in an Extra store. The concession formed part of the 'right hand side' mall effect, with Bakery Project, Harris & Hoole and F&F clothing in the top corner.
In marked a change from the traditional bakery location, as typically retailers locate the bakery towards the back of the store with the 'smell' of fresh bread enticing customers into the store.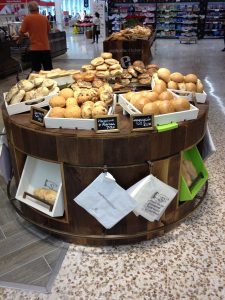 This doesn't happen at Watford, with Euphorium located near the store entrance with a focus on 'on the go' sandwiches and cakes alongside a core artisan bread offer. It's not 'core' by any stretch, no standard loaves or rolls, focussing on artisan product of a good quality.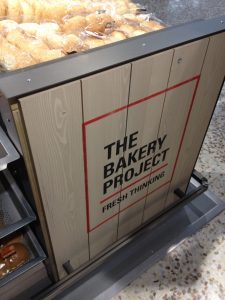 The secondary addition into the Watford offer was the 'Bakery Project' which appears to put the focus onto an expanded range (local etc), rather than just the standard 400g / 800g / Soft rolls core Bakery offer. Merchandising is notably different with islands used for different products, raising questions around replenishment versus sales.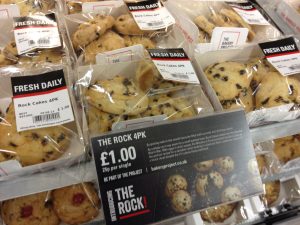 Bakery is a key category for customers, a key indicator of freshness and is shopped daily by customers. In warmer weather it becomes as important as meat for customers as they look to stock up for their BBQ.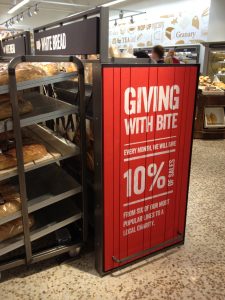 Crucially, nothing is baked in store within the Bakery Project, bar Pastries and other part bake lines, there is no scratch bakery operation. This does have an implication given that the store loses that bakery aroma and indeed the control to flex production depending on weather and other factors.
Bakery is a labour intensive category, each product has to be handled, packaged and labelled before being replenished. That's the 'part bake' range, scratch products take much more effort and labour to produce good quality bread and rolls from flour, water and yeast.
Therefore, whilst Bakeries may be profitable, it is hard work for the money that it takes. A very labour intensive operation is required to produce goods and the quality can be variable too. Using a central bakery like Watford have does make sense from an economical viewpoint, a good quality level and ideally a good level of stock too.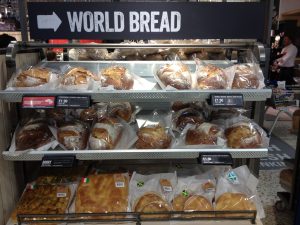 Does that mean that the Project / Euphorium will replace scratch bakeries within Tesco? Essentially a 'bake off' operation is in place in Watford, so one can presume that this would be the case in stores to get the rollout. If so, it's likely this would form part of the efficiency savings talked about at the Analyst day recently.
I gather some theatre remains, with 'moulding' being another phase in the bakery plan. Delivering dough into store to allow some colleagues to mould the dough for the artisan lines. However, it seems the core bakery offer is changing in London and surrounding areas, using a 'dark bakery' essentially to produce and pack the range before delivery into stores.
I can see both sides, a good in store bakery is a real asset to the operation, however it shouldn't be forgotten that Euphorium and the Bakery Project are great offers in their own right, and would offer a much more cost effective bakery solution.
It was notable that Chris Bush neglected to highlight Bakery as one area he wanted to be 'better than the rest at'. Sticking with Meat, Fish and Produce…..
Euphorium in particular will be well received by those 100 or so stores in and around Surrey, that's for certain.
A weekly email covering the latest events in the industry; such as Tesco store operations, store visits or new promotional packages are all covered. Please visit our retail by email page for further information.
Grocery Insight provide market insight on the UK sector with a focus on individual retailers such as Tesco. This insight is useful to various stakeholders and due to my store based focus. Insight can be delivered to suppliers to focus on growth opportunities, analysts and investors to assess the business performance and long term outlook and retailers themselves to assess best practice.