Today is 57 (fifty-seven) days until Dave Lewis takes the helm at the UK's biggest retailer. Grocery Insight are counting down to the start of his reign with an improvement point per day. First up, we had Twitter, then the unerring focus on shrink, then we had Blinkbox and Hudl.
We then had a focus on trading with Brand Outlet, PoS (point of sale) and the Bakery. The focus turned to Dobbies and then had a look at discounter brands, today we have venture brands (by Tesco).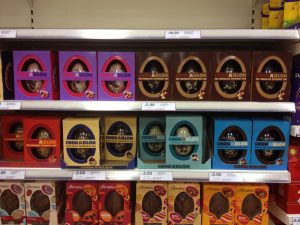 Part 19 of the Tesco blueprint to take over the world (before they lose a grip and retreat from foreign lands) was Venture Brands, these were standalone 'brands' that would (obviously) be exclusive to Tesco and could take sales from brands in categories such as Confectionary, Italian and Fresh Foods.
The plan was to make these brands important and 'loved', which would mean customers had to come into Tesco for them. However every range is a cluttered market, I've not known a customer yet who has crossed the road for a particular brand of canned tomato. They just buy whatever is on the best promotion.
A secondary issue is that as customers find out that 'Chok a Blok' / 'Parioli' is actually owned by Tesco, it adds weight to the Tesco reputation where customers have a level of mistrust for the brand. Feeling that they've been 'overcharged' for a brand that is owned by the retailer…. A bit like the One Stop chain being owned by Tesco, customers don't like feeling like they've been lied to.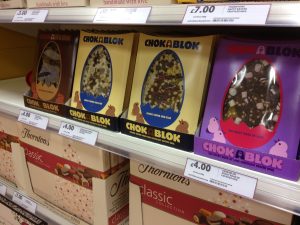 Chok a Blok is within Ice Cream, Confectionary along with branded spoons in Hot Chocolate, also appearing seasonally within Valentines, Easter and Christmas.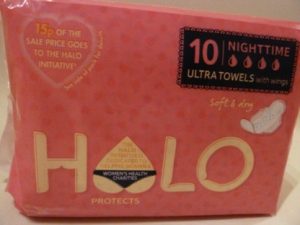 Other brands were launched into the mix; Mu Cheddar, Yoo yoghurts and with a delisting of New Covent Garden soup, adding New York Soup Co into the range. They backed out of that and put NCG soup back in due to customer demand presumably, not a very customer focussed move to completely eliminate.
Halo was another introduction, completely off most people's radar but dropped into Health & Beauty before being pared back and reduced significantly. Brands are important in fem care, bringing in venture brands / Aldi imitations is a fruitless task.
Of course, there is Parioli (tomatoes, pasta and Oil) and The City Kitchen (counters, aisle) this seems to go well in London on the ready meal category. KX Energy drinks remain popular but the presence of other brands remains very patchy, PodPronto Coffee machines appear to have bitten the dust.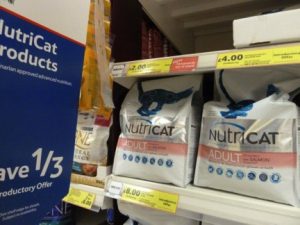 Lewis has to consider what role these brands (that are left) play in the range. The lack of penetration by Lathams pet food for example shows that not everything has worked, indeed Yoo yoghurts have also died a death. Some of the Parioli italian range ended up in the 99p stores this week, so whether long term that has a future remains to be seen.
Chok a blok is a great success – Ice Cream, Seasonal and Confectionary show that the brand has a level of resonance. With range simplification on its way (we hope) then the cull of these venture brands could be imminent. Chok a Blok would be safe due to its market share and reach, the others could fall by the wayside due to their lack of resonance or patchy ranging.
As much as anything, the venture brand project is eponymous with the 'let's ensure everyone shops for everything at Tesco' mentality. The market is completely different now, new competitors are on the horizon.
[convertkit form=2294317]