Today is 41 (forty-one) days until Dave Lewis takes the helm at the UK's biggest retailer. Grocery Insight are counting down to the start of his reign with an improvement point per day. Due to the growing nature of the list causing issues with our template, please click on Tesco to see all the posts containing the 66 'to do' points. Today we consider the Laundry/Cleaning category.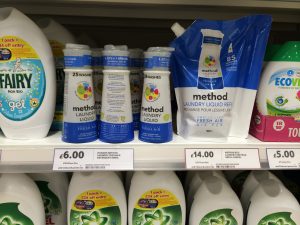 A change in tack today as we look at a category in isolation for the first time, it's likely this 'to do' list will encompass further categories but Laundry / Household is a good one to start with. Typically its a 'hi-lo' category, centering on a great number of promotions from branded suppliers – dishwasher is dominated by Finish with Fairy also contained within the mix. There are some own label equivalents but broadly speaking, its a brand dominated category.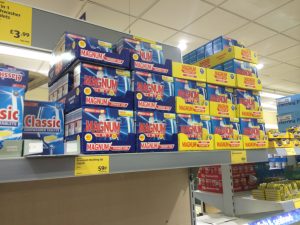 There are only 4 SKU's from Aldi which keeps things so simple for customers, this is the challenge for Tesco. Aldi offer 4 SKU's, Tesco offer so many more, particularly in the larger stores as there is so much space to fill. Even reducing range and flexing space for best selling lines still leaves a lot of space.
The addition of brands such as Method (£14 for a pack) and Potion (non bio) at £5 a bag are not tying in with the demographic within Bradford, one that is value driven. Indeed this store has brand outlet and had a full aisle of Value products after Christmas, whilst not all customers are value driven – not many are spending £14 on Method Laundry liquid.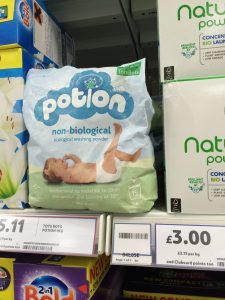 Ranging decisions like this seem curious, not in Bishops Stortford, Sandhurst or Handforth Extra where there is affluence and even mid market stores may do ok. But to drop it into every single store regardless just seems careless, especially when promotions are commonly bought with a 'big deal' every cycle from various manufacturers.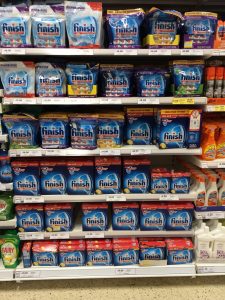 Dishwash is a category with tremendous choice despite the relatively limited mission (dishwasher users), operating 'hi-lo' pricing given the number of deals available. I don't believe anyone has ever paid full price (£10-£14) for dishwasher tablets…..
I decided to do some analysis of the 'big 3' versus each other on range count. Store size was broadly even with a SuperCentre for Asda, Tesco Extra and a large Sainsbury's too.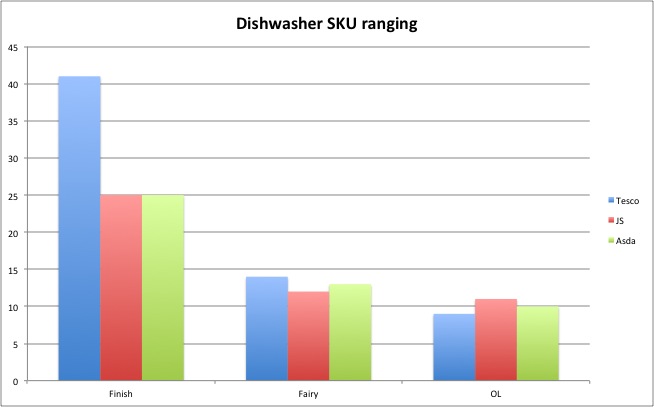 So a good chart – grouped by brand and then retailer.
Tesco have a really bloated range which is arguably part of their issue across so many categories, they just offer too many products which makes it difficult for customers to shop the fixture, too many products, prices and offers.
Within dishwasher – there are some Ecover / environmentally friendly products but these are negligible so I've discounted them, overall Tesco range 64 different Dishwasher SKU's, with both Asda and Sainsbury's ranging 48. A gap of 16. Why?
Own label sales are important too, representing a better margin and the 'exclusivity' aspect too. Despite Tesco ranging 16 more products than Asda or Sainsbury's. they had the lowest range of own label products (just 9). Unsurprisingly JS had the most (11), not a huge gap but with the larger range mix, its significant.
Naturally, I can't count all sub categories in store! It's just useful to pull out a relatively difficult sub category and analyse it to illustrate the bloated range. The wider household category does suffer with an uneven price profile in store and given the strength of the discounters in areas like household along with Home Bargains moving into this category, the heat is on.
So for Dave Lewis? He's likely to look at ranges and household / dishwasher could be one of the first ones for him to look at. Stocking 16 more products than their nearest competitors just makes no sense, time to be leaner and drive those prices down. Not to mention freeing up working capital, tied up in stock that is sat on shelves and in warehouses.
A weekly email covering the latest events in the industry; such as Tesco store operations, store visits or new promotional packages are all covered. Please visit our emailed retail insight page for further information.
Grocery Insight provide market insight on the UK sector with a focus on individual retailers such as Tesco. This insight is useful to various stakeholders and due to my store based focus. Insight can be delivered to suppliers to focus on growth opportunities, analysts and investors to assess the business performance and long term outlook and retailers themselves to assess best practice.