Today is 60 (sixty) days until Dave Lewis takes the helm at the UK's biggest retailer. Grocery Insight are counting down to the start of his reign with an improvement point per day. First up, we had Twitter, then unerring focus on shrink, then we had Blinkbox and Hudl.
We then had a focus on trading with Brand Outlet and PoS (point of sale). Today its the Bakery!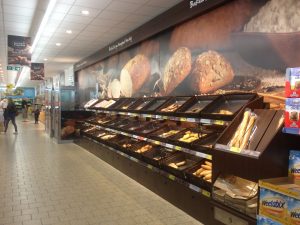 Tesco have grappled with Bakeries for a few years now, and word is that they're no longer making the money from them due to poor in store controls, poor range and a trading team that had lost focus on the customer. Ill thought out range changes (brown packaging), raw material shortages (no dried fruit Easter week) and a continual drift on price when compared to Asda, let alone Lidl meant things haven't been good in the category for a while and the downturn of the wider business hasn't helped.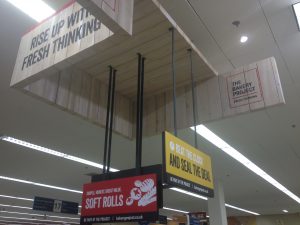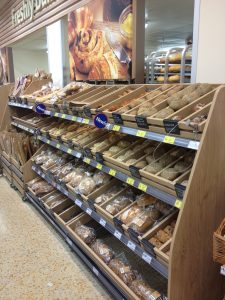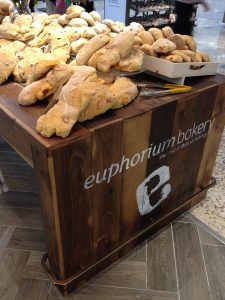 There are a number of banners within Bakery and some disquiet as Tesco are putting 100 or so stores onto a centralised model in the South East, this is to utilise the Euphorium model as they run a hub / spoke operation. There is a little bit of craft done on the premises in Kensington for example, but the dough is sent in to be crafted, with other lines sent in finished.
It looks likely that this model will also go further north, as finding a facility for bakery is relatively simple in terms of a location, then cost savings are achieved by removing staff and the associated costs within the Bakery itself.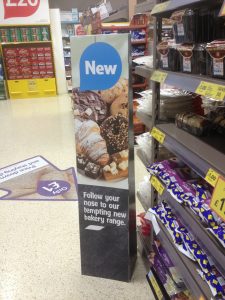 The in store bakery is difficult to make profitable, there are a lot of costs associated with scratch baking in store. Each product has to be made, handled numerous times from dough to bake, packaged, labelled and then replenished on shelf.  Consider that stores order their own packaging, labels and also have equipment that requires servicing and replacement, more staff are required and premiums are paid to trained bakers, the costs mount up.
Some stores operate 'bake off' only, these stores receive bread in from a bakery and this is 'finished' (IE warmed) and packaged in store. These bakeries are marginally more profitable as there is less equipment, less ingredients (no flour etc) and no need to pay a baker rate to colleagues.
Scratch stores don't make everything themselves, a significant proportion of products are still frozen, baked off and packaged across both bread (artisan breads for example) and pastries / cakes.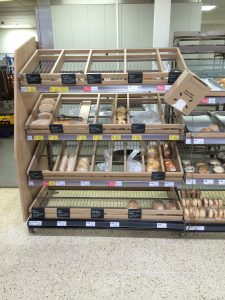 From a cost saving view, a centralised model makes perfect sense. Controlling costs in a manufacturing environment is easier and with 100+ stores it can be very efficient. However there is a loss of 'freshness' with customers often liking the smell of freshly baked bread, and whilst not all stores are perfect – stores can control production and over produce for warm weather > driving sales.
On the flip side, for stores who are within the South / South-East – the addition of Euphorium makes sense, it is a strong, premium offer and will go well in specific demographics. Part owning the company as Tesco do, it makes sense to have the facilities 'full' – utilising the scale. However it does come with risks; a loss of freshness and a loss of control of in store production could be a risk to availability, particularly in hot weather.
As ever with Tesco, the cost saving can be demonstrated so they move towards that option.
As with the wider business, the Bakery does suffer with a lack of direction / point of difference. There is nothing for the customer to 'get behind' when trying to see the differentiators. Freshness is done well by the competition but there isn't much PoS around in Tesco to talk about this, price is strong at Asda unsurprisingly, with Morrisons having a wide range of craft skills and breads.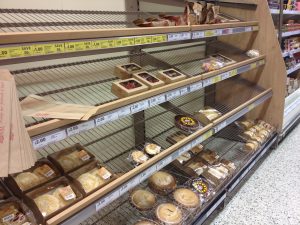 Sainsbury's really sew the quality market up within Bakery, they use their Taste the Difference label well for some breads and do restrict the range tightly. Not producing too many lines, allowing them to focus on the core range with Bloomers, Loaves and Rolls.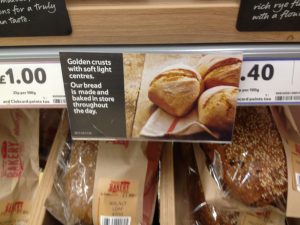 Tesco need to find a differential in the Bakery, sharpen up pricing on loaves, they're nowhere near competitive enough in comparison to Asda or Morrisons. Price is key for customers, particularly on fresh bakery.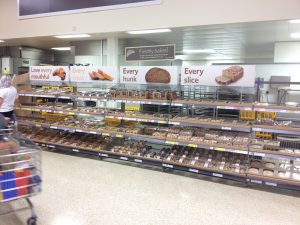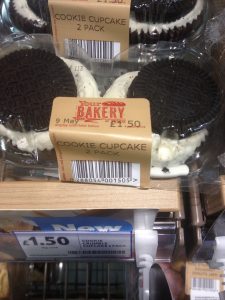 The wider bakery offer encompasses Bread and Cakes and this has also had several revamps, the overall mission has to be kept in mind for the customer. In the north, we don't have much demand for Welsh cakes for example, but here they are. Finest too! It's not that easy to get the margin though (FYI Buyers).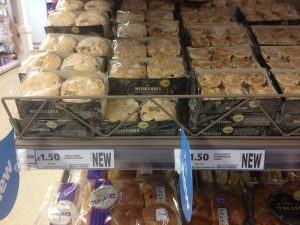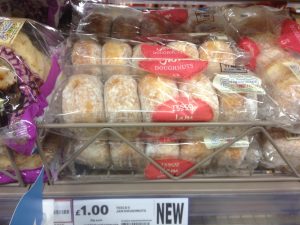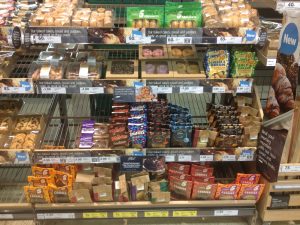 With Bakery being a 'hero' department for Fresh, Sainsbury's always put so much store by Produce and Bakery. It makes sense for Tesco to do the same, however the category is at risk from cost cutting initiatives such as centralisation.
The south / south-east stores can benefit from a strong Euphorium offer, there is affluence in the south with stores such as Sandhurst rumoured to take in excess of £2m per week, it makes sense. However we're back to the original point, what about stores further north?
Dave Lewis has to grapple with the overall direction of the business, and Bakery is a big part of any store. British customers have a great nostalgia about Bakery and love fresh bread, the smell and the visible quality. Centralisation doesn't lose all that, but it does lose a great deal of theatre and the store loses control.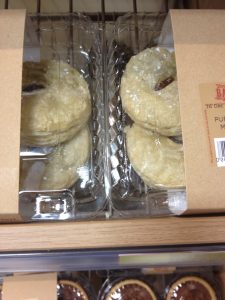 Standardising the process brings costs down and under control, however this can harm availability. Stores being able to up their production to take advantage of hot weather, customer orders and seasonality can make good bakeries profit drivers. However there are bad bakeries within the mix and these cost the business money.
Overall, a tough decision. Any push on fresh, quality or provenance would have foundations in the bakery. A solely bake off / hub/spoke model is good for profitability but would it be to the detriment of customers?
Lewis has to decide what the business will do for the future and how the Bakery category will contribute, Lidl have a very solid range, low cost and low price. This is the new benchmark.
A weekly email covering the latest events in the industry; such as Tesco store operations, store visits or new promotional packages are all covered. Please visit our retail by email page for further information.
Grocery Insight provide market insight on the UK sector with a focus on individual retailers such as Tesco. This insight is useful to various stakeholders and due to my store based focus. Insight can be delivered to suppliers to focus on growth opportunities, analysts and investors to assess the business performance and long term outlook and retailers themselves to assess best practice.