Without trying to ensure the Grocery Insight blog becomes somewhat of a tragic obsession of writing solely about Dave Lewis and Tesco, they are extremely newsworthy at the minute, and part of the wider Grocery Insight service offering is all about monitoring the market, spotting trends and activity in the shops. There's plenty to look and consider with the Tesco empire.
The 12 days of Christmas Dave Lewis are all about tracking the 12 days before the announcement to the City on the 8th January which will highlight where the business goes next. This, as ever is all guesswork on my part as nothing has been given away to the City, journalists or otherwise.
If you will, its a list of priorities that I'd be looking at targeting ahead of a major announcement to the stock market. They all interlock as, well, they're all linked to the business but some are intrinsically linked.
Clubcard for example directly cycles back to price (investment in Clubcard could be ploughed into lower prices) alongside other elements (Dunnhumby?) Tesco invested heavily in Christmas (part of the latest profit warning) and the 49p 'Festive Five' was popular and took the fight back to the discounters.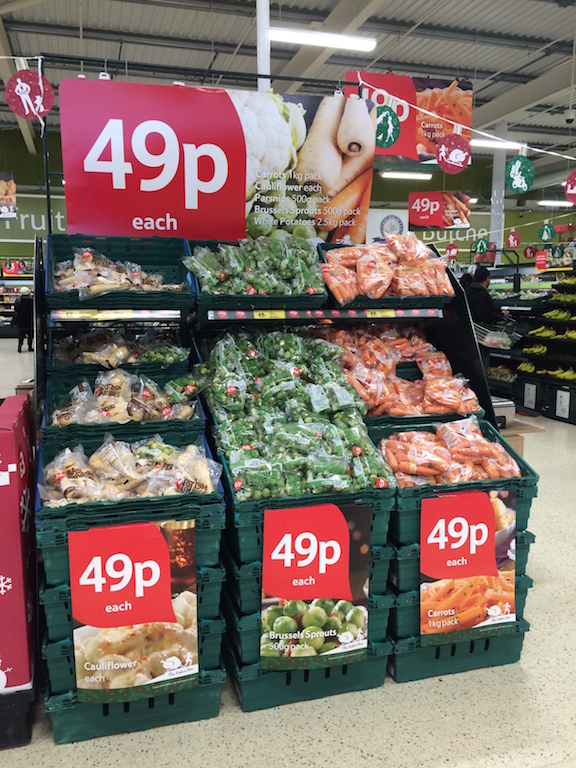 With this in mind, the first 'day' of the 12 focuses on Clubcard, that shiny, piece of plastic that generates points, locks in loyalty and gives you back cash on the money you spend. However, in recent times the mask appears to have slipped somewhat and customers are now acutely aware that they are giving away their lives by scanning their Clubcard each time they shop.
The scheme itself costs money and in 1994/1995 when it was launched, blazed a trail for the business. Indeed Sainsbury's dismissed it out of hand at the time, then sheepishly brought out their 'Reward Card' some 18 months later. However retailing has moved on rapidly and post the global downturn has seen the rise of the discounter, who like Asda don't have loyalty cards. Discounters don't do Online. Or convenience stores, nor do Asda.
There are benefits to the scheme, the 'targeted' vouchering that Philip Clarke embarked upon seemed to make sense at the time, IE giving customers money off products they regularly purchase. It works for suppliers, they grow their sales and Tesco can extract money from suppliers as appropriate – however it isn't particularly aspirational.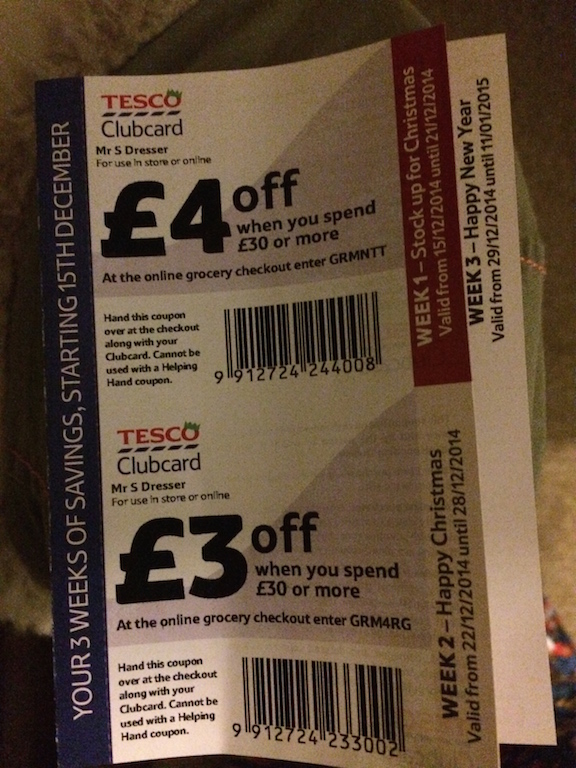 Customers want to be romanticised, told they can afford good food and most of all, want to be stretched a little bit. Offering a 20p voucher off Sandwich Thins because you bought the month before, well, that's about as cold and sterile as one can imagine.
Targeting also brings the risk of  'do they know me'? I have had vouchers through for products I've bought once, didn't like and that was that. To get a voucher for money off down the line, well it's not ticking any box for me. Targeting makes sense in some respects, but the scheme is about getting more cash out of suppliers, allowing Tesco to target customers who buy the supplier's product.
A very powerful tool, but for a customer, not particularly aspirational when vouchers arrive in the post.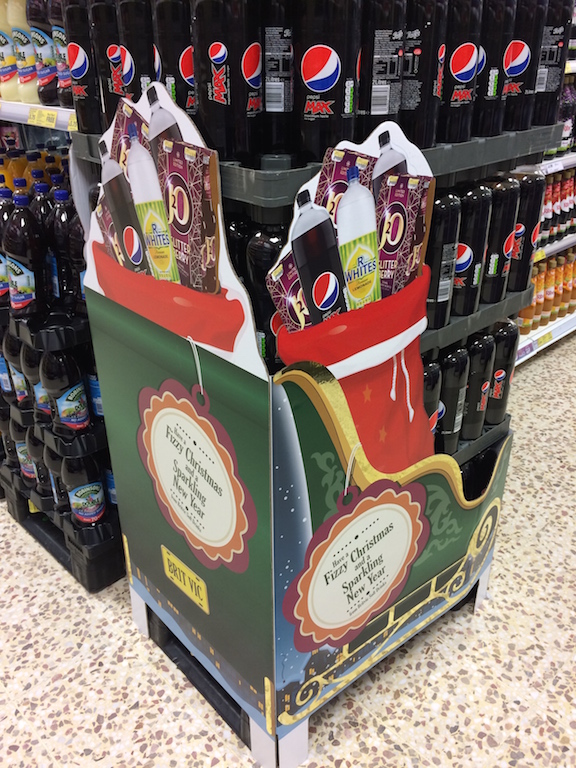 A benefit centres around loyalty itself, whether a customer makes a conscious decision to shop at Tesco because of points remains to be seen, but Clubcard can entice a customer through the doors. Loyalty points can be easy to generate with savvy purchasing, and particularly loyal customers will generate decent returns on their points.
Points mean prizes (vouchers) and there have been a plethora of vouchers available this Christmas, both via the post (direct, targeted) and untargeted (2 periods of the £5/£40 voucher). The Clubcard vouchers are often thse hidden 'dark arts' of the increasing number of vouchers available to customers, with incentives to spend more sent through the post.
The issue here is that there is no prompt to remember your vouchers, forget them, and it's game over. Save for the kiosk in store that allows you to print vouchers there and then. A queue of c.10 people in my local store near Christmas showed this was popular enough, where are the other solutions?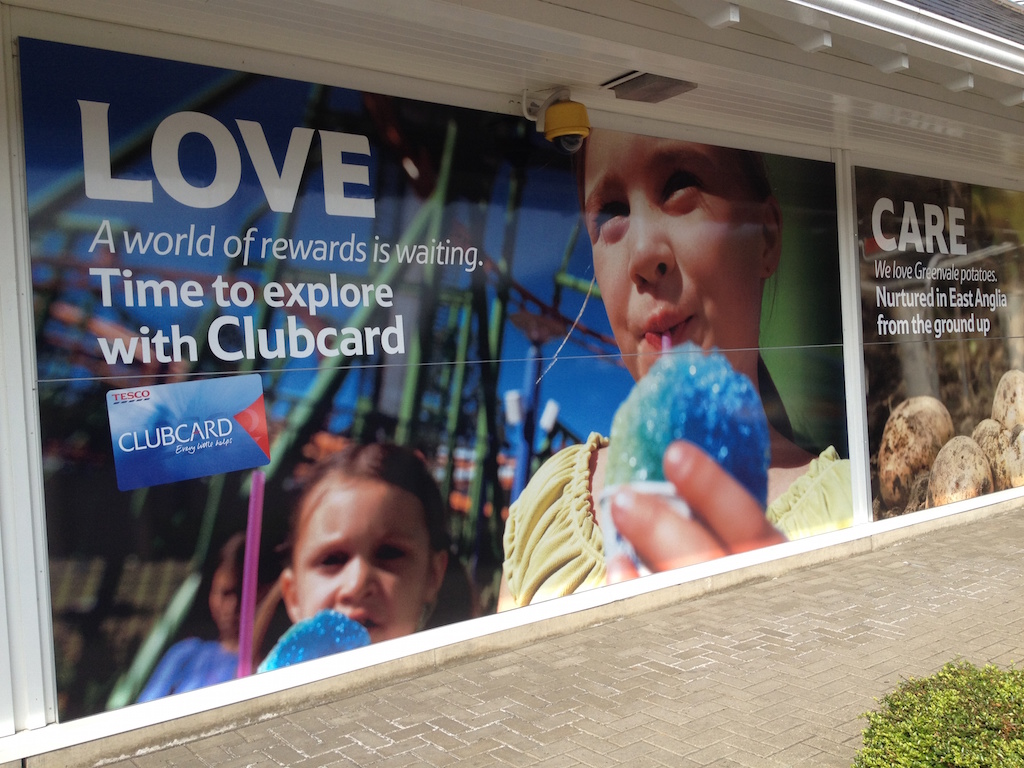 Mobile was talked about by Clarke, and he was 'hip and happening' as a CEO with his lack of tie and preference for smartphones and tablets. However this never translated to the stores, there is no mobile clubcard solution; not allowing barcodes to be generated on the app and scanned at checkout (to use money off vouchers for example) is a wasted opportunity.
The reviews of the latest version of the App on the App store are telling, it doesn't work, it doesn't link with passbook and doesn't allow redemption of vouchers. It does display points and Fuel save, but doesn't appear to offer a way in with redeeming savings in store.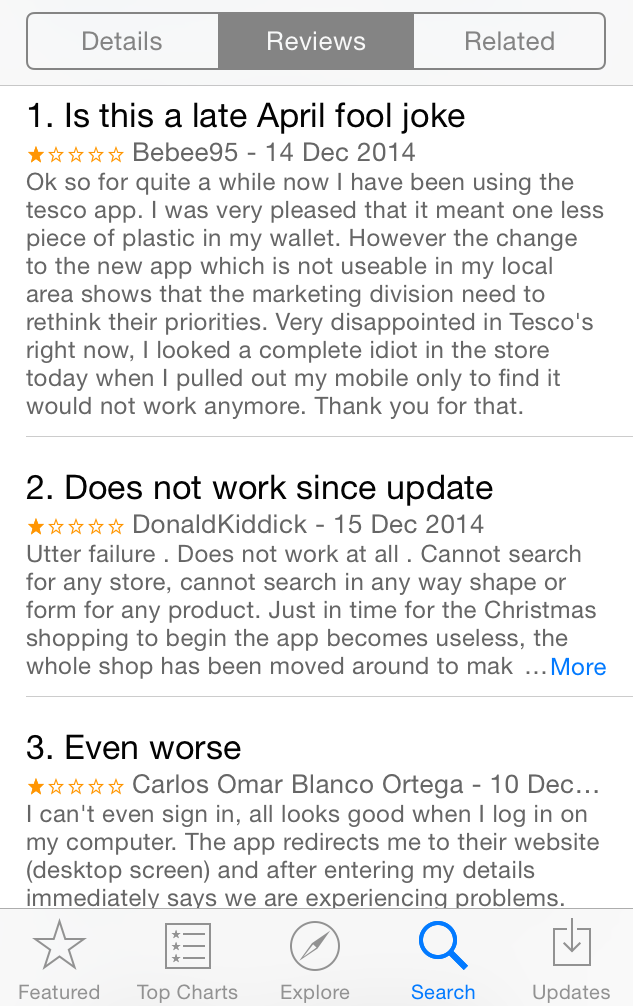 Customers are expected to remember to bring paper based money off vouchers with them, this in a market where instant savings and EDLP are winning the battles and slowly, winning the war.
In terms of instant savings, Clubcard looks a laggard. Yes they had the first mover advantage and that pushed Sainsbury's to launch a competing card, then move to the embryonic (at the time) Nectar scheme in the early noughties. Waitrose followed relatively recently with 'my Waitrose" and Morrisons only joined the race this year with the Match & More card.
Whilst Tesco have bolted on their Boost offer, using 3rd party restaurants and outlets, allowing customers to quadruple their vouchers (£5 Tesco becomes £20 Prezzo for example), it hasn't moved on from the standard points for money redemption system.
It did this earlier this year though, Clubcard was used as a savings account, totting up a customer spend and allowing them discount in the following month on their Fuel. An accumulative £50 spend would enable a customer to have 2p off a litre off fuel the following month.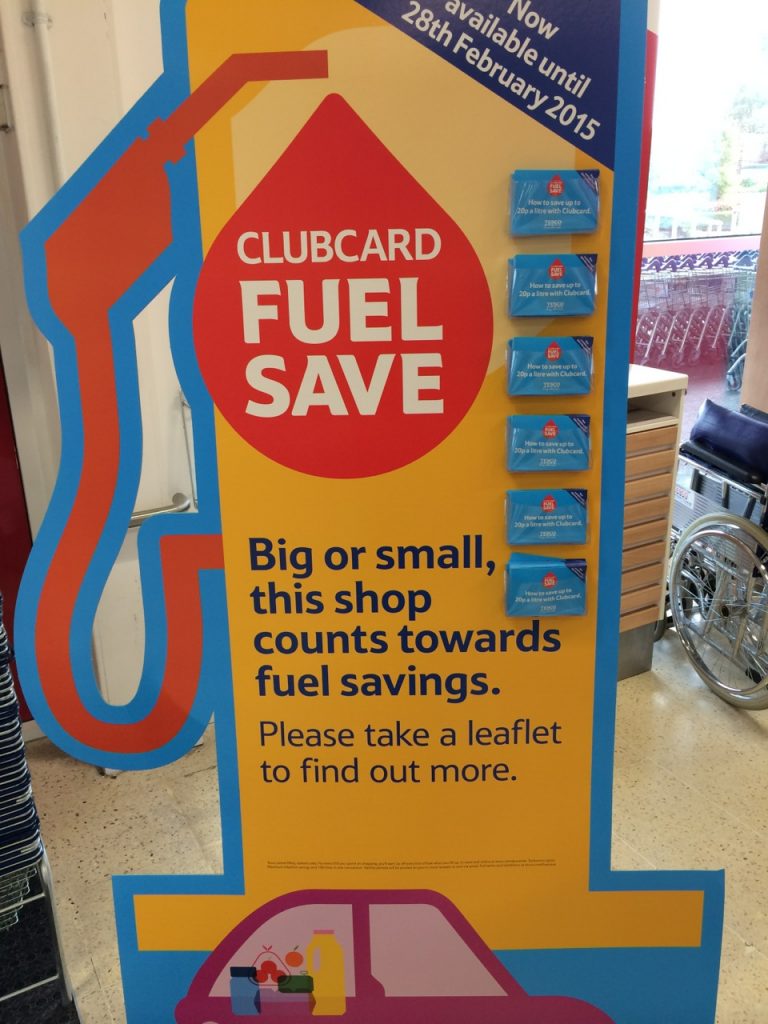 The problem is that whilst it drives(ahem) loyalty with the customers who a) drive and b) regularly shop at Tesco. It doesn't do a great deal for those that don't drive, nor does it attract new customers. Whilst you may save on Fuel, the customer is still paying higher prices across the store versus their main competitors.
Allied to that, fuel prices have dropped significantly in December. This has seen Unleaded drop to sub £1.10 a litre for the first time in around 3 years. The 'effect' of Fuel Save has been neutralised and the cost of this should be ploughed into lower prices.
The future for Clubcard? Something needs to change as Tesco are being outflanked by their rivals on the loyalty front. Fuel Save will likely be disbanded in February but interestingly, the technology now clearly exists to accumulate spending on the card itself.
If we consider the rivals and their loyalty offers; a last mover advantage is clearly in play.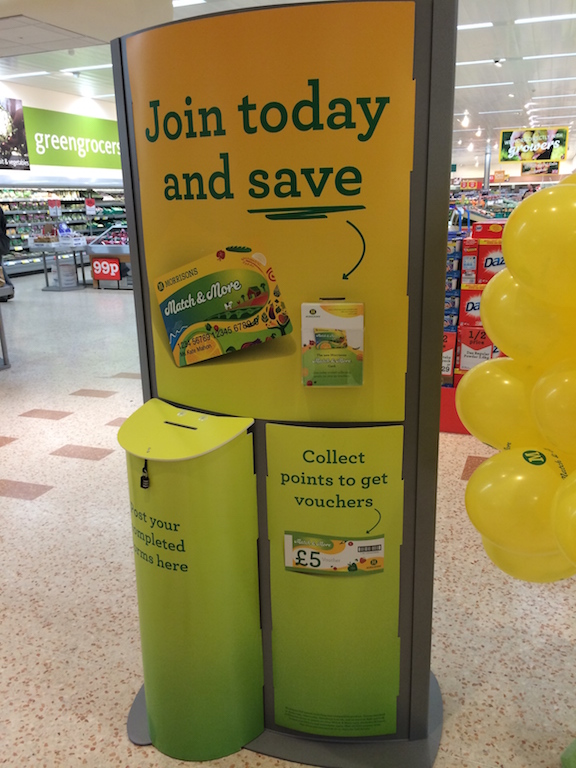 Morrisons have been able to link their loyalty card to a price promise scheme which guarantees their prices versus discounters. Points are available across the store and both loyalty and price matching lock together on the card – meaning the customer can use their points as money off their shopping across the year. In addition to this, points are given for each litre of fuel purchased too.
Whilst the points message can be difficult to grasp, once the customer understands what the value of points relates to, then its a powerful tool. Ironically the card has been developed by a former Tesco executive; Crawford Davidson.
Whilst it's not instantaneous (IE 5000 points > £5 has to be collected before redemption) it is linking together price matching, loyalty and points at the same time.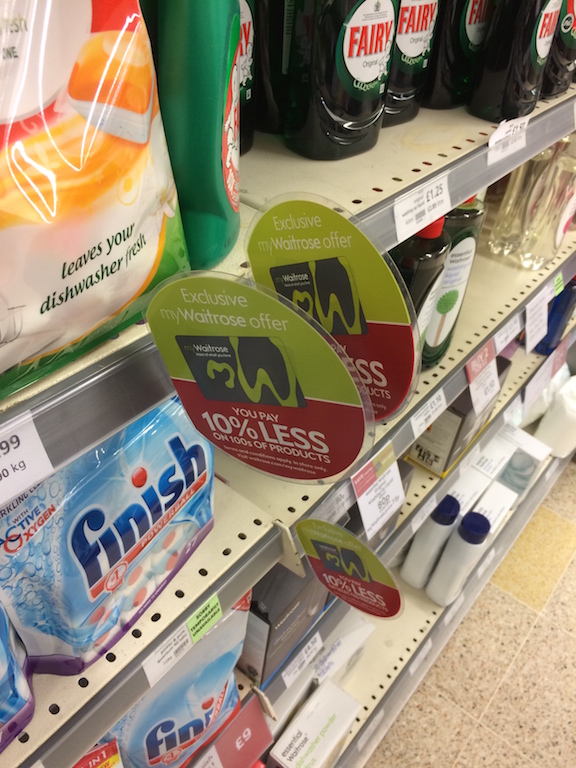 Waitrose bypassed the entire points theory and to be fair to them, their customer base are unlikely to excitedly claim points given the affluent profile of a typical customer. They choose to offer instant discounts at the shelf edge for Waitrose card holders, across a number of products with supplier input presumably.
Waitrose still gain the same level of insights from their customer base offering instant money off discounts as opposed to the collection of points, and their Free Coffee and Newspaper offer is phenomenally successful. The Waitrose scheme centres around 'instant' redemption and freebies – enhancing the value of the card to customers.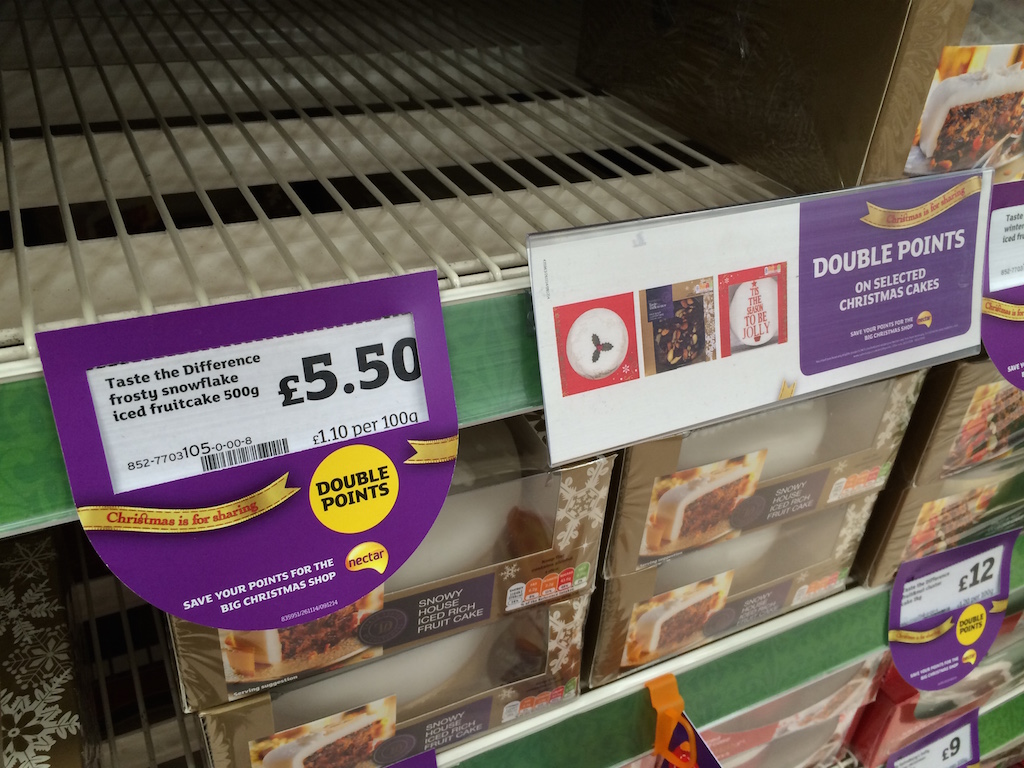 Even Nectar has advanced since Sainsbury's first joined the scheme in the early noughties, adding several companies who also offer points on purchases from relevant retailers. The card still offers points per spend and for customers who use other retailers too, it can be lucrative.
Sainsbury's are changing the points/spend redemption early next year. Moving from 2 points per £1 spent to 1 point per £1, which will likely go down like a lead balloon with customers. More promotions based around points will be offered, but with points harder to obtain – its likely to become less attractive for Sainsbury's customers.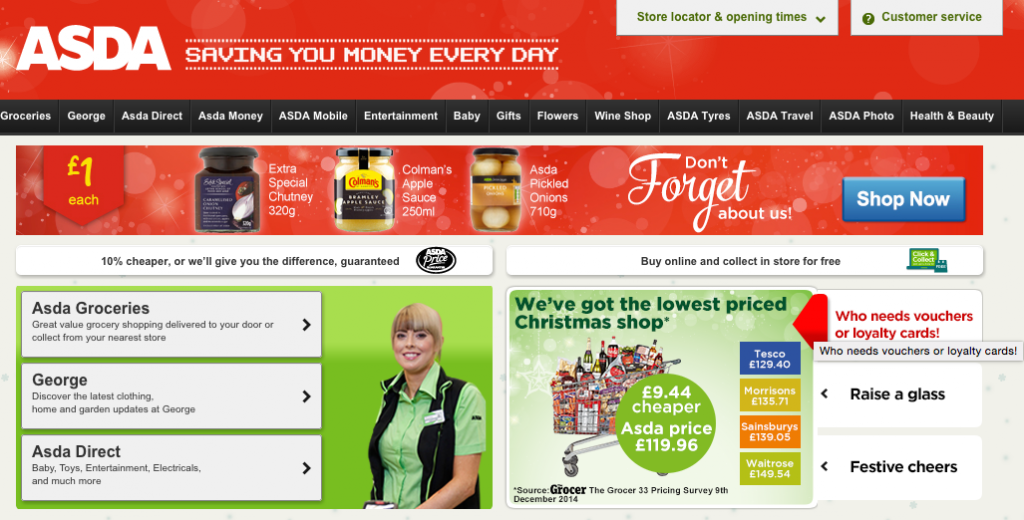 As we know, the discounters and their 'no frills' approach means they avoid any loyalty cards. The same is said for Asda who shun loyalty cards, preferring instead to focus on a low price message – with their unbroken 16 years winning the Grocer 33, their marketing pitch of low prices does ring true.
So what for the future of Clubcard? It is expensive to operate a loyalty card and given the preference from the UK consumer for lower prices, and the Tesco weakness in their price position means everything needs to be on the agenda when considering generating funds to cut prices.
If the Clubcard is to remain as part of the Tesco armoury, then should it be changed? The Tesco price promise is probably the most underplayed aspect of the business and given the weak price point – it does make sense. The most powerful way to emphasise a 'price promise' is to give back the difference at the checkout, either by way of a discount from the shopping basket or in cash.
That would be a major step forward for Tesco in rebuilding customer trust. But it would be expensive.
DunnHumby (the data people who make sense of all the Clubcard data) are now a valuable company in their own right. As Dave Lewis noted, if he can get what he gets now from them, without owning it then there is something to consider. A stake in Dunnhumby is worth something and this could be another angle to resolve the debt / pension / UK competitiveness issues.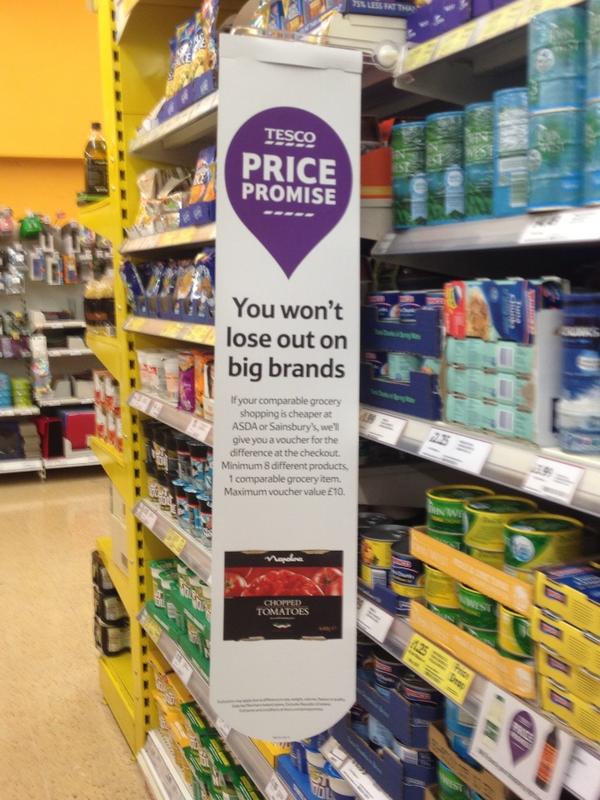 Clubcard blazed a trail in the mid 90's but you cannot stand over that forever, it'd be like still using a Commodore Amiga and saying you were at the forefront of technology. Things change, people adjust and time moves on.
Loyalty itself needs an overhaul to be fit for the era of retail we are now in, whether its more instant discounts at the shelf edge, linking together with Price Promise to offer a more instantaneous discount if Tesco are more expensive, or even abandoning it all together.
Elements of Clubcard do hark back to a day of domination and growth, it needs to change for the 21st century. EDLP (everyday low price) is the future, gimmick free. Discounters aside (different operating model) their mainstream competitor (Asda) don't have a loyalty card and also have large stores. Yet they seem to trade relatively well despite the hype about the change afoot in retail….
Loyalty within Tesco needs an overhaul to be fit for the era of retail we are now in, whether its more instant discounts at the shelf edge, Linking together with Price Promise to offer a more instantaneous discount if Tesco are more expensive, or even abandoning Clubcard all together.