We have decided to develop an 'image of the day' feature to look at the best practice side of retailing. This blog series will operate in a similar vein to our retail advent calendar that was so successful last year. Wednesday's image is via Booths and their Pancake Day display.
This is a strong piece of retail theatre and great to see in UK retail, which can be accused of being somewhat of a homogenous beast at times, despite the very obvious strength in depth with Tesco, Sainsbury's et al.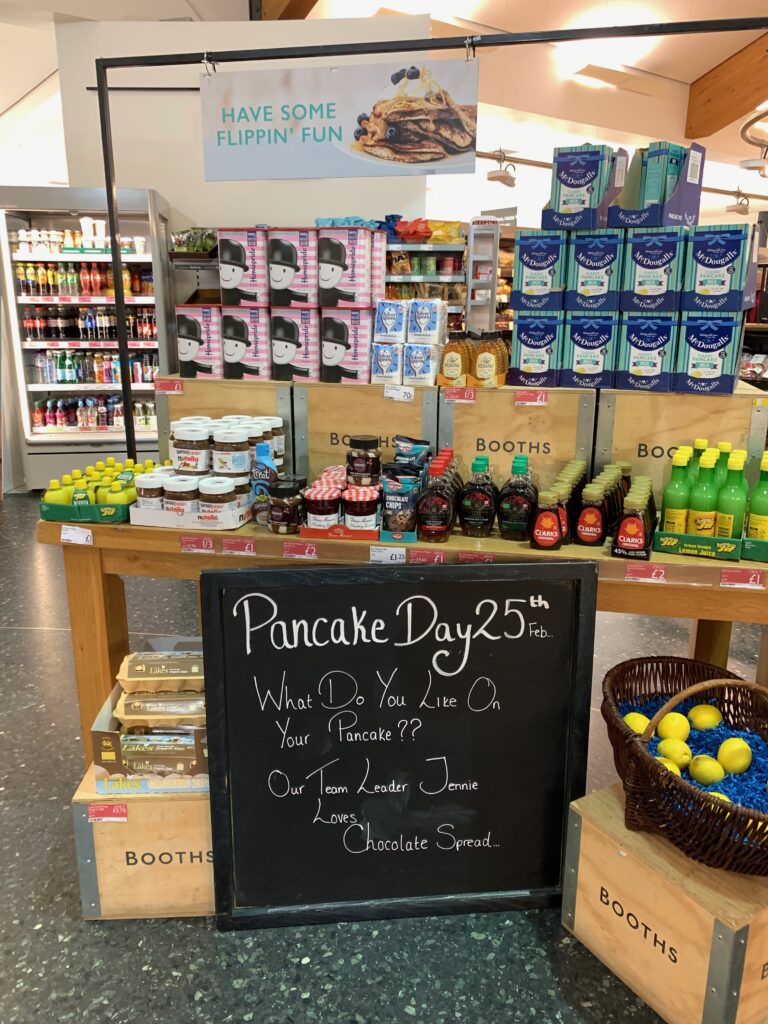 Seasonal progression:
It remains the case that the seasonal event programme is strong across the UK market and indeed, smaller events such as Pancake Day do see progression each year.
The advancement of stackable cases for Pancake Shakers to aid efficient trading and indeed, the growth in the various Pancake accompaniments such as Dessert Sauces alongside the core Lemons, Sugar and the like that we all know and love.
Booths have also enhanced their offer in general, given their poorer results in recent years.
Retail theatre:
There is a reluctance on the parts of retailers to give over blackboards and pens to store colleagues, given the variance in standards across standard operating models – IE the retailer has the same structure, uniform, ordering system, product range and pricing across the country.
The only thing consistent about retailing is the inconsistency, at the degree of which their stores lurch from good to bad is how a retailer should define its performance – in my mind anyway.
Therefore retail theatre that is non-standard, IE utilising store created tools such as blackboards that are the mercy of individual stores are swayed away from, which is disappointing and restricts theatre and creativity greatly. On the balance of things, across 400+ stores, it's probably the correct decision.
With c.30 stores, it makes sense for them to differentiate and utilise what tools they can; especially given their focus on being more of a rustic, traditional retailer. They're able to utilise a little creativity with their seasonal efforts here and indeed they utilise this well around the store.
It's nice to see them recovering too; after a turbulent few years with profit losses and falling sales. Their improvement has been notable and execution of seasonal events like this; with a strong foyer display is good example of best practice.
Booths are also running further seasonal events, highlighting British Tomato Fortnight in store alongside driving awareness and interest in other specific food events. A good piece of work all considered and there'll certainly be more from Booths in this serial on our blog too.