Today we focus on Topshop for our retail image of the day. It's a sad image of mannequins in the window of a closed down store.
It's also a sad tale for retail with the larger Arcadia group falling in to administration in the COVID pandemic and thus being seen off by COVID, non-essential retail closures and the rest of it.
The reality is that the group was staring down the barrel and sidestepping Sir Philip Green and his dividends, they were running out of throughput in a retailing sense and had been drifting for some time.
It wasn't that their e-commerce operation was particularly poor; rather there became so much more competition in their space (Topshop notably affected by this) and fast fashion driven by the likes of Boohoo, ASOS, Pretty Little Thing and goodness knows who else drove customers, via socials no doubt, in to the arms of these retailers.
Online is everything in this space. Especially in fast fashion where trends are so quick to emerge and then disappear, online shows the product, even highlights the fit, reviews are vital and the images are enticing for customers to imagine themselves wearing it.
Plus, the kicker is that the customers can see the sizes available and not have to mess around going to a Topshop store and seeing if they have it.
There's also a whole other store to encounter, both online and in physical retailing and whilst I make no effort, at all, to profess a love or understanding of fashion, it's clear that Topshop in particular was missing the beat entirely in terms of what people wanted to wear and was even seen as being 'uncool' by the younger generations.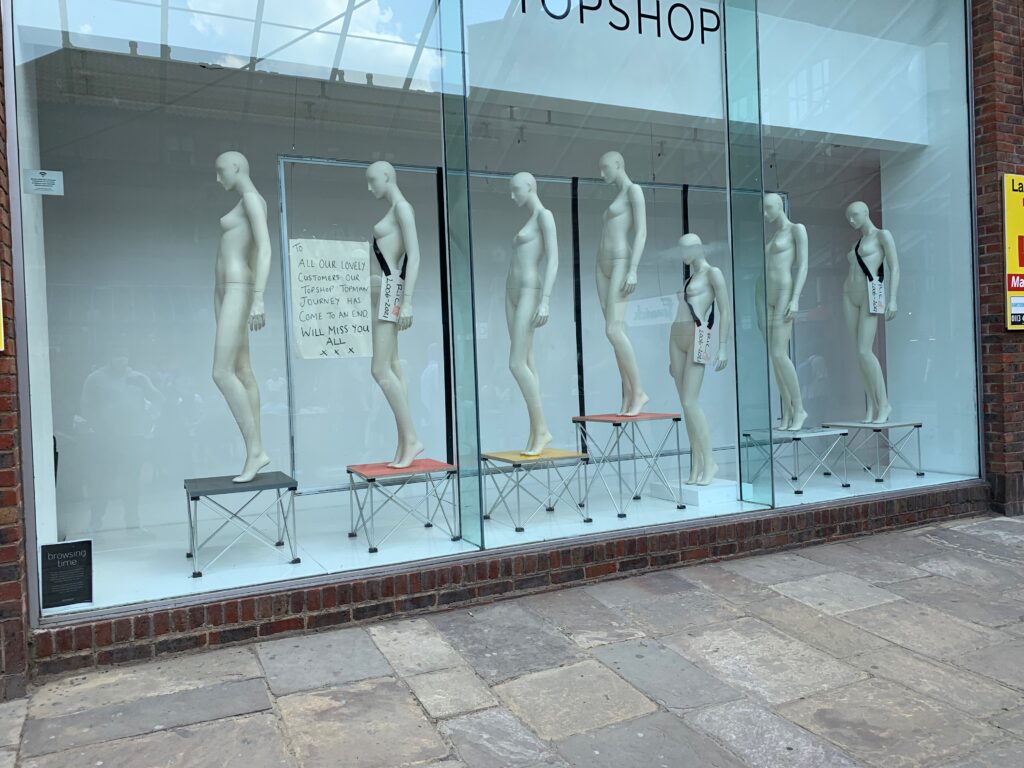 A grim place to be, especially where the growth for Topshop had come from being an on trend fashion retailer, alas, others did it better, quicker, cheaper and crucially, looked after the customer too.
Indeed, online aside……
There are better retailers out there in the sector at fast fashion and being more on trend with the market. H&M and Zara are two that immediately spring to mind but even the supermarket retailers do a stronger job in some areas.
Even Primark! Not online and often labelled with the derogatory term of "Primarni" for their cheap fashion have really turned their brand perception around and continue to impress, without an online offer too!
Their newer stores in Birmingham, Leeds, even York are modern, easy to shop in and offer multiple services alongside their wide array of clothes and an increasing range of non-food too.
The Arcadia stores were mixed in terms of fit out, some were very strong (Topshop flagships notably) but too many were like this one in York. Dowdy, long forgotten, off the beaten track and sharing space with the wider brands in the Arcadia family that had limited appeal.
The mannequins tell their own story.
It's sad for the colleagues of course, forever the hardy souls in the firing line, come what may.
Let's hope many have found gainful employment because, any retail failure is never down to the store colleagues, they simply do their best.