Following on from the first part of this blog where I looked at parts of the Tesco business, whilst trying to work out what has gone so wrong at the UK's leading retailer. Part 2 completes that review and generates some food for thought ahead of April.
Formats:
Tesco have four standard formats within the UK – Express, Metro, Superstore and Extra. The Extra format in particular has been pushed very hard and we've seen many Extra stores open up in the last 5 years, adding to the space race taking place within food retail.
Additionally another format that Tesco retain is 'one stop' which is run under a different name and is essentially a chain of convenience stores that exist and charge different prices to Tesco Express stores.
This of course adds weight to the 'rip off Tesco' clamours that increase by the month, especially after Price Drop where many prices were suspected to have crept up just before the 'big drop.' A separate chain and fascia does lend itself to potential problems, as do the 'venture brands' (more on those later).
There is absolutely no mention of the Tesco ownership on the One stop site, the HQ, recruitment and customer service lines are all separate. These are stores that are too small for the Express format so are retained and traded under the One Stop fascia.
Tesco Express stores are popping up all over, with the latest target being former public houses or pub car parks! It's been notably successful but there is the risk that Express (like Extra) stores can now cannibalise sales from existing superstores, such is their offer and reach.
They are run lean (like everything within Tesco) and there was an obsession with Aldi at one stage as Tesco tried to drive even more efficiency through the chain. Self checkouts are prevalent within many Express stores and compared to the new M Local chain (admittedly 3 stores big), they look clinical and efficient. Not 'wow'.
Whether 'wow' makes more money than the clinical efficiency of a Tesco Express store remains to be seen but the competition are sharpening up all the time, the Sainsbury's Local stores now look notably more welcoming than the original conversions from Jacksons for example.
There were a few rumours about the future of the Tesco Metro format at one stage with Tesco said to be considering moving them to the 'superstore' format (there's only 186 stores making up 5.73% of the total space.) I liked the look of the Carrefour 'City' model and again I'd like Morrisons to launch a smaller store format – something like 'Little M' would indicate that certain elements can be expected from Market Street and Fresh Market but not everything.
The remaining Tesco Metro stores also need a revamp and some new thinking, whether the learning's from Tooley Street will lend themselves to Crossgates in Leeds remains to be seen but there must be elements that can be rolled out to the Metro stores. After all, everyone wants a nicer environment to shop in.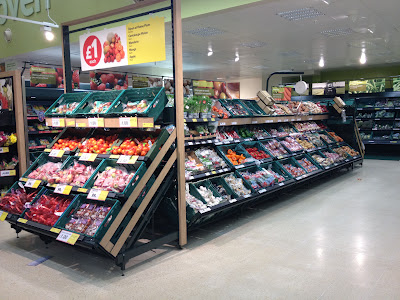 Lowered display units and a brighter store in Tooley St
It's to the detriment of Tesco that they've expanded the Extra format too far, the market has slowed down and the non food empire that they've built now looks like a real millstone. Space isn't performing as well and they're over exposed on the non food side.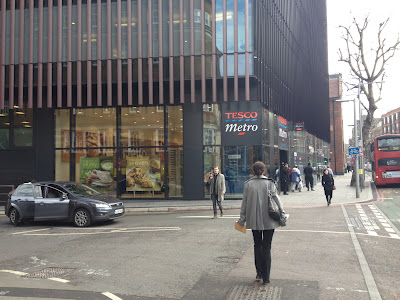 Much is hoped from the new Metro concept in Tooley St.
For me, the market has definitely slowed down but let's not forget that Phil Clarke admitted when he took over that the non food assortment wasn't performing as well as previously. It's all become a bit stale, I mean how many 'Value' 4 pack beer glasses can you sell?
Look at the recent move by Sainsbury's to revolutionise their non food offering with both a wider range but the altered display methods means it's a much more attractive shopping option. More of a department store than superstore and that's what Tesco have got to resolve, it's not enough to pile the non food high and cheap anymore, they've got to work harder.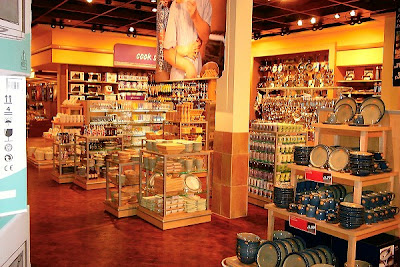 The Safeway megastore concept was ahead of time – could non food ideas be taken from here?
One area that is going particularly well both at home and abroad is the Florence&Fred (F&F) clothing range and  particular success has been found in Eastern Europe where F&F standalone stores and Tesco Extra stores have been well received.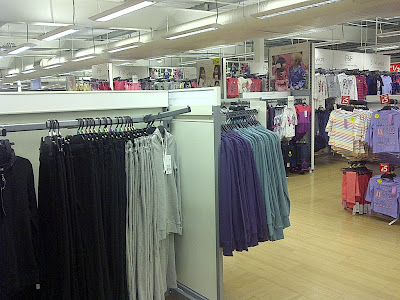 Clothing needs to be better in older Extra stores – this is factory shop esque.
Is the hypermarket 'dead'? Carrefour and WalMart have both found the going much harder but you feel Tesco still have work to do with their concepts, Carrefour have invested a fortune in the Planet concept and it just hasn't worked. Tesco have a lot to play with as their margin would support some 'theatre' and in particular the concept of an 'Extra' can have some work applied to it.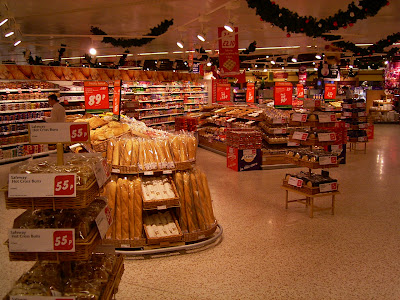 Safeway didn't just try to adapt their non food offering in the Megastores.
As I mentioned in the first blog, the concept Extra store is in Dudley, Birmingham but there has been some work on customer flow and the 'concept' in Welshpool and Accrington Extra stores also. Plans to visit two of these are in the pipeline as it should give greater guidance for any potential refit possibility.
There is much talk about the fresh strategy and an article in the FT (Saturday 3rd March) indicates that there will be a big re-focus on Fresh Food when the strategy update is announced, along with arrogance from elements of the city, who think a mere clicking of fingers by Tesco will see an improved offer and people arrive in their droves.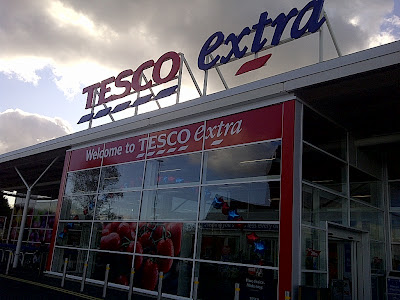 'refreshed' Extra stores are better but lack the wow of JS XL format or Stores of the future.
The promise of more fresh is a strategy like 'the big price drop' is / was and that's not been a huge success.  looking stores such as the latest Sainsbury's concept along with the stores of the future at Morrisons, the market has moved on massively and Tesco really have to step it up.
Just because they launch a strategy doesn't mean it will be a sure fire winner.
The main plank of the estate is the 'Superstore' that is the standard 'Tesco' store, they don't have the Extra counters and concessions and possess a relatively standard offer with many stores landlocked or of smaller size. Sadly despite the vast amounts of money these stores bring in, nothing revolutionary has been done with this format for some time, stores getting a 'refresh' saw new signage and a few walls painted but nothing out of the ordinary, some stores need that but some stores need much more.
Tesco need to make these stores destinations in their own right, the Extra stores can be destinations due to the wider offer (despite the non food slowdown) but superstores are relatively standardised and much can still be done with those stores, especially those ones that haven't been refreshed for some time.
There are other formats of course, Home Plus is a 'trial' but it looks doubtful that will be continued considering the slowdown of the non food market, Dobbie's garden centres appear to be trading well and it's another growth area for Tesco to target.
It will be interesting to see how serious Tesco are about the fresh drive and invigorating their formats, some stores need some money spending on them and revamping of the customer experience is overdue. Need more than a 'soulless shed'.
Own Label / Product Quality:
It's not the case that the Tesco own label has gone backwards in quality, it's more that flaws within the range have been highlighted by the solid development from the other retailers. Nevertheless it's an area that is ripe for development and a wide ranging review with work needed to catch up before taking it a step further.
The Tesco own label has always been relatively solid and pushing Finest when the downturn first arrived was a masterstroke, realising what Asda still fail to, it's not all about price and quality is vital.
Price premium products have become more important than before, people are cutting back on a restaurant meal for example but want the restaurant quality at home (Finest / Bistro / TTD).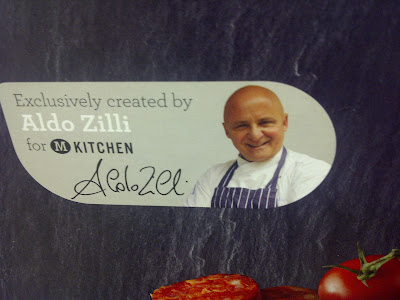 M Kitchen and 'Aldo' restaurant quality food.
Both the standard own label and Tesco Value have served the business well but is it time that these tiers also received a revamp, especially in the light of strengthening competition from their rivals. Let's take a look at what it looks like in stores.

How important is food to Tesco ? Tab 2 on Tesco.com
There are the 'curveballs' in the general retailing merchandising hierarchy, 'venture' brands and their cousins 'own label brands' that are produced only for Tesco, sold under a 'brand' name but the trademark isn't owned by Tesco.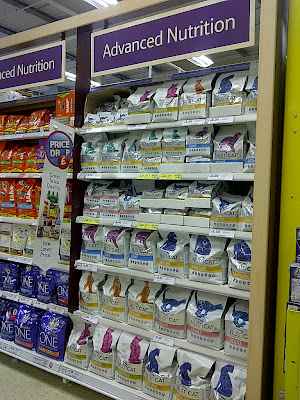 Nutri-Cat cat food – owned by Tesco – marketed and merchandised like a 'brand'.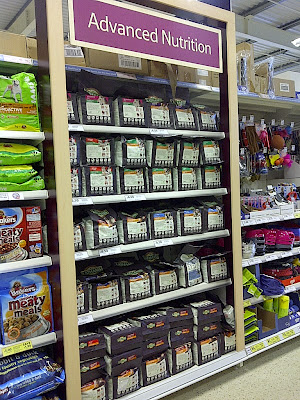 Lathams dog food – marketed as 'advanced nutrition' but part of the Tesco branding.
Confusing? You bet, and it doesn't help the customer with the clarity of the offer. A venture brand is something like 'Lathams' dog food for example where Tesco have invested money into researching dogs and the best food for them. As a result they can then sell that brand in their stores and market it as they wish, the addition of differing languages on the packaging indicates that the plan will be to roll out globally.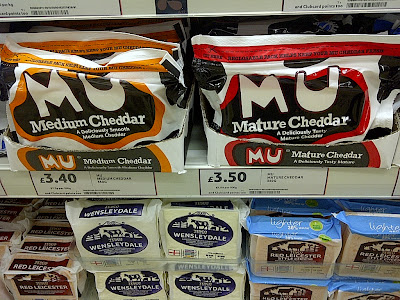 Exclusive to Tesco products but not carrying the Tesco label.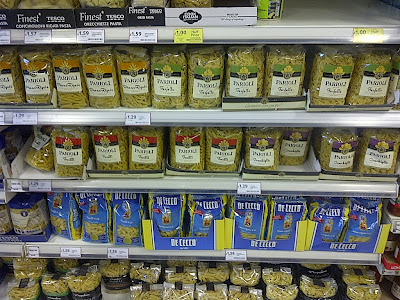 Parioli – Tesco Italian venture brand.
Then we have lines such as New York Kitchen Soup which is wholly owned by a supplier (Kerry Foods) yet they only supply this to Tesco, it's the same with chilled lines 'Mu' cheddar and 'Yoo' yoghurt's although Yoo is believed to be a venture brand.
Some are more of a 'exclusivity' deal than anything else, but likely to confuse customers when they can't find the product in any other retailer.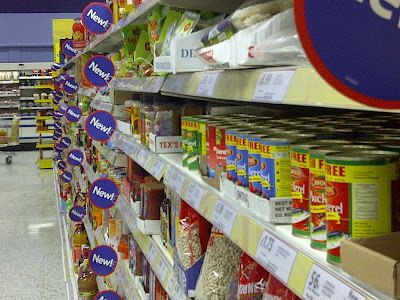 Can we expect to see more 'new' products if own label is re-engineered?
To further muddy the waters, the cluttered fixture also gained 'discounter brands at Tesco' which is a relatively strange stab at replicating Aldi products when they first gained ground in 2008. Fast forward to 2012 and Aldi (and Lidl's) growth is well ahead of the market and they're gaining market share again.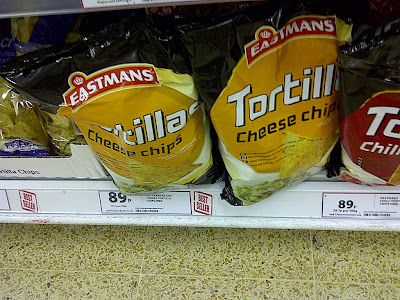 Eastmans Discounter brand – popular as it's a 'best seller'.
The ruse from Tesco was simple, they'd add in private label products but under 'tertiary' names like 'Eastman' Tortilla chips but the packaging would indicate they were discounter brands at Tesco. I'm not quite sure whether they're supposed to match up to the Tesco own label (in which case they're significantly cheaper) or compete with Value.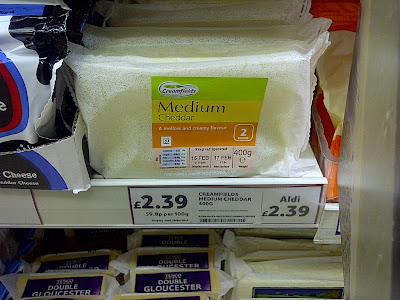 Discount brands at Tesco sitting above standard own label but pegged v Aldi price.
They shouldn't be competing with Value because the whole point of the Aldi experience is that the product available is cheap and of a good quality, it's cheap due to the Aldi operating model and because there's only one variant of said product. Aldi isn't a byword for poorer quality.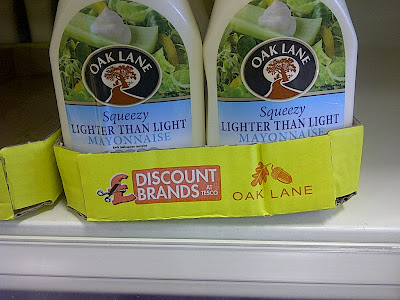 Oak Lane discount brands – Value? Standard tier? Better? Worse?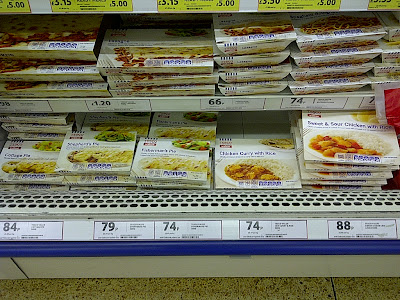 Value looks tired in comparison to M Savers and even the new Smartprice branding.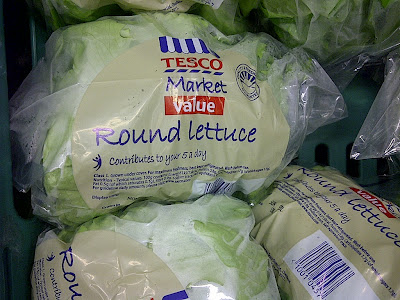 Value range within Fruit & Veg is 'Market value'
To compare a 'created' discounter brand to an Aldi well established brand seems odd and it doesn't resonate with customers, it clutters an already congested fixture. For my money Tesco should look into developing their own label products, it's not just product but also packaging changes – the recent M Savers launch shows what can be done with a previously poorly branded functional product to make it look more attractive.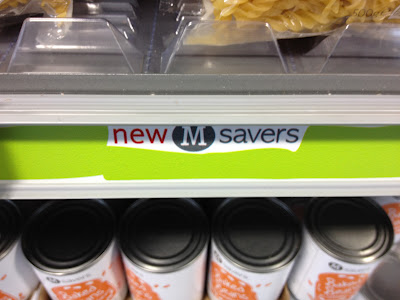 'new' M Savers range has pushed perception of 'value' tier.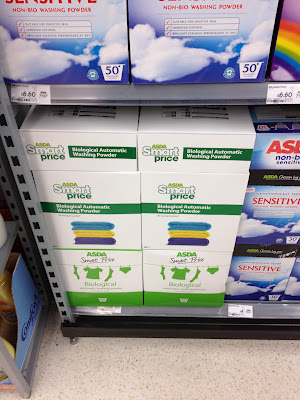 Even Asda Smartprice is being overhauled – old vs. new here.
Of course, there are concerns that Savers could be too attractive against the own label that needs developing, but work is well underway within Morrisons own label, Sainsbury's have pushed their 'by Sainsbury's' relaunch and also have brand match so have both ends of their market relevant to customers.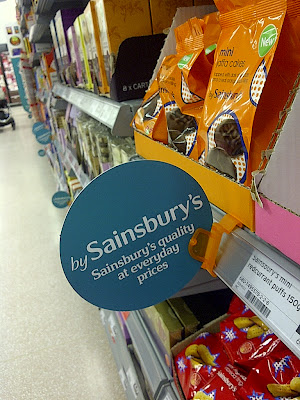 'by' Sainsbury's – strong relaunch.
Asda being the number 2 retailer and also competing on price with Tesco (and usually winning) had a major relaunch of their own label Achilles heel with 'Chosen by you' which has been relatively successful, again that has moved the Asda proposition further on from the Tesco proposition.
There needs to be some decision out of Cheshunt on what the product should look like and apply the consistent branding, look at Produce for example. A vital fresh department and the store 'window, all the press (w/c 27/2)  indicated we should expect a large push on it, however there's more than just a few extra staff in green fleeces needed these days.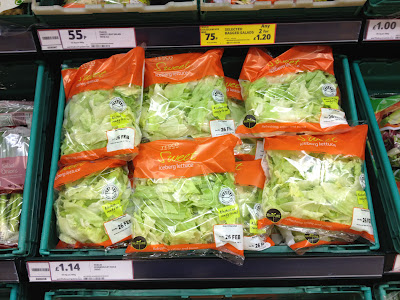 New packaging on salad packs – bright.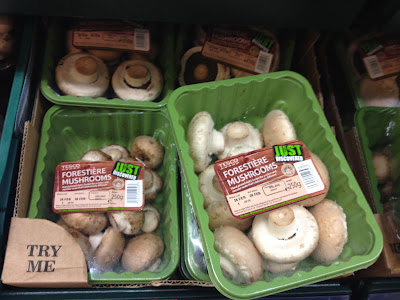 A bit of a Sainsbury's font on the Mushrooms but 'new' and just arrived.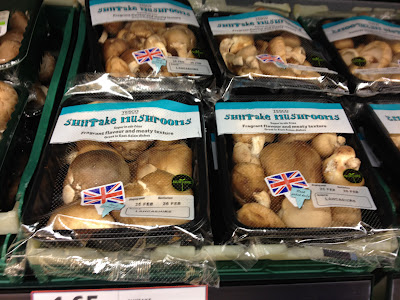 A differing packaging font again for the Shiitake Mushrooms.
That's within one category, and indeed two of the same product group (Mushrooms) albeit the 'new' line is from Tooley Street Metro but nevertheless. It's not a consistent theme, it's almost like Tesco have acquired 4 retailers and kept the packaging styles.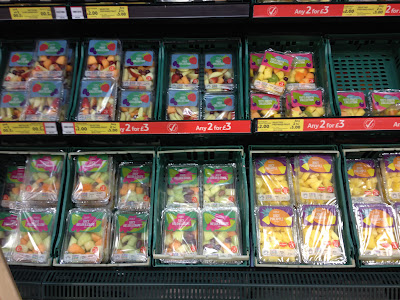 Strong branding on the Fruit salad – this works well.
There is a consistent theme if you couple together the salad packs and soft fruits, a typical two tone colour scheme with silhouetted relevant Produce graphics, such as baskets, forks, spades etc.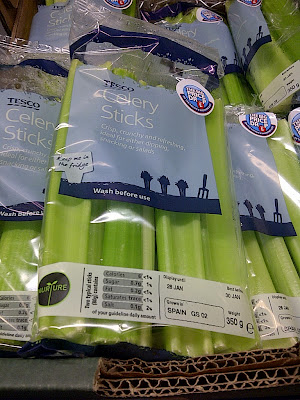 More of this theme – two tone colour and silhouetted graphics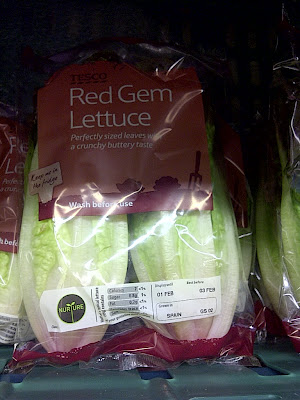 More consistent branding – however this is a little dull – red doesn't lend itself to Salads.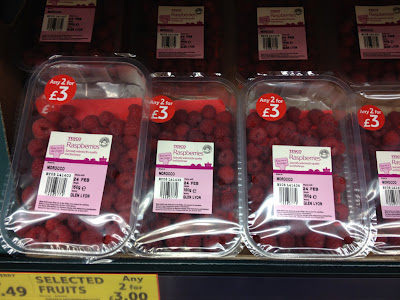 Same theme from Salad packs applied on Raspberries – top of label has Produce graphics such as 'baskets' .
The theme doesn't continue even within the salad area, celery hearts and Little Gem Lettuce are packaged in what looks like the Terry Leahy CEO appointment commemorative packaging. It's so 90's – virtually untouched from that time. Remarkable.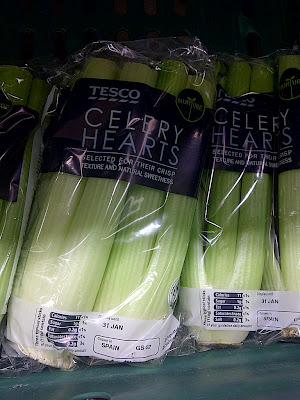 This look so old fashioned, where's the joined up branding? Stylish in 1991?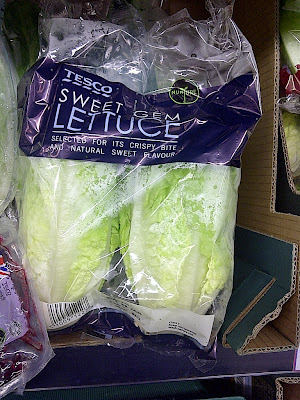 Same again, very dark, very 80's / 90's – not in keeping at all with the other branding.
It doesn't flow correctly, packaging is packaging but we all know that it's a key purchase driver – especially for customers unsure on what to purchase or requiring some convincing.
I don't think darker colours lend themselves well to Produce, in particular the dark blue dated packaging looks doesn't scream quality at all, looking rather functional if anything.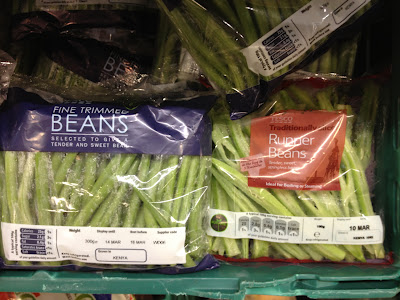 Even in the same sub category (Beans) have widely differing packaging styles.
That is the vital component in Produce, quality is the main message to be conveyed and that's first, second and third – packaging forms a part of that. You can have all the staff in the world but the offer needs to be fluent, joined up and make sense to the customer.
Do the staff have an idea about quality? 'What good looks like?' I remember each member of the Produce team at Sainsbury's being given a booklet detailing every single fruit & vegetable line sold within Sainsbury's.
The book would give information around seasonality, country of origin and cooking / meal advice, a very useful training tool and gave colleagues confidence to advise on what to do with Okra for example.
With the pictures below, the Red Pepper is clearly well past its best; split open and gone. At first glance the orange ones may look OK but the scarring on the skin indicates the Pepper is on the verge and would be now unacceptable. It's less obvious with Parsnips for example, but tricks like checking if they bend (past best Parsnips bend whereas fresh ones snap) should be shown to the Produce team to drive quality.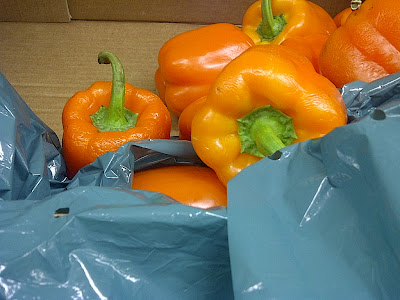 Poor quality on Peppers in Tesco – brand damaging.
Targets and budgets are tight so whether staff are being conscious about wastage and not throwing poor quality away I'm not sure, I'd hope not but stranger things have happened, especially with targets driving people to do the wrong thing.
There should be an absolute zero tolerance to poor quality product on Produce and if corporately there needs to be a flex (additional money in the budget for poor quality Produce) then it needs to be done to further embed the message.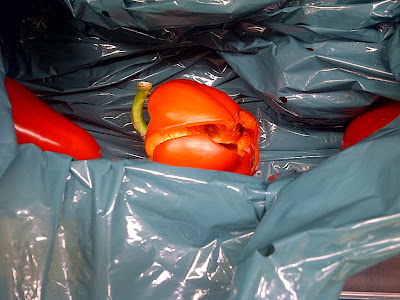 Quality issues – it's gone on for a long time and a great push is needed to convince customers.
Thorough training is absolutely key, applying 'would I buy it' principles and having a zero tolerance for poor quality Produce will help the customer perception instantly, the 'produce last checked' boards in store are signed but a thorough walk isn't carried out. It's too common to find poor quality Produce upon entering the store.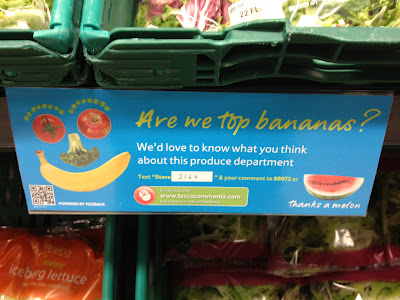 At the minute? No.
In terms of  wider 'own label' Sainsbury's show how it should be done, 'by Sainsbury's' adds that feeling of quality and that someone is willing to put their name to the product. Sainsbury's have all the brand resonance and ethical standards; pushing organic cotton, fair trade produce and buying British where possible.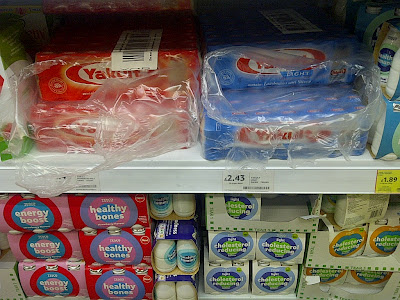 Standards like this are unacceptable anywhere in the store.
The major development from Morrisons within own label has been ready meals and they've vastly improved their offering with 'Bistro' premium range and the improvement in own label under the 'M Kitchen' banner. Morrisons seemingly realised that they couldn't make the 'Morrisons' work so used 'M' as a brand and going forward it looks like it will be used externally on stores too.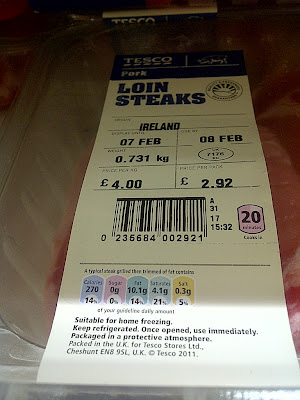 Fresh meat has been re-labelled and re-branded – giving a better feel of quality.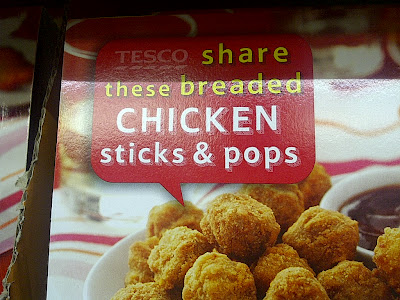 Tesco are sharing with us? Is there a price for this?
Tesco seem to put 'Tesco' on the packaging even when it's totally needless and make a 'sharing' line appear that you've got to share with Tesco or rather they'll share it with you? The look of the product is good but it's the provenance of the Tesco name that doesn't really work.
Overall – branding needs a lot of work, we're not talking a few repackaged items but areas like Produce and Chilled Foods need attention, especially if the pledge to restore the fresh food side of the business is to be taken seriously, as the above pictures have shown it's hardly joined up branding, the quality isn't there and customers remember that.
Tesco stand for a lot of things in a lot of different areas – what do they stand for in food?
Trading: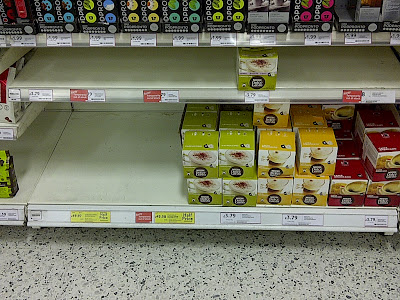 Just after Christmas – Dolce Gusto capsules wiped out as customers rushed to try their machine out.
Trading is another area that shouldn't be forgotten, like Dalton Philips remarked on Thursday (8/3) – 'shop keepers not box tickers' is what Morrisons are about. A lot of Tesco problems can be system based (blame game of course) but the obsession of managing 'the process' and not the store and associated trading patterns means stores have lost the 'retailers' from the business.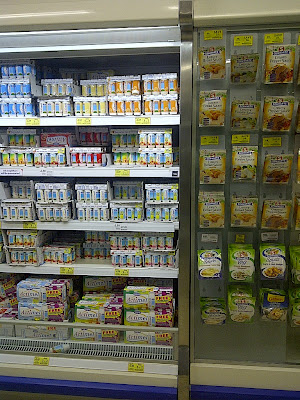 Schwartz cooking sauces next to Actimel – 'near' the fish bar.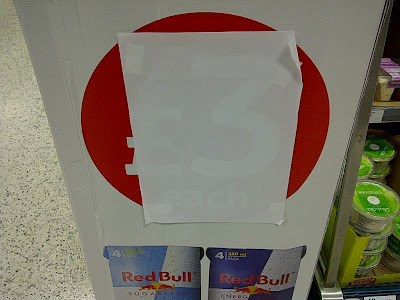 Elements like this – acceptable? Never. Red Bull had increased to £4.38.
Whilst there is a lack of traders within the stores, managers have been told to 'don' their suits as it's now the corporate uniform . A real mistake and a throwback to an era we've left behind, look around at the landscape, the only managers to wear suits in my experience are the Waitrose higher level management but they still tannoy 'Mr Brown' rather than 'Steve Brown' and as a retailer are a class apart with a quality angle.
With the hours cuts (even without that) the cut and thrust of running a store taking up to £2m per week means you will have to get your hands dirty, the 'one team' 'shoulder to shoulder' value means everyone pitches in.
A suit is a barrier one team and studies have proved that staff feel less inclined to approach managers in suits.
It also brings a superiority complex to proceedings and the Tesco values include 'teamwork' as a KPI and of course, Retail is all about the store team, instructing managers to wear suits isn't the right message.
Clubcard / Every Little Helps:
Fittingly, this review ends with arguably two of the most iconic Tesco initiatives – Clubcard, which was first introduced in 1995 and was seen as 'electronic green shield stamps' by Sainsbury's who were so unconcerned they waited 18 months before they brought out their reward card!
What the competition missed was their reasoning for introducing a Clubcard, quite simply the data it gave Tesco was so powerful. Decisions could be made around tailoring promotions and what you purchase, when you purchase and the subsequent why gave Tesco insight that couldn't be rivalled.
Suddenly Tesco knew how many kids you had, when your birthday was, if you had pets, whether you preferred to shop at night, early morning and where you shopped. Tie that in with the addition of products like car insurance, home insurance and the bank, suddenly you've got a powerful proposition to tie the customer in locking even more spend.
The clubcard has struggled a bit recently though, the 'price drop' in September saw double up points revert to single points, so £1 = 1 point which annoyed shoppers perhaps more than Tesco realised. When the recession kicked in, Sir Terry and the team were flexing different tactics, pushing Finest and clubcard rather than going down the one way street of price, leave EDLP to Asda they're unbeaten for 14 years or so and they think that's the only way – it isn't.
The clubcard is one of the most powerful tools in the armoury but recently it seems to have been soundly beaten back by a development at Sainsbury's. With brand match being instantaneous at the checkout rather than having to wait an age to log onto a website, Sainsbury's create real value at the checkout and their printers instantly generate a voucher telling you how much you saved / are owed.
The printer will also generate vouchers for the Nectar card offering £2 off the next shop of £20, or extra points coupons for future shops but on real 'voucher' like paper. Tesco do the instant bonus vouchers but it was generated at the till point and printed on receipt paper, easily lost and therefore not redeemed.
Technology costs money sure, and the Sainsbury's solution was notably expensive to integrate (and installed into a newer system mainframe too) but it's a competitive edge. Sainsbury's are seeing growth and an increased take from the Nectar card, the brand match works but the improvement with instant vouchers is one of the more clever developments in recent years.
Tesco need to make Clubcard a bit more relevant, they've really pushed the money off voucher angle recently but where's the incentive to continue shopping once the vouchers end?
It's not with 'Every Little Helps' for sure, it now seems dated and is it really relevant? Big things that could help aren't being delivered, so the little bits certainly aren't, the lack of staff means customer service has gone west and one of the values 'no one tries harder for our customers' isn't ringing true.
Aldi, Asda, Morrisons and Sainsbury's (plus the rest) – they're all trying harder for Tesco customers, that's what Phil Clarke has to deal with in April when he sets out his strategical update. Three years work in one is a bold pledge.
We all know what happened to Sir Peter Davis when he set out his seven years progress in three plan…….